The Article
CD/VINYL REVIEW ROUND-UP #4
5th June 2020
This week, in issue 4, I offer you a round baker's dozen of recent releases for review, splitting the content into CD and Vinyl
ON VINYL
SUPERCAR
Title: Original Television Soundtrack 
Label: Silva Screen
If I could provide you with the soundtrack of my entire childhood then it would be composed by the genius – and let me repeat that one more time with added emphasis, the genius – of composer, Barry Gray.
When I watched the original UK TV production of Thunderbirds, way back when, and heard Gray's music within the same, I realised for the first time how I could be dazzled and thrilled by music. His music. Barry Gray's name was etched onto my young heart. It's impossible to think of Thunderbirds without thinking of Gray.
But I soon learned that Gray occupied more universes than those offered by the beautiful Thunderbird machines. This brilliant, although much earlier, children's TV series, Supercar (1961), was one.
Flown by the jauntily monikered ex-test pilot, Mike Mercury, this machine marvel undertook daring rescue missions, every week, for 39 episodes in all environments with a notable support team (including Professor Popkiss and Mitch the Monkey). And all in Supermarionation, I might add.
Presented in a gatefold (featuring track notes, photos and excellent liner notes) and secured by a thick paper band, the first pressing of this vinyl edition appears in sherbert-lemon coloured vinyl! How delightful! Spanning two discs, the music covers the main theme plus music from a host of episodes. What Gray does here and with his other works was treat children with serious respect. He never composed down. He never patronised. He applied the same sort of creative effort to his work as he might for a AAA Hollywood film. 
This is a wonderful vinyl release, expertly produced and implemented. Nice mastering too.
SEU JORGE & ROGÊ 
Title: Seu Jorge & Rogê 
Label: Night Dreamer
An intriguing vinyl release, this one, because it's been recorded direct-to-disc (with the final vinyl contained in a soft plastic inner sleeve, nice touch). I've been a supporter of this form of recording for quite some time and have written a couple of contrasting features on the subject which you can find on this site (see this feature on the Berliner Meister Schallplatten and other on Third Man). Hence, I was happy to see this technique used here via Brazilian singer, guitarist and actor (think City of God and Brotherhood on Netflix) Seu Jorge and Rogê, stripped down to its production bare bones. And all the better for it too.
Featuring both Seu Jorge and Rogê on guitar and vocals it also includes percussionists, Peu Meurray and Pretinho da Serrinha. The seven original songs  vary in tempo and style but the direct-to-disc vinyl recording method not only allows you to get to the core of the songs and their attendant performances but it offers a naturalistic presentation with excellent clarity, an open and airy soundstage and delightful detail. Partial to a slice of Milton Nascimento? Get this vinyl edition, then. Brilliant stuff.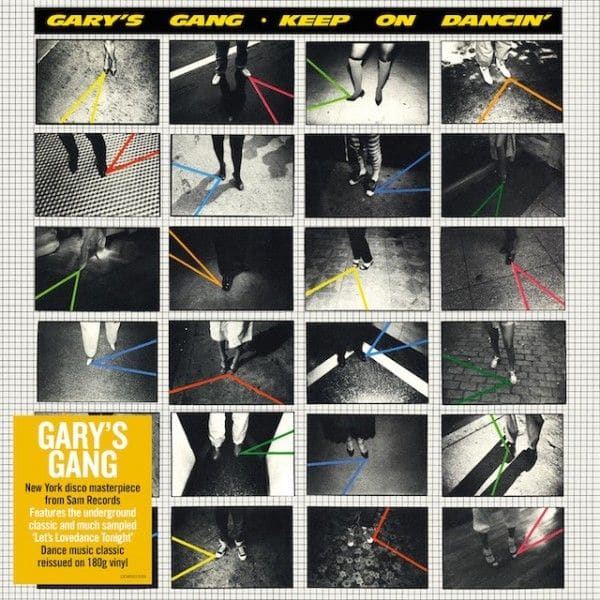 GARY'S GANG
Title: Keep on Dancin'
Label: Demon
Originally released on the Sam label in 1978, This disco/R&B band was best known for their hit single, Keep on Dancin'. Based around a project created by Joseph Tucci and Gary Turnier, their effort and talent was obviously funnelled into the singles with the other album tracks serving as filler.
There's only six of those tracks too, extended to fill this vinyl's other task. This is an album to dance to – not think about. This is a good-time release. You're not supposed to dissect the lyrics. It's not Blood on the Tracks or Dark Side of The Moon. It's repetitive, derivative and offers the worst in four-to-the floor beat monotony. 
But it's also a great party record. That's why you should buy this vinyl release (either that or to provide a sampling source). This is a specialist tool for a specialist task.   
In mastering terms? There's a little bit of emphasis around the mids and a slight hardening around the bass regions but nothing to worry about. In fact, detail is honed a little because of it. 
THE DISTRACTIONS
Title: Nobody's Perfect 2020
Label: Man in the Moon
If you like Factory, the legendary Manchester-based record label, then check out this vinyl release. This outfit initially issued a Factory single in 1979. As the press release says, the band then signed up to Island records. They were signed up alongside U2 by the same guy, on the same day in 1980. Oh, the vicissitudes of stardom. Especially as the band split in 1981.
Heavily influenced by The Buzzcocks and guided, in some respects, by them, the songs sound distinctly 60s in nature. Late beat era, perhaps? Some tracks also add classic R&B/garage overtones to that mix. 
It's a band that deserves more attention because they knew their way around a groove. There's no doubt about that. If you like your rock laced with retro adornments then check this one out, especially as it includes photography by Kevin Cummings with art design by Peter Saville.
EIVIND AARSET & JAN BANG
Title: Snow Catches on her Eyelashes 
Label: Jazzland 
Now, you'd think that  vinyl LP emanating from a record label called Jazzland would feature lots of upright bass, the odd sax solo and careful cymbal taps but not here ol'son. Think avant-garde electronica. Of a Norwegian stripe.
What you have is a series of synth-based looped drones, sub-bass beats and more synth content that tells the story. Featuring a mosaic of often meditative sounds and sampled with trumpet interspersed as small fragments (at least, I'm pretty sure that's what I heard, it's difficult to be absolutely sure), this down tempo vinyl album provides intriguing rhythms and contemplative tones plus melancholic piano for anyone interested in electronica.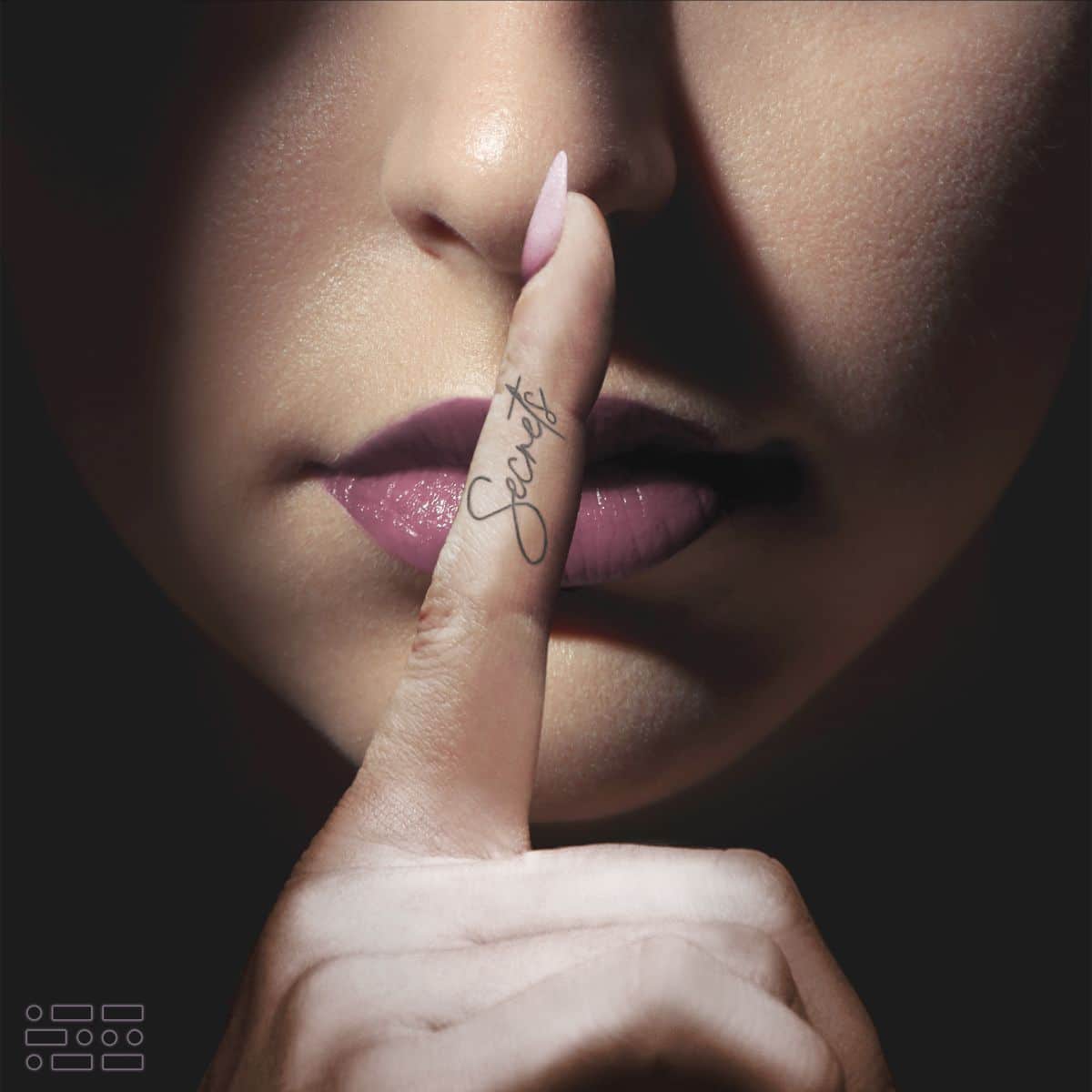 WRITTEN BY WOLVES 
Title: Secrets
Label: Tenfold
I have to apologise to the band for my late review on this one. This debut vinyl LP has been sitting in a tower of 'I'll get around to it tomorrow' for about six months.
But I got there and thank goodness I did! 
A New Zealand band spouting a recipe of genres and sub-genres into a gumbo of hard rock and metal. Ultimately, I'd call this melodic rock or pop/rock but with thrash and metal grammar and classic rock and synth sprinklings plus hair metal chrome bits on the front and back. 
And then there's the high production values, the well constructed songs and the hooks. Ahh, the hooks. I was humming along with Better Luck Next Time and doing a little boogie in my listening chair in a few minutes of studious listening. This LP is, how do I put this, funnnn.
Ignore the horrendous vocal introduction though, which sounds like the first few minutes of a bad Cher song, draped in exuberant vocal processing in the worst pop-R&B, hit-by-numbers tradition. If I could cut this one out with my Stanley knife, I would. 
Apart from that car crash, the rest of the album is truly excellent. High energy, full of life and free from any restraint, this is melodic rock at its very best. 
To Buy, Click writtenbywolves.com/store
ON CD
JEAN-LOUIS MATINIER & KEVIN SEDDIKI
Title: Rivages
Label: ECM
Basically, acoustic guitar and accordion. And pastoral. And peace. And reflection. And relaxation. 
It took quite a while to write this review. Why? Well, I sat there, in my chair. And I listened, initially with my reviewer's face set in a typically concentrated muse. Notes were poised to flow.
Then, after a minute or two, my brain relaxed. My concentration wandered. My head slowly turned to a nearby window. I gazed and pondered as guitar strings were plucked and an accordion swam around my meditation. Thoughts drifted in and out of my head accompanied by analogue instruments. 
And then? Seemingly, three minutes later? The entire the album finished. All 40 minutes of it.
I suddenly woke from my reverie and looked at the screen of my laptop. Blank. Not one word. Nothing at all.
Which is the biggest compliment that I can give to this album. This is not an album that demands a technical appreciation, although the level of musicianship is way up there. The instrumental skill on display is superb, sure. But how do you fight a track like Après la Pluie which quietly says, "Everything is going to be fine. Just take it easy. Don't worry. You'll be ok." Yet does so within the cloak of melancholia? 
How can you be analytical when an album washes over you like the tide on a beach of a desert island paradise?
And I've told you nothing about the performers have I? No biog. No personality. 
And you know what? You're not getting any either. Who cares? Just listen.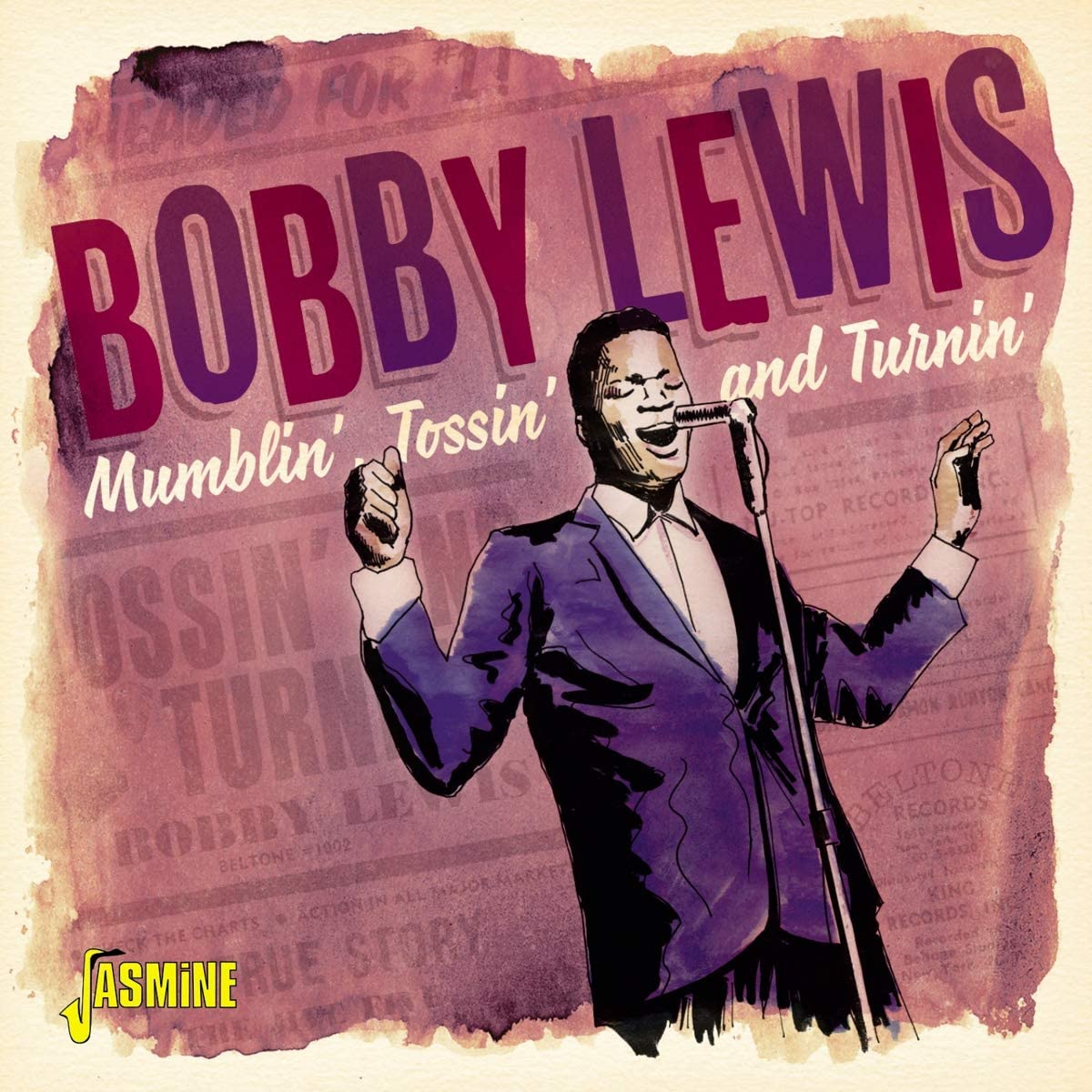 BOBBY LEWIS
Title: Mumblin', Tossin' and Turnin'
Label: Jasmine
And that CD title? Well, most of it, the Tossin' and Turnin' part? Refers to his 1961 hit single that sat in the charts for 23 weeks, selling three million copies and hitting the No.1 spot in the process. That's the song that defines Lewis as a star name.
But this guy was more than just a one-hit wonder.
Before that, he worked with the Leo Hines Orchestra and then released a well released a high-energy single on Chess (then re-released on Spotlight), the novelty-coated Mumbles Blues. It sounds like a joke song that unfairly pokes fun at a poor girl who is less than articulate but, in fact, its much worse than that because the unfortunate girl in the song is apparently deaf! Cringe? Oh yes. Not a song that would be released these days, I reckon. But such were the times.
In style, Lewis was part blues shouter, part gospel vocalist who worked hard to achieve local success and then, after the Mercury and Routlette labels offered him recording opportunities, appearances at The Apollo lead to him being picked up by the King label which lead to Tossin' and Turnin'. 
Lewis' talent didn't change but the quality of the material in his possession did. You can hear the variation in song quality on this intriguing CD which bounces from solid ditties like the title track and novelties like Fire of Love, where the water sound effects are as important as Lewis' voice.
A fascinating snapshot of musical history and one the any R&B should grab with gusto.
THE YARDBIRDS
Title: Five Live Yardbirds 1964
Label: Repertoire
Recorded live at the Marquee Club on 7 August 1964 and featuring Eric Clapton, this recording shows the band at their early peek and represents one of the most important British rock releases of the early 60s. Blues & R&B standards abound, of course. 
This digipack edition has been nicely and newly remastered by Eroc and includes a 16 page booklet written by Ugly Things magazine founder Mike Stax with contributions from surviving band members.
The full line-up features Eric Clapton on lead guitar, Chris Dreja on rhythm guitar, Paul Samwell-Smith on bass, Jim McCarty on drums and Keith Relf on vocals and harmonica. 
It includes Chuck Berry's Too Much Monkey Business, Howlin' Wolf's Smokestack Lightning, Sonny Boy Wiliamson's Good Morning Little Schoolgirl and, as the saying goes, much more!
One of the charms of this release is the between-song banter which only adds atmosphere and the sense that you're part of an occasion. This rather relaxed element of the production is a welcome one. Those large gaps where chatter and guitar tunings are just part of the fun tend not to be heard in more modern live recordings where content tends to be crammed into the grooves instead of, what should be prioritised, the actual occasion. That is, a live album should be all about the moment in time. And not a Spotify playlist. This album production got it right. 
THE YARDBIRDS
Titles: Live at the BBC Revisited/Keith Relf – All the Falling Angels
Label: Repertoire
Two more Yardbirds'-related packaged for you to consider. The former presented in a jewel case with the latter in a digipak. 
The BBC set features recordings from 1964-1968 and features Eric Clapton, Jimmy Page and Jeff Beck on the included 69 tracks, spanning three CDs.
Featuring tracks from Saturday Club, A Whole Scene Going, Top Gear with John Peel, the BBC's recording of the Jazz and Blues Festival, You Really Got…, The Beat Show, The Sound of Boxing Day Saturday Swings and, of all things, the Joe Loss Pop Show. 
Including the complete final BBC session featuring White Summer and Dazed And Confused, the included booklet includes contributions from original Yardbirds members, Jim McCarty and Paul Samwell-Smith.
BBC recordings of this type and time period tend to be sadly compressed, bright in the mids and rather harsh in the treble but kudos to the mastering here which does its level best to produce a quality output, even from those recordings that sound inherently, a little rough and ready in terms of detail and clarity.
Relf's release, subtitled Solo Recordings & Collaborations 1965-1976, looks at the man's solo work and in collaboration with fellow Yardbird Jim McCarty and his sister Jane Relf. It includes 10 previously unreleased demos from Keith's personal tape archive, along with rare tracks by Together, the duo he formed with McCarty in 1968 and his 1966 solo singles.
There's plenty of interesting stuff here that shows other sides of Relf, apart from the blues and R&B front man that many will be familiar with. There are melodic and sensitive pop songs, pastoral folk, crafted psychedelia and early prog. I for one miss the man because, judging from this document, there are decades of exquisite songs that have been lost to us all. Which is all the more reason to treasure what we have.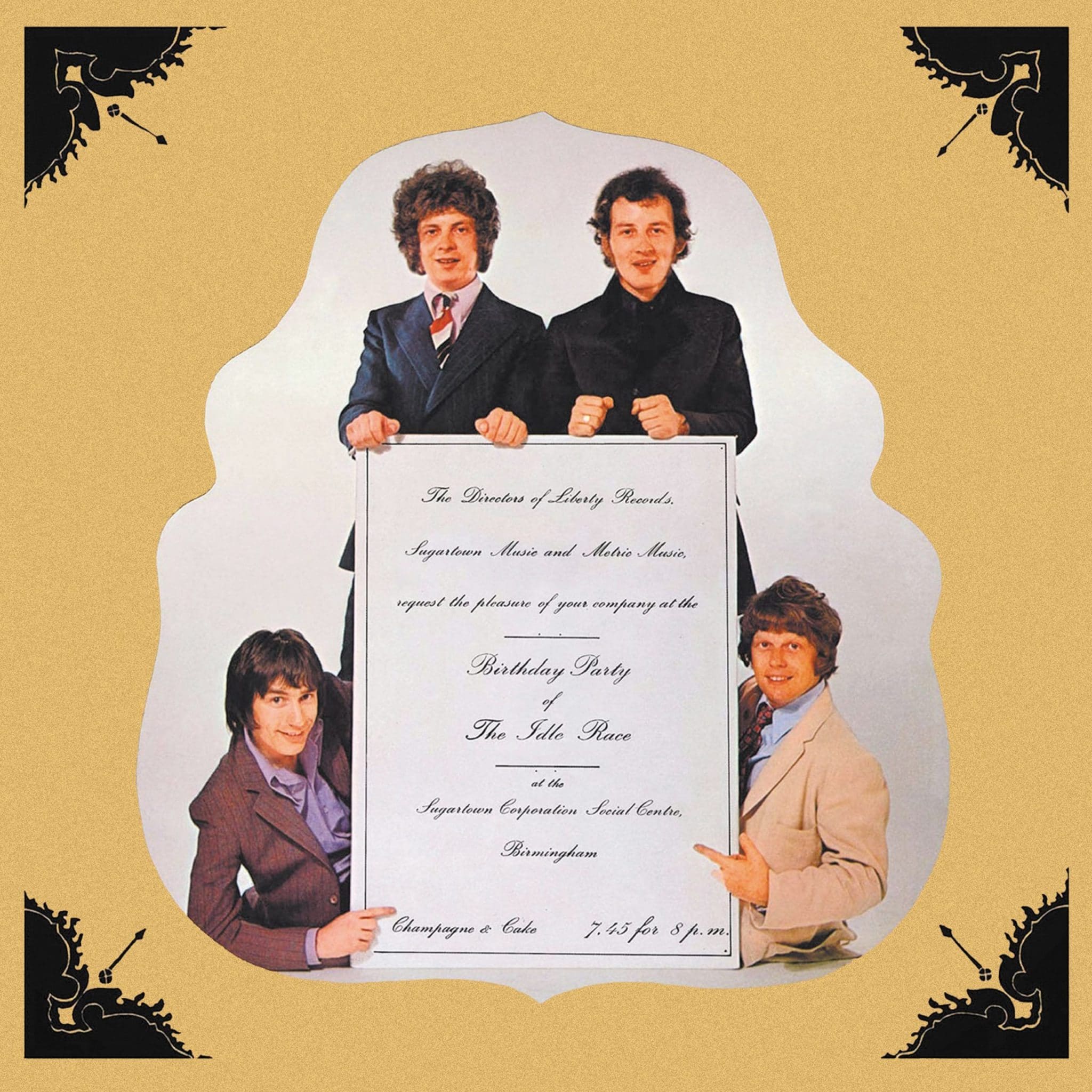 THE IDLE RACE
Title: The Birthday Party
Label: Grapefruit
Purveyors of pop and psyche, this band's life ranged from 1966 to 1972. As an entity, the band itself didn't have the best of times and never really took off, despite hanging around for a some time. Many of the band members did take off, in career terms, that is. They included one Jeff Lynne (and my goodness, he does look fresh faced) and Roy Wood while a later incarnation of the band would transform into the Steve Gibbons Band. Even Roger Spencer, the drummer, would transform into Ollie Spencer and would have raving success as a stand-up comedian!
It's no surprise that, with Lynne in the band, this album has a definite Beatles-pop presentation and early ELO-esque sounds (plus George Formby, according to Lynne). In fact, the band were able to see the Fabs working on The White Album at Abbey Road for all of 10 minutes before they were all thrown out. The songs on The Birthday Party are often beautifully melodic, always well crafted and arranged with hooks a-plenty.
Lynne was the youngest member of the band, when the LP was released and so he was pushed forward to add a sense of the hip and trendy to the band's persona. So that worked well, didn't it? Despite the lack of success, this is a lovely LP. Full of fun and folics, great songs and energy, it's a great little album.
The original stereo album is joined here by alternative versions, stand-alone singles and the first-ever official CD release of the original, substantially different mono version of the LP, taken from the original masters.
Finally, I hope the person at Liberty who thought that this pathetic sleeve art was going to sell records on behalf of the band was summarily sacked. The only outfit this sleeve promotes is Hallmark.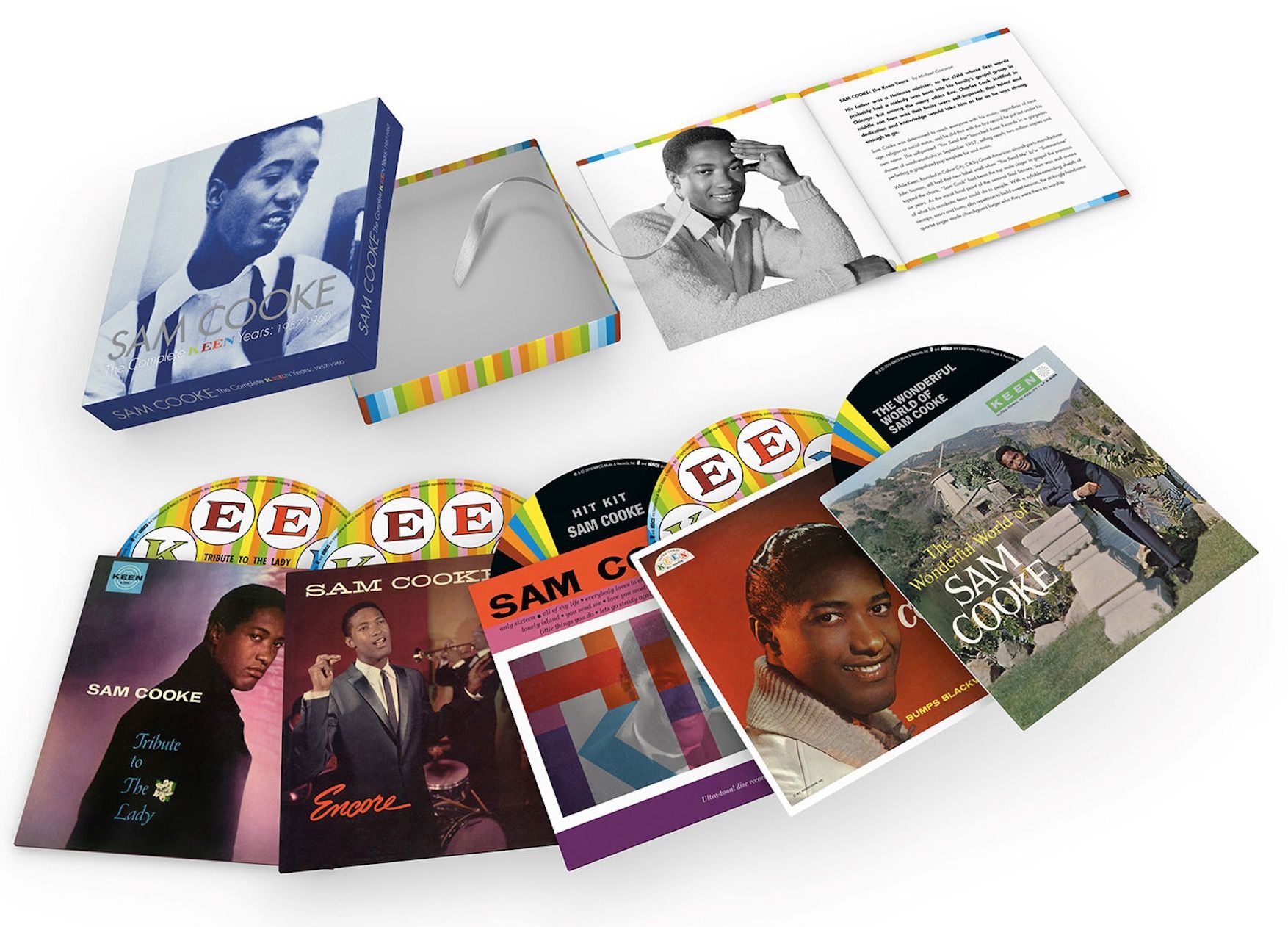 SAM COOKE
Title: The Complete Keen Years: 1957-1960
Label: ABKCO
Goodness gracious, this man had a pure voice. You could use this voice alone to test the clarity of your hi-fi. Such purity. He had the vocal delivery of a mountain stream. You could bottle it and sell it, you really could. He sang songs without the slightest friction. Words he pushed out into the ether are, I'll bet, still travelling in the outer cosmos, they needed nothing more than a slight push from his vocal chords to venture towards the Outer Nebula.
He's also the only singer I know who can take the irritatingly, schlocky, sweet, sugary nonsense of a song like Tammy (a hit for Debbie Reynolds) and turn it into something listenable. That, my friends, is how genius works.
The smooth soul from Cooke is well documented here in five CDs, each contained in a card sleeve (with a soft plastic inner sleeve – something I wholly approve of) with the lot pushed gently into a sturdy, pizza-style box to be gently lifted from the box with a ribbon. This is a luxury set and no mistake. 
The albums include the self-titled 1958 release, Encore (1958), Tribute to the Lady (1959), Hit Kit (1959) and The Wonderful World Of Sam Cooke (1960). There's 15 bonus tracks here too while the tracks have been sourced directly from recently recovered original master tape reels (discovered in an old aircraft hangar!) and yes, they sound lovely.
[Don't forget to check out my new Patreon Page at www.patreon.com/audiophileman, for exclusive postings, giveaways and more!]