The Article
Yes' Songs From Tsongas: 35th Anniversary Concert
11th November 2015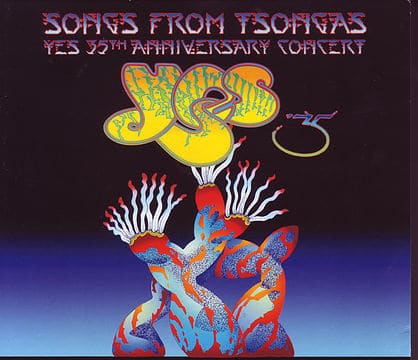 Title: Songs From Tsongas: 35th Anniversary Concert
A 15 May 2004 gig recording at Tsongas Arena in Lowell, Massachusetts featuring the classic line-up of Jon Anderson, Steve Howe, Chris Squire, Rick Wakemen and Alan White. This is, so far, the last tour by the band utilising this particular line-up.
Despite the significance of the event, the packaging is not only bereft, its almost disrespectful in his brief attention to what was going on and why. This 3CD package will, almost certainly be bought exclusively by Yes fans so why hasn't Eagle supplied all of the necessary information? All the packaging says is that the May 2014 gig is from Tsongas. Tsongas? What's that? A boiled sweet? A yoga move? What? Where is it? What day was the gig perform on? Yes fans need to know that Mind Drive, on disc one, from the album Keys To Ascension was played for the first time at this gig. In fact, there is material from this album that has not been played outside of the Open Your Eyes tour.  That information is nowhere to be found on this CD. Other rarities included are Lennon & McCartney's Every Little Thing (which was dropped from the set list when the band travelled to the UK) and Sweet Dreams.
That grumble filed away, Eagle should be praised for featuring so much of this concert and spreading it over 3CDs, 23 tracks in total.
In terms of performance, this is a good one. I wouldn't say it was their best, You and I doesn't quite have that…something that sends your senses reeling. There have been others to top this show, in my opinion, including a few on the Symphonic tour but this is still a band full of energy and passion for what they do and this show remains highly enjoyable and essential for any fan out there. I do hear that there is a Japanese CD pack out there with an extra disc (making a total of four) that I need to investigate, although this might just be a 3CD/Blu-Ray disc combo that has been spotted online. In the meantime, Songs From Tsongas is a necessity.
Also look out for the DVD version that features a Roger Dean interview.