The Article
Yes' Progeny: Seven Shows From Seventy-Two
11th January 2016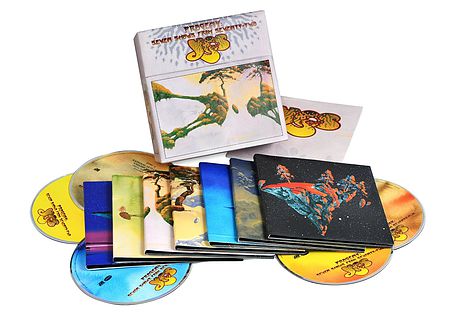 Title: Progeny: Seven Shows From Seventy-Two
OK kids, this is the plot. Listen closely. The year was 1972 and Yes had released the LP, Fragile to lots of praise. All worthy. It was and remains a great album. Then preparations took place to release a new album Close To The Edge. Rick Wakeman hadn't been in the band for that long when Bill Bruford threw his drumming sticks in the air and left by the side door and, by the time, those sticks fell to earth, they were caught by his replacement, Alan White. He would debut in Dallas, on 30 July 1972 (remember that when you hear the first show in this set from 31 October 1972, just three months later). Close to the Edge was released on 13 September 1972.
Off the band toured again.
In a big sonic bucket lay a few recordings from the Fragile tour plus a batch from the Close to the Edge tour which the band cherry picked to form the triple live LP, Yessongs.
Then the masters, the sources for this live work promptly disappeared. Some were erased, some burnt in a fire, some lost, some…well, you get the general idea. But then after extensive searching and your basic Sherlock Holmes-type investigation (which is well documented in the very readable paperback booklet in this box set), a batch of tape masters were found. Lordy, eh? Yes, absolutely. To find a batch of live shows from this energising era of the band is quite a find indeed.
The originals were there but they sounded muddy with zero pizazz. After applying modern days restorative techniques, the shows have been brought up to current sonic standards. Again, check out the fascinating producer's notes for the story behind this: definitely worth a read for fans.
This 14-disc set holds every note from all seven shows, recorded in late 1972 as the band's tour jumped from Canada to North Carolina and then Georgia and Tennessee, before their last stop in New York at Nassau Coliseum on November 20th. This set comes in a cigarette-style flip top box with new artwork by Roger Dean.
So what's it sound like? Well, these are live gigs so, even though the band recorded the gigs and gave the dynamics every chance, each sounds like a 'live gig'. Hence, there are sonic compromises with each show but, hey, that's all part of the fun isn't it? After all, these shows are 'events'. If you want sonic perfection, find a studio album.
On the other side of the coin is the band's performance, which is brilliant from the first second. There is an energy and passion in the vocal delivery of Jon Anderson that I haven't heard for quite a long time. Alan White is also still in his novelty phase. He's got to grips with this complex music and you can hear that, well, this is fun! The band are tight, precise and flow with an ease that allows the music to flow. There's a particular raw edge from the first show in Ontario, Canada. When you get to the final gig in New York in little under a month's time, not only is this a better recording (you feel that you are more part of the group – you're there on stage with them) but the group has relaxed a bit. The delivery is a touch less frantic, smoother, more considered and with a  tendency to think about what they are singing and playing. The box set offers a unique developmental sequence to that effect.
Niggles? None really, except, while the CD art is lovely and nice and cuddly, there's no indication, on the outside of each sleeve, what show the cover actually holds. OK, all is revealed inside but I don't want to open every darned folder to find the show that I'm after! Even spine information would have been enough.
Bonuses? The shows themselves and the fact that Yes have agreed to release them all in one big box. If only bands had recorded more of their own works and had direct access to them and then released a whole heap of official bootlegs or worked with fans to produce the best quality bootlegs they could find, shined them up and released them in nice packaging like King Crimson, Pearl Jam and ELP have done over some time now. This would stop (or at least reduce) artists becoming fidgety and rather grumpy when the word 'bootleg' came up in conversation.
As an aside, bands shouldn't gripe about bootlegs. Some do. Some get horribly irritated and far too worked up for the good of their blood pressure. If they didn't think ahead, if the business side was not that important, if their creative genius didn't match their predictive qualities about current technology…then tough. After all, most (I know, not all) bootlegs are passed from fan to fan for personal use. The same fans who have not only spent hundreds/thousands on their favourite artist's commercial releases already but continue and will, in the future, support their heroes every time an over-priced, over engineered, underwhelming rip-off hits the streets.
None of the above is aimed at Yes, you understand, but this box set does provide a convenient 'what if' moment.
Another bonus, incidentally, is the price. At least in the UK you're paying, what, around £8 for each two disc show? This is a price to make a Frank Zappa fan wince where a typical two disc show from the Zappa estate is priced at around £18. So, well done to Yes and its team for that slice of reality.
Bottom line? Every Yes fan on the face of the planet will want this box set. This is a very important point in the band's history, their evolution and their development. The group has been around so long now that to really understand the thread or evolution of the band, this box set is critical.
Remember the skeleton of Richard III, they recently found under a supermarket car park in Leicester? Remember how important that was deemed to history? This box set is the prog equivalent.