The Article
Vinyl & CD Review Round-Up Pt.13
21st August 2020
This week, in issue 13, I thought I'd do an even split between CD and vinyl for you
CD
THE APARTMENTS
Title: In and Out of the Light
Label: Talitres
Formed in Brisbane Australia by ex-Go-Betweens man Peter Milton Walsh in 1978, the band were signed up by Rough Trade a few years later, when the group finally hit the UK.
This album was formed in 2019 and mixed as the Lockdown came into effect in Australia.
The group's seventh album, the outfit consists of Walsh on vocals and Eliot Fish on bass. Working separately in France were Natasha Penot and Antoine Chaperon while the English drummer, Nick Allum, worked on his bits in London. You'll also find The Necks' pianist, Chris Abrahams on here.
The band's first album in five years or, to put it another way, only the second album from the group in 15 years, this is one to note. For its rarity value if nothing else. 
The style is reflective, considered and slightly melancholic. Often musing in a downtempo fashion, this band retain a classic 80s indie style. Even when the tempo increases, on a track like What's Beauty to Do? there's a thoughtful aspect to the music, aided by Walsh's slightly damaged and fractured, Peter Hamill-like delivery. This is an album in which you can share emotions. One to listen to alone. When you have time to think and consider.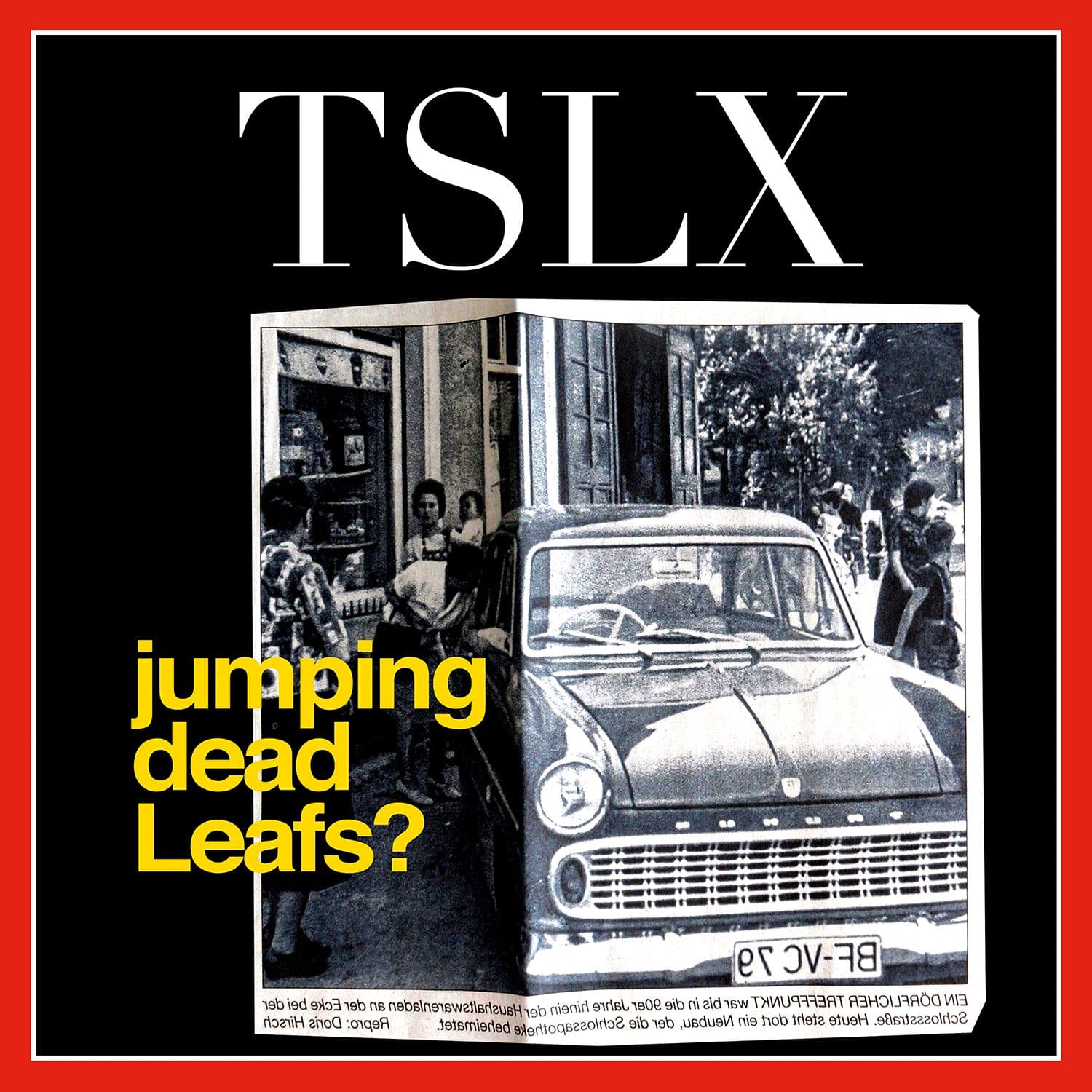 TOLOUSE LOW TRAX
Title: Jumping Dead Leafs 
Label: Bureau B
Yes, I groaned when I read the moniker too and I wonder if he regrets putting that name in stone, as it where. No matter though, what you have here is Kreidler man, Detlef Weinrich and his fourth solo release. 
This eight-track album of electronic wonder combines a resting heartbeat series of percussive bass notes around which rotate playful synth effects that build and fall, wash in and out like the tide and form a trance-like series of moments, especially as other percussive effects add complex rhythmic layers. The track, Berrytone Souvenir is one good example of that template.  
Other tracks – let's take the final outing on this album, Sales Pitch as an example – lean the music towards a slightly industrial tone. Even that track managed to lighten the atmosphere with a contrasting, slightly psychedelic, underlying narrative synth line, giving the hard-edged beats a sense of the dreamy. 
Vocals are mainly used for effect, as a grammatical addition, another effect to add to the layered construction. 
Offering a decent overall master, there's nothing innovative here, we've heard it all before and better too but, nevertheless, this is a meditative album that will have the head nodding with some enthusiasm.
HARMONIOUS THELONIOUS
Title: Plong
Label: Bureau B 
From Dusseldorf, this is a solo outing from Stefan Schwander filled with electronica. Music layered and formed upon a steady series of beats. From what I hear, this album is supposed to be largely underpinned by music from various European and African cultures.
Apart from elements on the first track Original Member of a Wedding Band and its Arabic notations, I didn't really hear much of that. Unless the world's music has become to inter-twined and accepted into Western culture that we no longer hear the 'other' in our music. A good thing, if that's the case. 
I did hear a lot of German on this. The eclectically-monikered Abu Synth, sounds like classic krautrock to me. As does the next track, Mumba. As does the track after that, Young Kong. In fact the latter sounds more derived from Tangerine Dream than spaces afar. 
But look, let's be kind. Maybe the music here has been influenced by different cultures. It all goes through a krautrock filter, though. 
As a piece of straight-ahead, electronica-infused krautrock then? It's very nice indeed and fans of the same will be much pleased. There's enough innovation to keep you focused and variation to maintain interest to the end. 
More please!
FRUUPP
Title: Maid in Ireland 
Label: Esoteric
Launched onto its prog rock life in 1971 by Belfast guitarist, Vince McCusker, the rest of the band featured some hot stuff in musician terms. Classically-trained the lot of 'em! So you had Stephen Houston on keyboard and oboe of all things. Peter Farelly spouted the vocals, Martin Foye sat on the drum stool and John Mason would later replace Houston on keys and vibes. McCusker would co-write many of the songs with the non-performing Paul Charles, who has written the liner notes for this CD release. He was also the manager, sound engineer and bottle washer.
The band really went for it in terms of work rate and fitted nicely into that early UK prog sound. And nothing happened. In fame terms, that is. And I really don't know why. They should have been as big as the likes of Yes and Genesis. In fact, for Fruup, they get more attention now than they did then. So better late, eh?
This is a career overview, a Best Of… . Its title was supposed to be given to a live album that never happened. Well it did, in Aylesbury in 1975. And then the tapes of that show were destroyed in a fire. 
The songs here were all recorded between 1973 and 1975 and every single track is a gem. There's a gentle aspect to the group's sound, a slightly pastoral feeling about their work that reminds me of the Canterbury sound combined with early Genesis.
Presented with a nicely mastered tonal balance, this is a lovely over-view of the band's output and should encourage you to seek out more from the group. They're well worth the effort. 
VINYL
CREEDENCE CLEARWATER REVIVAL 
Title: Cosmo's Factory
Label: Craft
Fronted by John Fogerty, these twangy rockers offered slices of blues and country in the mix to provide an essence of Americana and hit a vein of brilliant form during the final years of the 60s. 
You could – possibly arguably – say that this album was the group's last hurrah but it also showed that the group's musical ambition was expanding and maturing. The first single from this album, Travelin' Band, was testament to that.
At the same time, you could also sense that they were running out of steam, as good as this album was and remains. That is, the best tracks on the album all appear as A- and B-sides, orbiting the three singles. I've mentioned one of those tracks above. The rocking Up Around the Bend was a high-energy feast while the track Who'll Stop the Rain plugged into the darker side of Fogerty, a side he was not avert to exposing to his listeners.
The rest of the album was packed with covers such as I Heard It Through the Grapevine plus old Sun tracks like Ooby Dooby.
This new edition of the classic album emerges as the LP hits its 50th anniversary. As such, it has been provided with high-quality attention too with mastering completed at Abbey Road by one of the best mastering engineers in the business, Miles Showell. Now, anyone who knows or at least knows of Showell will also understand that he's the industry's principle expert in half-speed mastering and this vinyl has been treated thus. Half-speed mastering is a protracted and long-winded process but does result in a highly detailed soundstage, great focus, airy mids and organic bass in general terms. And that's what you get here.
CARLA BLEY, ANDY SHEPPARD & STEVE SWALLOW
Title: Life Goes On
Label: ECM
You look at the line up here and you might assume that this is another one of those wife-swapping-type, jazz ensembles. Free-form trios that come and go, split and reform with new members while the older members run off to hook up with other trios and quartets or more. 
But not this bunch. Of course pianist Bley and bassist Swallow are partners in crime and life which helps the bonds that tie while sax man Sheppard has tied his star to the folks for some time now. In fact, this is the trio's fourth album outing, an easy-going four years after the LP, Andando el Tiempo.
There are three multi-part works here: the title track, Beautiful Telephones and Copycat. Each one features vaguely thematic musical ideas but all focus on modern or relatively modern jazz time and chordal structures. 
There's complexity here amongst the relaxed and laid-back atmosphere.
This vinyl edition is a fine release and has been mastered well, as in often the case from this German label. 
And that's fortunate because, on this production, the trio are taking it easy, taking things slowly and using more space than might normally be the case. Hence, there's more chance for you to notice small details on this release. The slow deliberate piano chords, roaming up and down the scales with gay abandon, the considered bass plucks and the heavy resonance of the body of the thing while the breathy and textured sax is more than humanistic in both approach and tone.
The music here can be complex and intricate but it can also be playful and performed with a smirk and a smile. The trio obviously enjoy each other's company and, more the that, working together. So, why not join in the party?
CHAIRMEN OF THE BOARD
Title: In Session
Label: Demon
Do you ever remember that funk/soul hit, full of musical stuttering it was, called Give Me Just a Little More Time? A Top 10 hit and the band's first and best-known single, the Detroit's time in the hit-tested sunshine was relatively brief. Around the 1970-1973 period.
Two other singles followed: (You've Got Me) Dangling on a String and Everything's Tuesday but they languished as Top 40 contenders, failing to have quite the same impact. Then they broke up in 1971, got back together, had some regional US hits then finally broke up in 1976 while two group members, General Norman Johnson and Showman Danny Woods moved onto solo careers.
So where does this LP fit then? Well it slots easily into the group's massive ego, if the lyrics are anything to go by. Women weren't safe in their presence, it appears. Don't damn them for their boasting and bluff though because there's plenty of good songs on this 1970 release that originally appeared on Holland-Dozier-Holland's Invictus label and followed their well-received, self-titled debut of the same year.
As in the Dylan review elsewhere, there was a distinct feel to the mastering from that 70s release and that holds true here too. There is a distinct warming tonal direction to the mids with a sense of cuddly yet strong bass that wraps the music in cotton wool. This means that clarity is not a principle ingredient of the soundstage, not compared to more contemporary releases. That doesn't matter though because the mastering sets this music in its place in history. 
And that music is a confident, swinging slice of funk and soul. Head-nodding, foot-tapping soul that combines Johnson's unique delivery, Woods' strong approach and a classic soul, finger-clicking approach that will have the hips a-swinging.
BOB DYLAN
Title: Pat Garrett & Billy The Kid
Label: Mobile Fidelity
Bit of a weird one this, but a weird one that all Dylan fans need to investigate.
Firstly because this release was not a standard Dylan album release but a soundtrack for Sam 'Blood Everywhere' Peckinpah's movie of the same name. 
Also, it was the first LP he had released since 1970's New Morning. Apart from a spot in the earlier Bangladesh benefit concert in 1971, Dylan had gone AWOL.
On this release, Dylan reacquainted himself with a former colleague, guitarist Bruce Langhorne, who had appeared on the LP, Bringing It All Back Home and others before that. 
Unlike some named artists of certain soundtracks, Dylan took a firm hold of this one, composing and playing upon it. It was also remarkably simple in approach and musical structures with a folkish and countryish flavour to add form and colour.
As to emphasise the serious nature of the project, Dylan also brought in other names such as Booker T. Jones, Roger McGuinn and top fiddle player, Byron Berline. 
And the album repaid Dylan his hard work because it produced a killer single, the one and only Knockin' on Heaven's Door. There's plenty of other excellent additions to that hit, including the three Billy songs while the instrumentals were all worthy.
Often neglected, this album stands on its own two feet as a quality release. And this edition is only enhanced because Mobile Fidelity has added excellent mastering to this 33⅓ edition. There's a slight warming nature to the mids on this issue which gives the music that classic 70s tone. The mastering colours used here were also all over other 70s releases of the time, its a sort of tonal signature but one that still retains plenty of information and focused detail.
[Don't forget to check out my Patreon Page at www.patreon.com/audiophileman, for exclusive postings, giveaways and more!]