The Article
Truckers, Kickers, Cowboy Angels: The Blissed-Out Birth Of Country Rock: Volume 1 (1966-1968) & Volume 2 (1969)
12th January 2016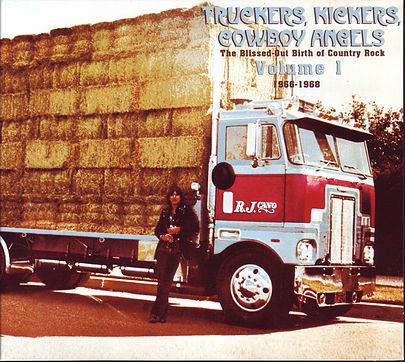 Title: The Blissed-Out Birth Of Country Rock: Volume 1 (1966-1968) & Volume 2 (1969)
Label: Bear Family 
In a weird way, the creation of country rock, in a time when psychedelia was the predominant sound emanating from your transistor radio, was the result of the same suite of complex patterns that would see the growing staleness of rock spawn punk in 1977. Psychedelic rock had steered towards complexity and experimentalism, leaving many music fans adrift and searching for something simpler: three chords and a story. The thorny genre of country rock was the result.
This set of two volumes takes the story from the beginning of the genre, 1966 (you can argue amongst yourselves as to when the actual beginning of country rock occurred) until it turned into Eagle-like gloss, around 1975. Between these dates, country rock had an edge and the 20 tracks on Volume 1 with the 23 tracks on Volume 2, provide a broad introduction to the genre from a wide variety of artists. Many, of which, reinvented themselves to occupy this flowing movement.
The entire genre of country rock is a moot one. What exactly is country rock? More particularly, where is the boundary drawn between country and country rock? Between country pop and country rock and country? Between…well, the arguments run and run.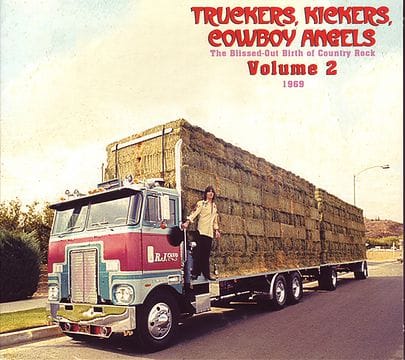 Because of these blurred labels there are interesting inclusions in this set. From the obvious listing of Gram Parson's International Submarine Band to the slightly less obvious Rick Nelson, who was looking for a home after the taste in his bubblegum had leeched out. For every Buffalo Springfield and Gene Clark, though, there will be voices raised by the inclusion of the likes of Glenn Campbell (the included Galveston is surely more country-pop, with the emphasis on country). And while country rock heads will nod sagely at the likes of The Band, there will be a few hands raised when they get to Buck Owens. Owens had his rockabilly moments, I grant you, but country rock? There might be a slice of fuzztone in Who's Gonna Mow Your Grass but does that make this included track country rock or, again, country pop?
If nothing else, this double volume set will spark debate. For me? I'm not convinced. The set falls between a number of stools. Copyright issues might have prevented their inclusion but surely the likes of the missing Mike Nesmith, Neil Young, Emmylou Harris and even the Grateful Dead had more claim to be compiled than Kenny Rogers. With the included Ruby (Don't Take Your Love To Town), his First Edition backing band were fully equipped for rock but Rogers wanted to take his rocking group into more country direction with this song.
One additional slight irritant, however, is the Bear Family's insistent inclusion of The Beau Brummels' Bradley Barn LP artwork on one CD of Volume 1 with the pseudo cover of the Nashville West album on the other, companion CD. In purely practical terms, the label is surely being too clever for its own good here. Users may mix up the CD discs, confusing them for the actual albums by both groups, especially if you own the respective albums in the first place. Volume 2 does the same thing with The Byrds' Dr. Byrds & Mr. Hyde.
An interesting pair of compilation sets, then. Both have issues but, as is often the case, most compilations have a habit of stirring debate because they do not represent the vision of one artist or band. They are the blended result of a compiler's vision and the supporting label's copyright restrictions. In those terms, these compilations are worthy without being definitive, offering a good music selection while also being contentious and tell a story while sometimes over-stretching themselves. Ideal sets, therefore, to keep any debating group of music fans talking into the early hours in a local pub or a bar.