The Article
Trini Lopez's Rock On
12th May 2015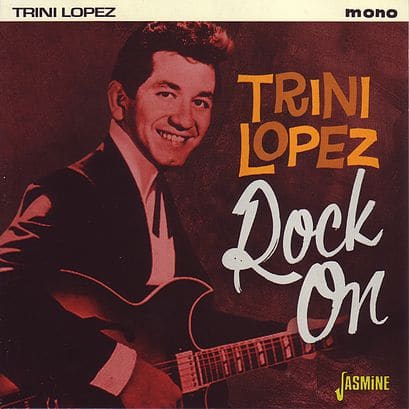 Title: Rock On
Dean Martin absolutely loved this native Dallas man and so did the general public. Lopez starred in his own variety TV programme in the 60s and appeared in the hit film, The Dirty Dozen in 1967 while, in chart terms, he had a huge hit with If I Had A Hammer as well as good response from the likes of Lemon Tree and Kansas City but this compilation looks further back than these salad days. In fact, it covers the Lopez career from 1958 to 1963, back to when he had just left the Norman Petty-produced The Big Beats and into the recording of his own penned track, The Right To Rock on Volk, which forms the essence of this new rocking compilation.
Lopez quickly left Volk Records and then signed with King Records in 1959, recording more than a dozen singles for that label, none of which charted. Nevertheless, this often neglected part of Lopez's career is well worth investigation.
In 1963, Lopez had released an excellent album, Trini Lopez at PJ's, packed with swinging folk-pop, offering an all-round entertainment package with a Latin lilt.
When Lopez hit stardom in 1963 with a number of hit singles, many of his earlier works were reissued by his record label with the addition of fake audience noises. You can sort of understand why the label did this, wanting to retain the PJ's flavour that clicked with the buying public, but it ruined the authenticity of the originals. In response to that, Jasmine has removed these fake audience sounds to take the singles back to their original production values. And good on them for doing that.
The singles themselves have the usual Elvis-tinged vocal quality during the early outings but Lopez, especially in the later, more balladic tracks, offers a smooth-toned delivery that is finely textured and emotive. This attractive quality matures with later releases as he finds his own rocking voice.
Well done Jasmine for digging these tracks out – a great listen for any rock'n'roll fan.