The Article
Timepieces: The Best of Eric Clapton
11th June 2015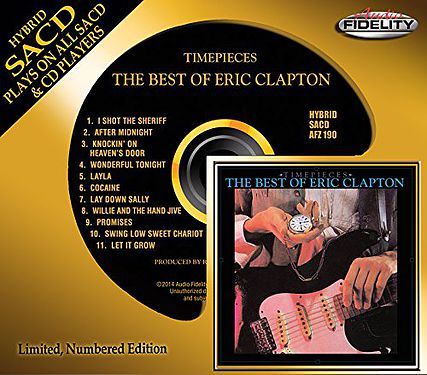 Title: Timepieces: The Best of Eric Clapton
By the time Eric Clapton turned solo in mid-1970, he'd already made a name for himself. Well, actually, that's a huge understatement. Anyone who lead the guitar picking line as he did in the Yardbirds, John Mayall's Bluesbreakers, Cream and Blind Faith had to be a talent worth reckoning with. His tag as one of, if not the best, guitarist of his generation was well deserved.
The 70s were a dodgy time for Clapton. He spend much of the early decade struggling with a drug addiction. While his usual reticence meant that his 'solo' career was almost subsumed in a group of other, like-minded, artists. It wasn't until around 1974 that he launched his solo career in any sort of structured format, releasing 461 Ocean Boulevard and the hit single, I Shot The Sheriff.
This CD (which features that very song) looks at the 1982 original compilation, originally issued via Polygram. It's a solid collection of his 70s work that includes I Shot the Sheriff, After Midnight, Wonderful Tonight, Derek and the Dominos' Layla and Cocaine. There are other compilations out there, of course, and many more that are more thorough in their appreciation of the man and his career as a whole including his time in Blind Faith and Cream, for example. That said, there is nothing wrong with this LP and it stands as a genuine compilation release from a particular place and a particular time. In terms of its content too, it offers Clapton fans with a good array of his 70s work.
This CD is actually a dual-layer SACD which enables you to play the disc on CD and dedicated, high resolution, SACD players. Its been reissued as a limited, numbered edition,  has been well mastered by respected engineer, Kevin Gray.