The Article
Thee Image's Thee Image/Inside The Triangle
11th November 2015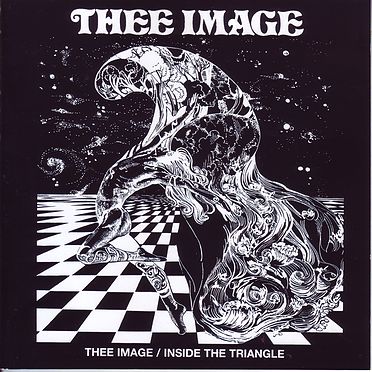 Title: Thee Image/Inside The Triangle
This intruiging band was formed by Mike Pinera (who had stints in outfits such as Cactus, Blues Image and Iron Butterfly), Duane Hitchings (who used to be a part of Buddy Miles' band) and, drummer, Donny Vosburgh (who was also with Miles).
Formed in 1973, Thee Image (which was also the name of a well known Miami psychedelic rock venue that hosted the likes of the Mothers of Invention, Ten Years After and, well well, Blues Image starring Mike Pinera) was signed to the UK-based Manticore label, in 1974, promptly recording their self-titled LP and, soon after, Inside The Triangle. The latter appeared in 1975 but only found a release in the USA. It's possible that the restricted distribution was down to Manticore label founders, prog stars Emerson, Lake & Palmer, rapidly losing interest in the venture. Another issue was the official distribution outfit, Motown: not the best outfit to handle a rock band, I'm sure you'll agree. All of these factors conspired to hamper any progress the band may have expected. It was no real surprise then that the band decided to split in 1976. Pinera would find a refuge playing guitar in the company of Alice Cooper.
Rather frustratingly, during their brief life, Thee Image never really found their true voice. Also, despite the assumption by some, the band could never be described as a power trio, either. In fact, they drifted from pseudo-prog to quite funky-based rock with a pop/rock blend and gospel overtones that found Pinera pushing his dreamy, ethereal flower power vibes and lyrics.
In sound terms, the band's first album features greater variety and changes of pace including the balladic and soul-inflected So Hard To Say which displays Pinera's strong and melodic voice to its best effect. This is a gem of a track that quickly grows on you and never lets go.
The follow-up album, Inside The Triangle, is a high tempo, funky, soul-drenched, rocky mélange with Good To You and Far Away Places typical of the high-energy presentation.
As a two album collection, you can hear the band struggling and trying to find its feet which results in a suite of patchy songs. That said, there are several highlights that showed just how promising the outfit could be – cementing the group's valuable part in the history of 70s rock.