The Article
The Standells' Dirty Water/Why Pick On Me: Sometimes Good Guys Don't Wear White
11th April 2016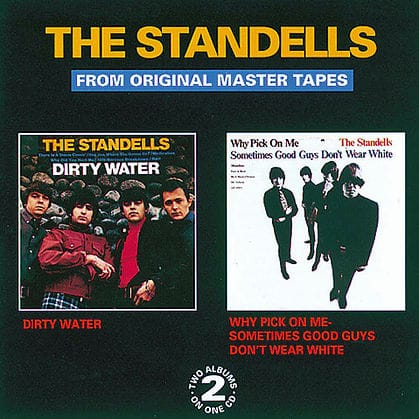 Title: Dirty Water/Why Pick On Me: Sometimes Good Guys Don't Wear White
Garage rock? Well, yes. Sort of. But then…? There's a polish in there that tells of something else. More garage with psychedelia and pop overtones, perhaps?
Fans of esoterica might remember their TV appearance on The Munsters, where they did cringing version of I Want to Hold Your Hand.
What we have here is a value for money package that sees two of this Los Angeles band's mid-60s albums squeezed onto a single CD.
Both of these albums were originally released on the Tower label. Dirty Water (1966) was one of the band's strongest albums. Two tracks should be noted here. Both There Is a Storm Comin' and Pride and Devotion are worthy inclusions and examples of why original albums are always worth tracking down because you won't find either of them on compilations.
Then there's Rari, wreaking of volatility that was originally found on the B-side of the title track single.
This is an original mono master that was sourced form the original tapes and, sonically, it shows. There's a directness and immediacy to the presentation that adds to the thrills and spills.
This release offers the album without any of the bonus tracks found on the Sundazed CD reissue. Interestingly, though, that issue left off the original album track, Sometimes Good Guys Don't Wear White. That track is here, on this issue.
Why Pick On Me (1966) offers another good selection of tracks including the title track plus Mainline which is often seen of compilations. Album tracks of note include Black Hearted Woman, a portentous song full of threat. Again, these are the original tracks derived from the original master tapes, no bonus cuts here but this stereo master is concise and to the point.