The Article
The Seeds' Singles As & Bs 1965-1970
11th October 2015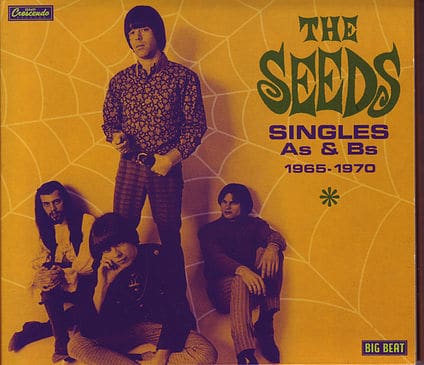 Title: Singles As & Bs 1965-1970
The Seeds were a rock band with a surfeit of energy that hit the heights, briefly, off the back of two hit singles: Pushin' Too Hard (reaching the Top 40 in 1967) and Can't Seem To Make You Mine (released just after). They played in a Rolling Stones-like manner but integrated garage rock with art rock and psychedelia.
Consisting of Sky Saxon, Jan Savage, Daryl Hooper and Rick Andridge, the band formed in 1965. After releasing the albums The Seeds (1966) and Web of Sound(1966), The Seeds tried to enter a post Sgt. Pepper's psychedelic sound with Future(1967) but it didn't bring the success the band expected. Later albums Raw & Alive: The Seeds in Concert at Merlin's Music Box (1968) and A Full Spoon Of Seedy Blues (1969) were largely ignored by the buying public of the time, whereupon the band took the hint and broke up just afterwards. That said, there was much in the later works to commend to the current listener.
This 24-track collection is interesting because it spans all of this time and so you can hear the band's evolution during the progress of the CD itself. The CD release is, itself, notable because it features the correct mono mixes and edits as featured on the original records.
Session bassist, Harvey Sharpe, commented that, "Recording with The Seeds was kind of fun. It wasn't difficult. There were no charts. It was just, here's the chords and everyone knew their part. I did the little runs that everyone liked. I don't remember too many stops. In my opinion, none of us were monster musicians…Rick looked like a guy who had been given a set of drums for Christmas and learned to play them…Jan Savage was a cool looking guy and plated great lead…Daryl, I felt, was the driving force and Sky's voice is the only voice you want to hear on those songs."
Ultimately, Saxon started believing his own PR. His bandmates accused him of an inflated ego, "Sky started thinking of himself as the creator of the universe," commented Savage.
Nevertheless, those later singles deliver quite a punch and, in hindsight, there is much to enjoy from the introspective Wish Me Up (1970) with its loping rhythm, Did He Die (1970) which features almost a prog-like narrative and the almost whimsical country stylings of Falling Off the Edge Of My Mind (1969).