The Article
The Masqueraders' Everybody Wanna Live On
11th August 2015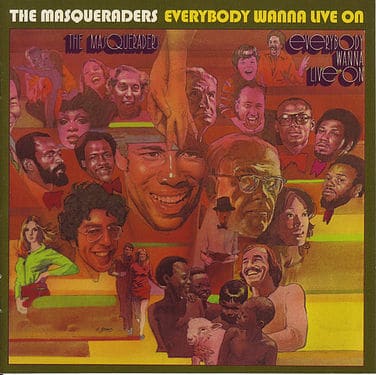 Title: Everybody Wanna Live On
Ah, that voice! That voice! Lee Hatim (previously Jones before his conversion to the Muslim faith), my friends. You want more? Hatim's voice offers power with a fine element of gravel that adds just enough emotional emphasis to send miniature tingles down the previously unknown areas of the back, never mind the spine. But I'm rushing on here. Look, if you have gazed upon the group's name and are about to say, "Who?" then I wouldn't blame you. The 'Raders, as they were known by their fans, where that rarest of things, a soul group from the American South.
This album was released in 1976, their debut album for Isaac Hayes' own Hot Buttered Soul label and it sounds absolutely lovely. Why? Partly the group itself and partly because of Isaac Hayes standing in as producer and seconded as keyboard player on this LP.
The album begins with a giant of a track, the absolutely humungous title track which not only grabs you by the throat and refuses to let go, even if approached by a whip and a solid wooden upturned chair, this track spans over eight and half minutes. An amazing start to any album.
It is followed by a suite of gentle, melodic ballads until the tempo is upped with Listen that, despite the rather preachy Sesame Street lyrics, is a foot tappin' fest.
One of the best soul LPs that I have heard for some time. I actually found it tough to keep still while writing this review. There I'd be, in mid sentence, next minute, I'm halfway through the door to the next room in mid groove. Then followed a return to senses and a return to work. An album with so much groove, you risk injury every time you approach it.