The Article
The Hillbillies' They Tried To Rock Vol.1 & Vol.2
12th March 2016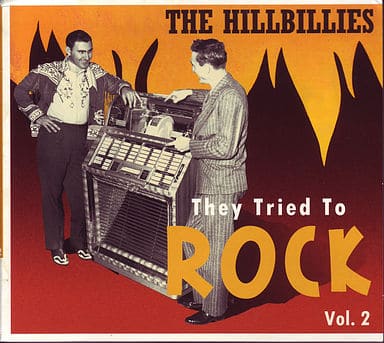 Title: They Tried To Rock Vol.1 & Vol.2
Oh these CDs are full of drama. Drama that you couldn't really see. At least, most of it you couldn't see. Both of these CDs are quite, quite delicious. Not only for the array of music that spans the two CD packs (62 tracks in all) but for what they represent. Both CDs hit a time and a place. A cusp that focuses on artists plying their trade, within the then comfortable rut of country and the new kid on the block, rock'n'roll.
The issue, that is well described within the excellent liner notes that span the copious booklets with each of the CD packs is this: despite the fact that the country artists were doing well or carefully building a career in country, the sheer force of rock'n'roll, so to speak, shook them up. Many were not sure if they should be featuring the style in their own music or violently opposing it. Many didn't want to be left behind, many didn't really understand the new music but the feared that they might be seen as stale and old hat, it scared a lot of them. Many country artists tried and couldn't really handle the new rock'n'roll style. Others tried valiantly and made a fist out of it. Some were fresh into country and saw rock'n'roll as an even more exciting genre than country and embraced rock'n'roll wholsesale. The ructions were many and the results were fragmented but, above all, what we had here was a whole bank of singers who were right out of their comfort zone.
So you have Webb Pierce feeling that he should be making an effort despite the fact that he really didn't have to because he was very successful in his chosen country sphere. Yet, even he took Hayride Boogie, increased the tempo and renamed it Teenage Boogie. The results were good – relief for him then.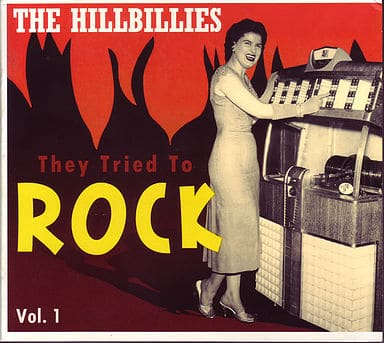 Lefty Frizzell's You're Humbugging' Me was another success despite the rural lyrics and the country tones. The song title may be a touch confusing but the results rocked.
Then we get to George Jones. Jones wasn't a rock'n'roll fan but his record label had been scared to death by Elvis Parsley's Heartbreak Hotel, so it pressurised Jones into heading into the rockabilly sphere. George hated the idea so much, he tried to hide. Hide behind the title Thumper Jones, rather than George. Give him his due, though, he did bothe to write a relevant song, How Come It (ok, it might have sounded a little too much like Tutti Frutti…but still). Jones also added the odd Elvis stylistic edge and Little Richard scream and, you know what? It works. It actually works.
What doesn't work is the likes of Marty Robbins trying to cover Chuck Berry's Maybellene. From the introductory guitar strumming that lacks fire to the absensce of intensity in the vocal performnce. This was Robbins hanging on to the coat tails of rock. Then The Louvin Brothers, reverred country stars, gave it a go with Red Hen Hop. You can hear, in this track, the sheer professionalism of the guys which partly shows why they were such big stars in their day. It also shows why this song was pretty decent. But you can also hear that the whole thing is a bit of a trial.
Onie Wheeler, meanwhile, was plainly perplexed and confused at the whole rock'n'roll scene. Onie's Bop is partly about Elvis Presley. During the song, Wheeler admits that he can't understand what Elvis is gibbering on a about and declared that its all nonsense to him and, gee, why are the girls screaming their heads off? Sigh.