The Article
The Ex at Bimhuis (1991-2015)
11th May 2016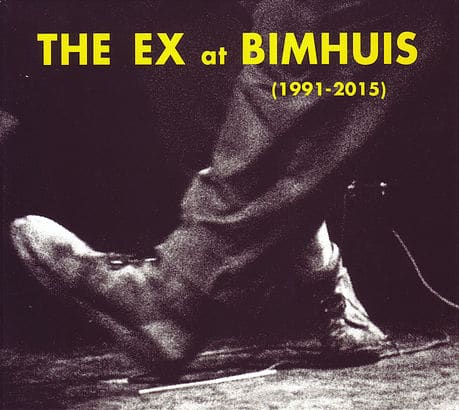 Title: at Bimhuis (1991-2015)
In a way, The Ex are sort of a Dutch version of Crass, in that this punk-esque outfit have an aggressive liberal social political agenda. During the 80s, if you were around Holland at that time, you would have been fairly swamped with new releases from the band who were incessant in their work ethic. Even more interesting than that, when the 90s appeared, the band changed their musical focus a tad and began to embrace industrial forms of percussion and improvisation more in line with Einstürzende Neubauten and Test Dept. The band even caught the attention of John Peel who invited them in not just for a session but for three of the blighters. In fact, The Ex released a compilation of these sessions in 1988. Since then, they have released a cassette-only album and have worked with avant-garde man, Tom Cora and even completed their 20-member, big band project Ex Orkestra, in 2000. This is an outfit brimming with ideas.
This 2CD multi-gatefold package (plus 32-page glossy booklet featuring images of popsters, photos and lots of quotes) features 24 tracks from the Amsterdam jazz club, Bimhuis.
Right from the first track on this collection, 1991's Flutes Tale, you can hear the exploration. Entitled the Ex and Guests (who are, on the whole, a host of jazz/brass players), the band combine a slice of wacked-out jazz rock of an avant nature that delights as it surprises. Moving to 1993 and Dear House, the brass remains but the rock is more in evident as the vocals head off in a post punk, almost Wire-like fashion.
The brass becomes almost soundtrack like on Symphony for Machines from 2002, taking on a massive, hulking, Soviet atmosphere of smoke, oil, muck, sweat and effort before Abbay Abbay/Aynamaye Nesh swings into John Coltrane in New Orleans mode.
A compilation bursting with vibrancy and ideas.