The Article
T-Bone Walker/Joe Turner/Otis Spann's Super Black Blues
11th May 2016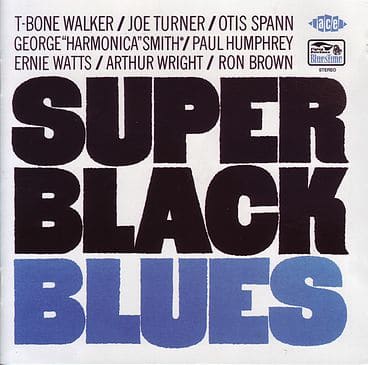 Title: Super Black Blues
Label: Ace
Unlike many blues recordings, this LP seemed to have been created because of the wishes of the white man, not in spite of him. The impetous did not necessarily derive from any old white men, either. This album was forged on the exhubrence of young white musicians who were seeking their heroes, seeking the source of their craft. Men who were attempting to capture a measure of authenticity that would allow them to measure their own progress but would also reflect well upon themselves and their own works.  Young, rich men performing in bands such as The Rolling Stone, Fleetwood Mac, Canned Heat and The Band. They wanted to hear their heroes sing authentic blues. 
This was an interesting time as beat music had given way to psychedelic frippery. There was more going on in music at this time, though as blues music soon followed as many artists from Cream to Chicken Shack, indulged in the genre.
The background to the LP belonged to Bob Thiele, owner of Flying Dutchman, who set up the BluesTime label in order to catch the fashion of the blues revival. Thiele had worked with several blues greats at ABC and he recruited many of these same 'greats' for his new venture including Joe Turner and T-Bone Walker. Otis Spann followed after breaking his association with Muddy Waters. Spann was looking for a solo career.
There are a bunch of supporting players on this album that, originally, received lesser credits, although Ace gives them full exposure here, including George "Harmonica" Smith.
This album was released in 1969 and, unlike other blues revival projects of the time, was not a great success despite the lush and swampy steamy blues that allows each musician to show off their chops. On the first track, Paris Blues, for example, Spann's piano antics are remarkable while Walker's vocals are sad and vulnerable. Smith's harmonica adds essential and tasteful harmonica to meld the whole thing together.
A superb selection of urban blues, the included four tracks might only span 40 minutes but these are blue diamonds.