The Article
Stranger Than Fiction Rockabilly Rules Again
12th March 2015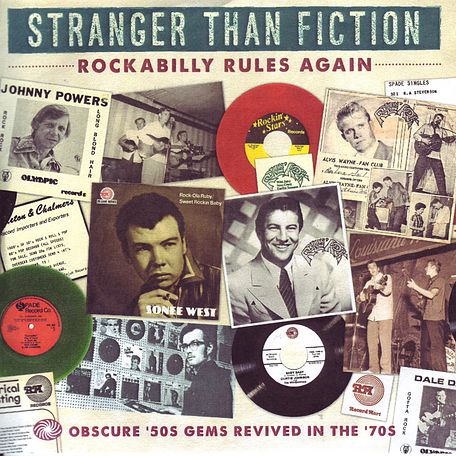 Title: Rockabilly Rules Again
Rockabilly has always retained an audience. Today, it's just as popular. In fact, reissue labels make a healthy business selling remastered original recordings while the internet is awash with websites dedicated to the overall scene and the individuals within it. Look around the streets of your town and city and see how the fashion of that time has resurged, adorning the old and the young while revival bands are all over the entertainment circuits of the UK, USA and Europe. I've just written a feature for the magazine, Vintage Rock, on the revivalist outfit, the Jive Aces, for example.
That interest in the music and culture was also strong during the 70s. In fact, the interest in the scene was such that a number of collectors and DJs created swathe of bootleg discs featuring original obscurities in an attempt to feed the demand. Later, small and enthusiastic legitimate record labels were established, releasing their own records which, in themselves, became collector's items.
This 3CD collection features records which appeared on many of these collectable labels, names such as Record Mart and Rollin' Rock, for example. In fact, much of the first two CDs in this set includes output from both of these labels while the third disc looks the the sister labels, Injun and Spade, plus others.
This pack is a real treasure trove of rarities. Not only do you have rare records appearing here but you also have rare demos and alternative takes from the likes of Ray Campi, Bob Luman and Joe Povey.
There are many rarities to be enjoyed here. Take The Lonesome Drifter and his song, Eager Boy. Initially released on Mira Smith's K label, this rockabilly cut from Thomas Johnson is highly sought after. Released in 1958, it features Tom Bonnet on guitar.
Jimmy Patton is also present and correct. Essentially a country singer of little repute, Patton has been a favourite amongst rockabilly fans for his blazing Okie's in the Pokie and, as can be heard here, Yah! I'm Movin'. Initially released on Sage in 1958, Patton was known for his high energy stage show. He died in 1989, the victim of a drunk driver, ploughing into his van.
Packed with quality cuts, this set provides a useful introduction to the collectable rockabilly scene while possibly filling in a few missing songs for the more decicated aficiando.