The Article
Still Groove Jumping: 16 Classic Rockin' R&B Tracks From RCA's Groove Label.
11th February 2016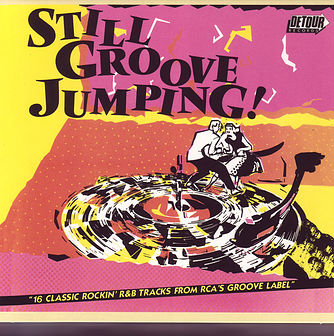 Title:  16 Classic Rockin' R&B Tracks From RCA's Groove Label.
Another reissue from the late Bob Jones' excellent label, Detour, and the first time on CD for this collection that is subtitled: 16 Classic Rockin' R&B Tracks From RCA's Groove Label.
Groove was an interesting RCA imprint because it was set up to issue music produced by black artists during the early to mid-50s.
Groove, in fact, had an unsettled life. So much so that it produced an initial series of 38 discs in 1953 (under the guidance of Danny Kessler), taking the pop side of R&B as its focus, and then took a break to relaunch again in 1955 (this time headed by Bob Rolontz).
One of the early artists featured was the mighty Piano Red (brother of Speckled Red, no less), an albino with poor eyesight. Because of the latter, he found it hard to get a job and so music became a sort of saviour for him. Red, who hung out with those other wonderfully named blues legends, Laughing Charlie and Barbecue Bob, ended up as a DJ on Radio WAOK where he became Dr Feelgood. And that, my friends, is where the famous UK R&B pub/blues rock band of the 70s derived their name. Check out his storming Rockin' With Red on this CD.
Fans of House actor, Hugh Lawrie, will be fully aware of his love of blues legend, Professor Longhair. Those same fans should check out the Arthur 'Bog Boy' Crudup song on this CD, She's Got No Hair, a sort of celebration of the Longhair anthem to bald-headed women.
Blues guitar fans, meanwhile, need to check out Tiny Kennedy's song, Country Boy that, taking cues from Hound Dog, includes a venomous guitar solo from the mighty Mickey Baker.
A fascinating collection that will quickly remove the garments from the podiatry area in an explosive fashion.