The Article
Steve Khan's Tightrope/The Blue Man/Arrows
11th December 2015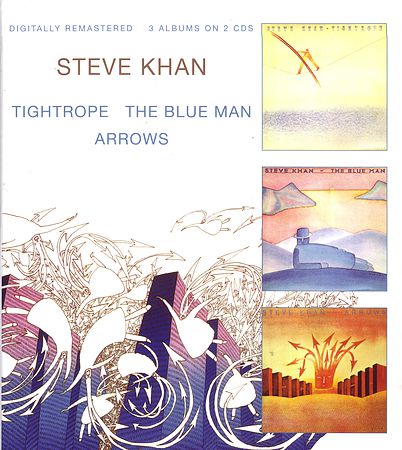 Title: Tightrope/The Blue Man/Arrows
Label: BGO
Ring any bells? Well music historians and aficionados will certainly know his father, legendary lyricist Sammy Cahn (with a 'C'), who penned many of the American Song Book classics by giants such as Frank Sinatra, Bing Crosby and Tony Bennett.
Steve Khan's forte was initially piano and drums but he graduated towards the guitar and worked steadily in jazz, pop and R&B settings, working with many of the greats such as Maynard Ferguson, Buddy Rich and Weather Report as well as playing sessions with Lou Rawls and Steely Dan.
His own fusion LPs, though, are frankly superb examples of their type. Starting with his debut, Tightrope (1977) and adding the Brecker Brothers and Steve Gadd. Khan's modded Fender Telecaster sits in the centre of this smooth yet lively album with plenty of be bop edges and sexy jazz flourishes.
For the intensely melodic The Blue Man (1978), his second release, a self-produced/arranged effort, it has similarities to Tightrope in many respects but I think it's superior, overall. Partly down to the more conversational soloing (An Eye Over Autumn) which is also finely crafted and carefully constructed. The entire production is also tighter and more focused. In fact, fans of Steely Dan will find much of interest here while even Santana fans will look upon it with a kindly eye.
Finally, Arrows (1979) changes the mood dramatically, taking this LP into rather bleak territory with a loosening up of both focus and direction while riffs are scarce. It has some of the tunefulness of Tightrope but the increasing melange of fragments on this album threatens to loose touch with the listener. Apart from this LP (which hardcore jazz fans may like), this is a recommended set from an under-rated guitarist.