The Article
Steve Harley & Cockney Rebel, The Best Years Of Our Lives: Definitive Edition
11th May 2015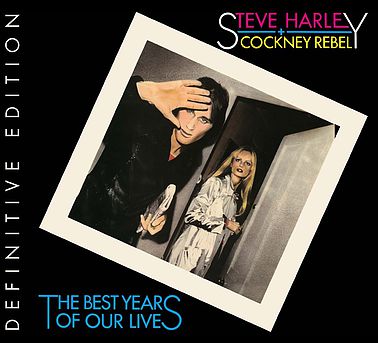 Title: The Best Years Of Our Lives: Definitive Edition
Label: Parlophone
Steve Harley's third album, co-produced, engineered and mixed by Pink Floyd Dark Side Of The Moon man, Alan Parsons, blended a carefully considered combination of pop song craft with an artistic construct that gives this album a strange combination of prog elements, glam rock and, with Harley's own vocal delivery emphasis, a certain Dylan or even early Bowie style. Featuring the massive hit, Make Me Smile (Come Up and See Me), this album is always inventive with highlights a-plenty. Finely crafted, the original album was essential Harley fare but this edition takes the LP one step further.
Disc 1 sees the original album plus four extra tracks including alternative versions plus the B-side, Another Journey. Disc 2 is a live concert at the Hammersmith Odeon, London 14 April 1975. Well, the first part of that concert, at any rate. The second part can be found on Disc 3 while film footage of the concert can be found on a fourth, DVD, disc. You won't find the entire concert here, just seven of the 14 tracks. The footage is part of a sold out, three nighter, from the band. These tracks are taken from the third night.
This album was produced after the break-up of a previous Cockney Rebel line-up while Make Me Smile, you may be surprised to learn, is a direct message to that old group. As Harley himself said, the single, "…is me saying to the guys who left me, 'Come back one day and I'll laugh.' It was arrogant but I knew they were wrong – they didn't understand the group like I did."
A classic single for a classic album and, for this edition, fans get real value for money. 
Makes a nice change, doesn't it?