The Article
Sing Me A Rainbow: A Trident Anthology 1965-1967
11th April 2016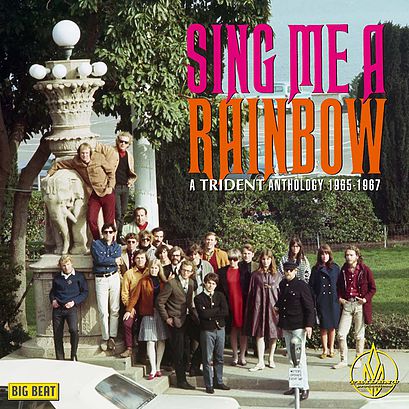 Title: A Trident Anthology 1965-1967
It was Frank Werber, known to many as the manager to The Kingston Trio (one of the most important groups during 1957 and moving into the folk revival period up until 1963), who ran Trident Productions. His eyes were mainly fixed on the San Francisco region and the music that emanated from it. He had an immediate hit with a song called You Were on My Mind from the We Five but success largely started and ended right there for Trident.
This 2CD set offers a host of fascinating songs for anyone who has an interest in the San Francisco rock scene. More so because much of it is previously unreleased. Of course, anyone who is heavily into that scene will be familiar with the Trident songs that were released and are present on this set. They will include tracks like Blackburn & Snow's Stranger in a Strange Land, a folk-rocker plus, from the Mystery Trend, the garage-psychedelic song, Johnny Was a Good Boy.
Some of the artists who sing the included rarities here should be familiar to the same fan, though. People such as The Sons of Champlin, who became respected soul-influenced rockers plus John Stewart, who wrote Daydream Believer for The Monkees and was responsible for a selection of respected solo singer-songwriter works.
Other tracks throw up surprisingly interesting tracks such as Front Line's Got Love, an excellent slice of garage plus the New Tweedy Brothers with a rare slice of psychedelia.
There's a fair amount of period folk-rock with British Invasion-influenced garage pop on this collection that will reward anyone who spends time with this engaging set.