The Article
Sigsum Integrated Amplifier From AVID
17th January 2020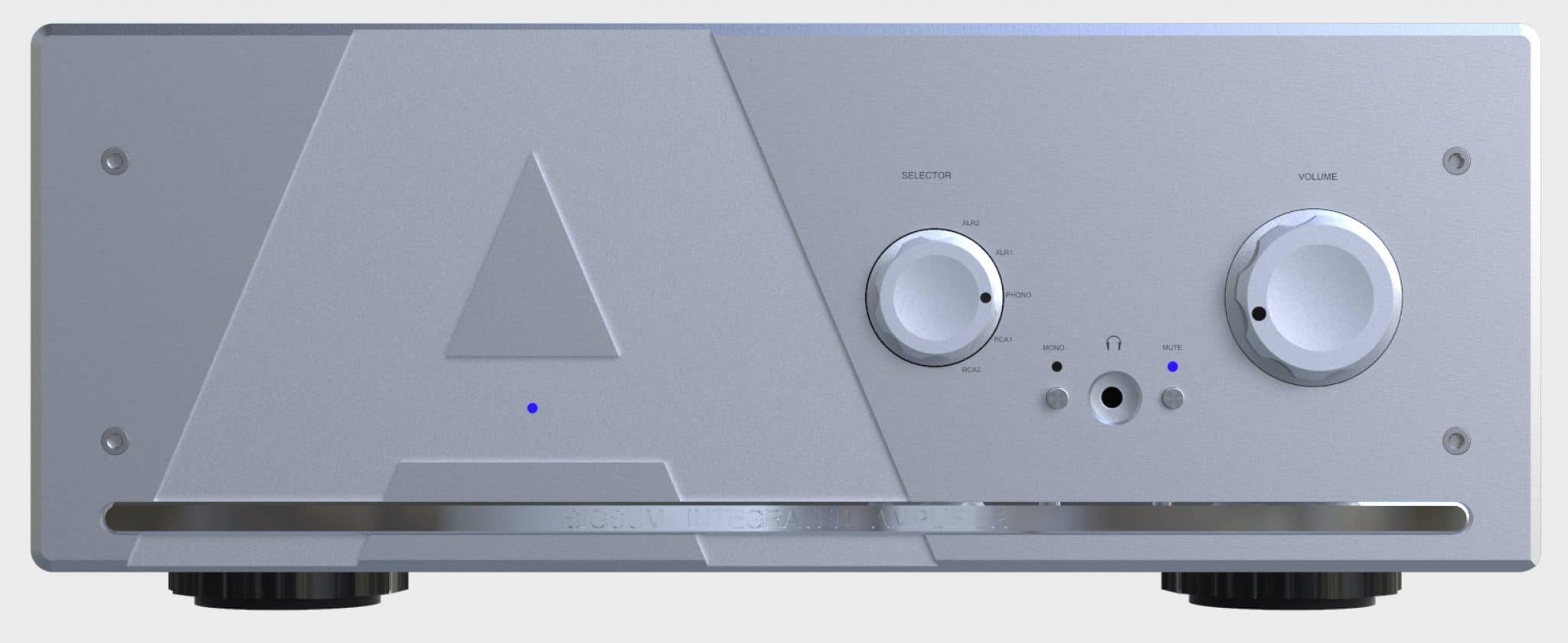 A new integrated design from AVID, featuring a built-in phono amplifier and balanced connections, Paul Rigby reviews the Sigsum
Oooo, it's heavy. The Sigsum is one solid integrated amplifier with the density of a newly fallen meteorite. Half a dozen of these stacked on top of one another could form a wall that nuclear radiation would find it tough to penetrate. 
Packing a hearty 31.2kg, I initially bent down to pick up this chassis out of its box. Nothing happened. There was a pause as I remained, motionless. "Ahhh…" I said. And so will you. Phone a friend. Otherwise you might be shaking hands with Mr Hernia.
That said, although this chassis is not exactly small at 600 x 570 x 260mm, the solidity is still a surprise.
That might be because AVID has shoe-horned a 1.1KVA mains transformer and large capacitors inside. 
Replete with bespoke circuit design and oozing with high quality components, this Class AB, 110W (into 8 Ohms) beast does have a quality look. 

On the front panel, you will find a very nice ALPS RK50 volume knob, a selector switch, mute, mono switch and headphone socket (handling 20-600 Ohms)
Spinning around to the Sigsum rear, there's two pairs of RCA inputs to meet your gaze. Under each RCA pair is also a pair of XLRs inputs. Another pair of RCAs act as pre-amp outputs. I question their inclusion. I see pre outs as a useful, value for money method of extending the life of an integrated amplifier by adding a power amp off the end. For those whose budget won't run to a dedicated pre-amp. If you're targeting a £13k integrated amplifier, though, then I expect you to make a technology judgement based upon form, factor and sound quality. You should buy a Sigsum because you want an integrated amp. Not because you see it as a stepping stone to 'bigger and better things'. I would have preferred to have seen the pre outs replaced by more inputs.
On that subject, being picky, I would have liked to have seen more inputs. Another two each would have been useful. I did ask the company about that but "budget constraints" was the reply from AVID. The company says that, because they use high quality components throughout the Sigsum, adding two to four more inputs would have increased the price way above what they wanted for the design. Make sure you're covered before you buy.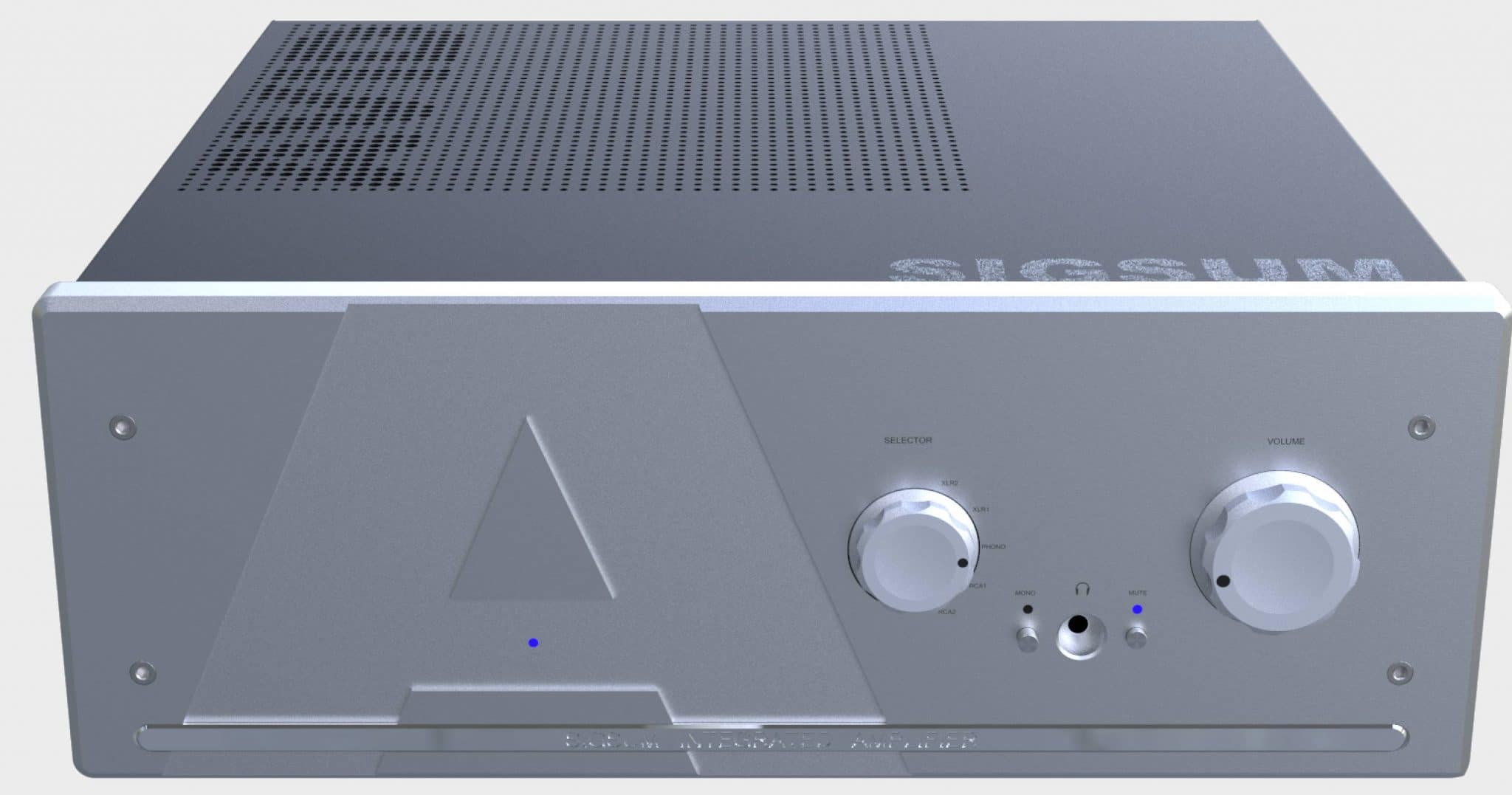 Oh and there's no remote. The reason? Sound quality. As AVID has it, as soon as you insert the gubbins for a remote control, you degrade sound quality. I get that and actually applaud AVID's dedication to sonics. 
There's the standard four speaker terminals and an IEC power port on the right. On the far left is a pair of RCAs for the built in phono amplifier along with a screw-threaded ground knob. This phono amplifier is worthy of note because its basically a Pulsus phonostage (£1,800; configuration DIP switches lie under the chassis, see HERE for more information on the phono amp and its DIP switch layout). According to owner, Conrad Mas, this thing has been carefully isolated to minimise high frequency noise. A passive RIAA circuit using high-end capacitors, "…helps maintain linearity of reproduction," said Mas while the unit plugs into its own 35va mains transformer giving independent power to each channel. I looked forward to checking that out.
SOUND QUALITY
I played two LPs, Ananda Shankar's self-titled 1970 LP combined Eastern flavours with, rock and sitar wihin The Stones' Jumpin' Jack Flash. I also looked at Ella Fitzgerald's …Sings The Harold Arlen Song Book.
I always like to express my first impression when hearing a new piece of hi-fi. After infusing the reference using the selected vinyl and then flipping to the AVID, what grabbed me was two things. Firstly, how very clean the music sounded. Not a speck of dirt was attached to the available tones. The sound was pure as the driven… Secondly? The music sounded like it was being played in a studio with all the doors and windows open. There was a distant airy and spacious aspect to this amplifier. 
The first point, the clean aspect partly derives from the solid state foundation of the Sigsum technology but mostly from the massive power hardware driving it. There was so much potential behind the music, even at low volumes, that the music was absolutely effortless in tone. It's like the world's strongest man picking up a 10 ton truck with one hand and also holding a calm and collected conversation with you about last night's football results. You want to stand and gape and wonder how he does it.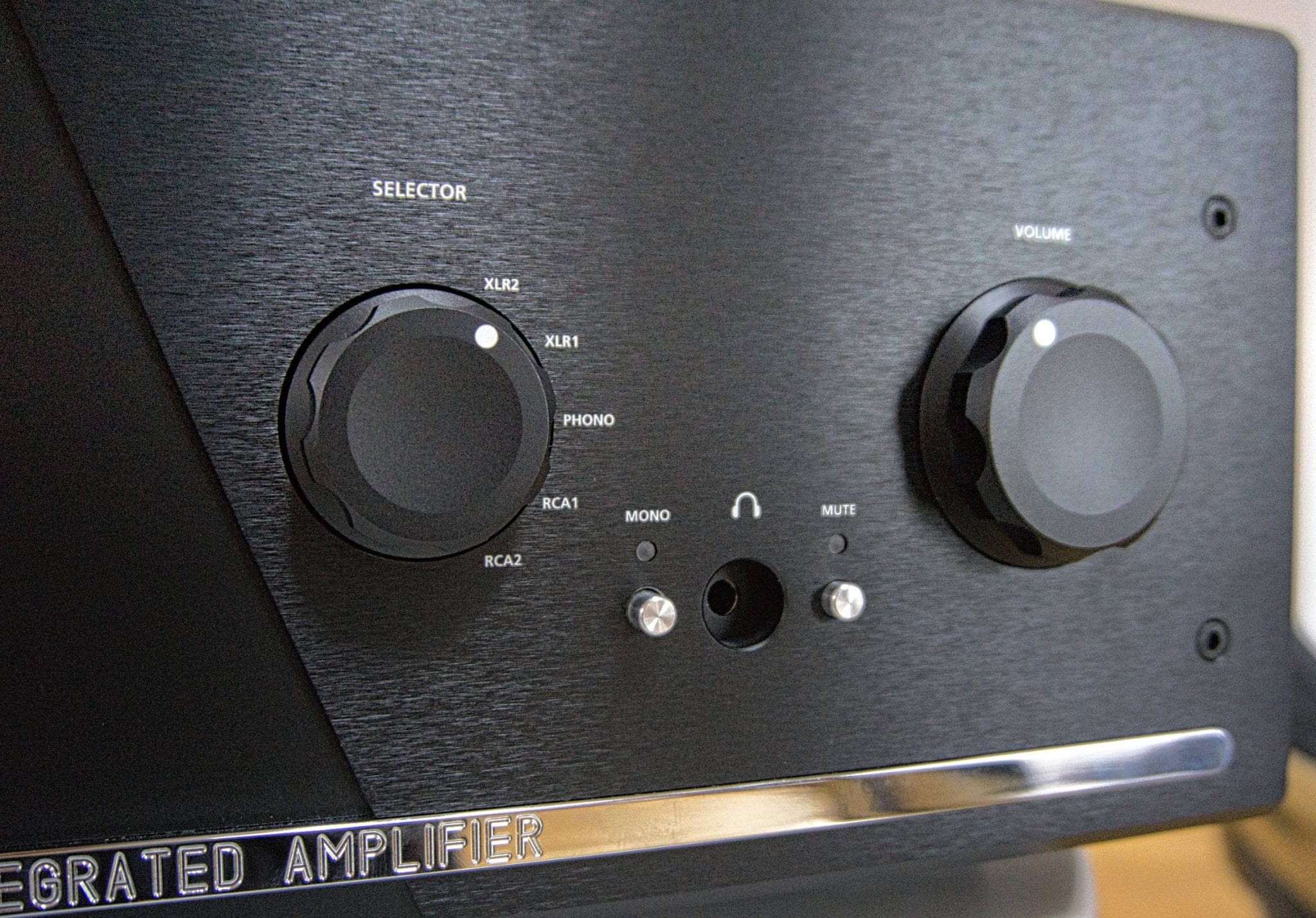 The AVID gives you that same impression. Music tends to flow with no effort at all. I mean no effort. None. You never hear any stress. There's never an ounce of difficulty. Every band member on either genre of music I played here, rock and jazz, sounded in control, well versed and ready for action. If hi-fi is under powered or the design is badly implemented, it can sound like the group is playing in a small room, are bumping into each other and are possibly on the verge of either forgetting what they're doing or are about to so each note played is a trial. Not with the AVID.
On the second point? That airy nature of the sound? I can point to how this amplifier is put together but also the quality of the components. The result is surprising because this is an integrated amplifier. You normally hear this effect only on separate pre- and power amplifiers which makes me wonder what AVID could do if they separated the pre-stage of this amplifier from the power stage.
Other sonic highlights included a neutral overall soundstage. This amplifier was low in noise and high in detail extraction but the amplifier never had to stoop to using midrange emphasis to get it.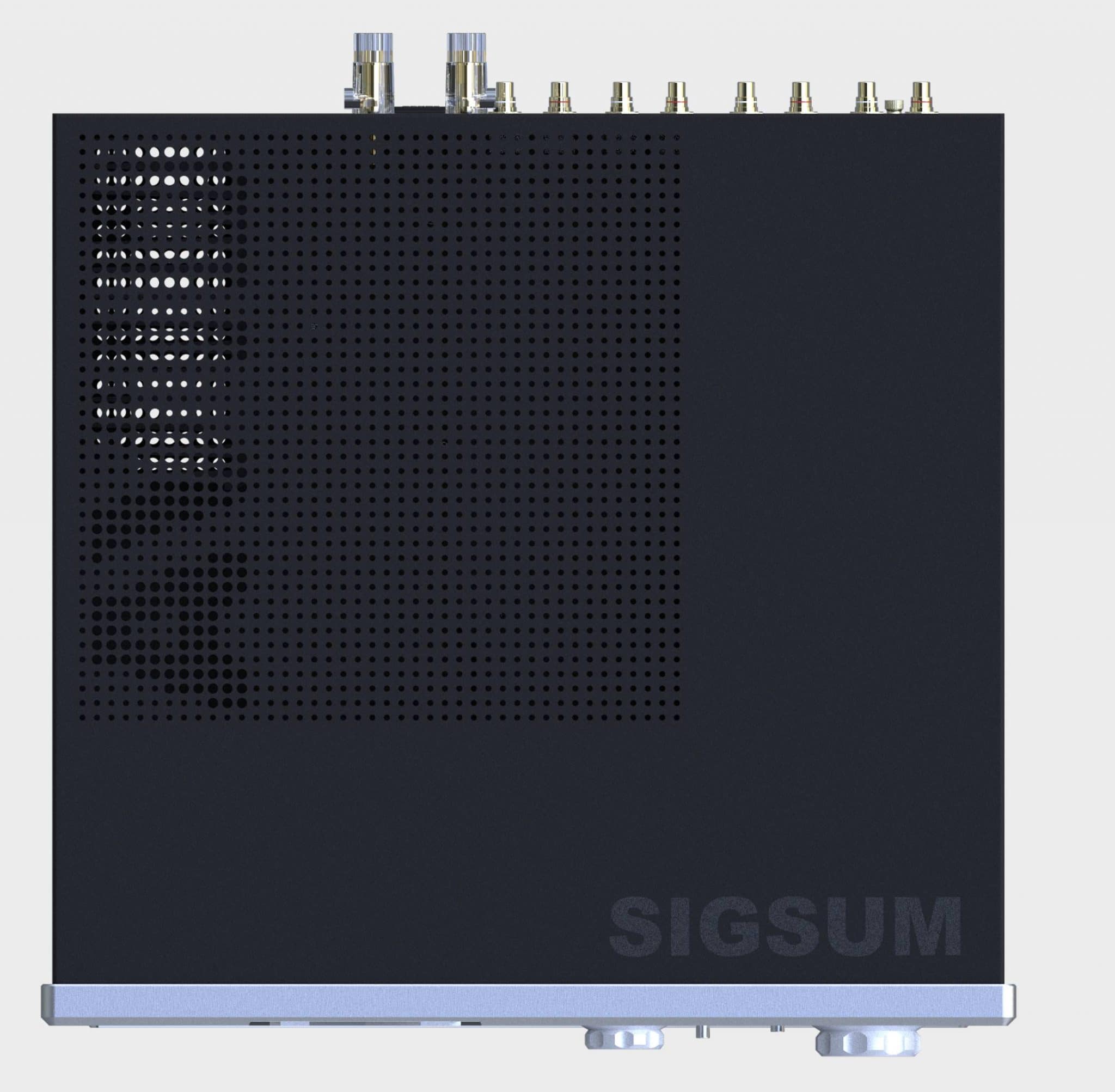 Hence, brass on the Fitzgerald track sounded metallic without being harsh, the lead vocal was both nuanced and fun of emotion and, on the Shankar track, the backing vocals were teased apart so that you could make out individual voices while the often shy Moog synth was easy tracked by the ear.
I then tried the built-in phono amplifier and was surprised at the quality. There was plenty of top quality external phono amps that the AVID unit could easily compete with and win. Don't under-estimate this phono amplifier, it provided a startling instrumental separation and dug out even subtle details from the mix. Balanced in tone and offering a suite of disciplined frequencies, the AVID unit may be the only phono amplifier that some users will ever need.
That was single-ended mode sorted then.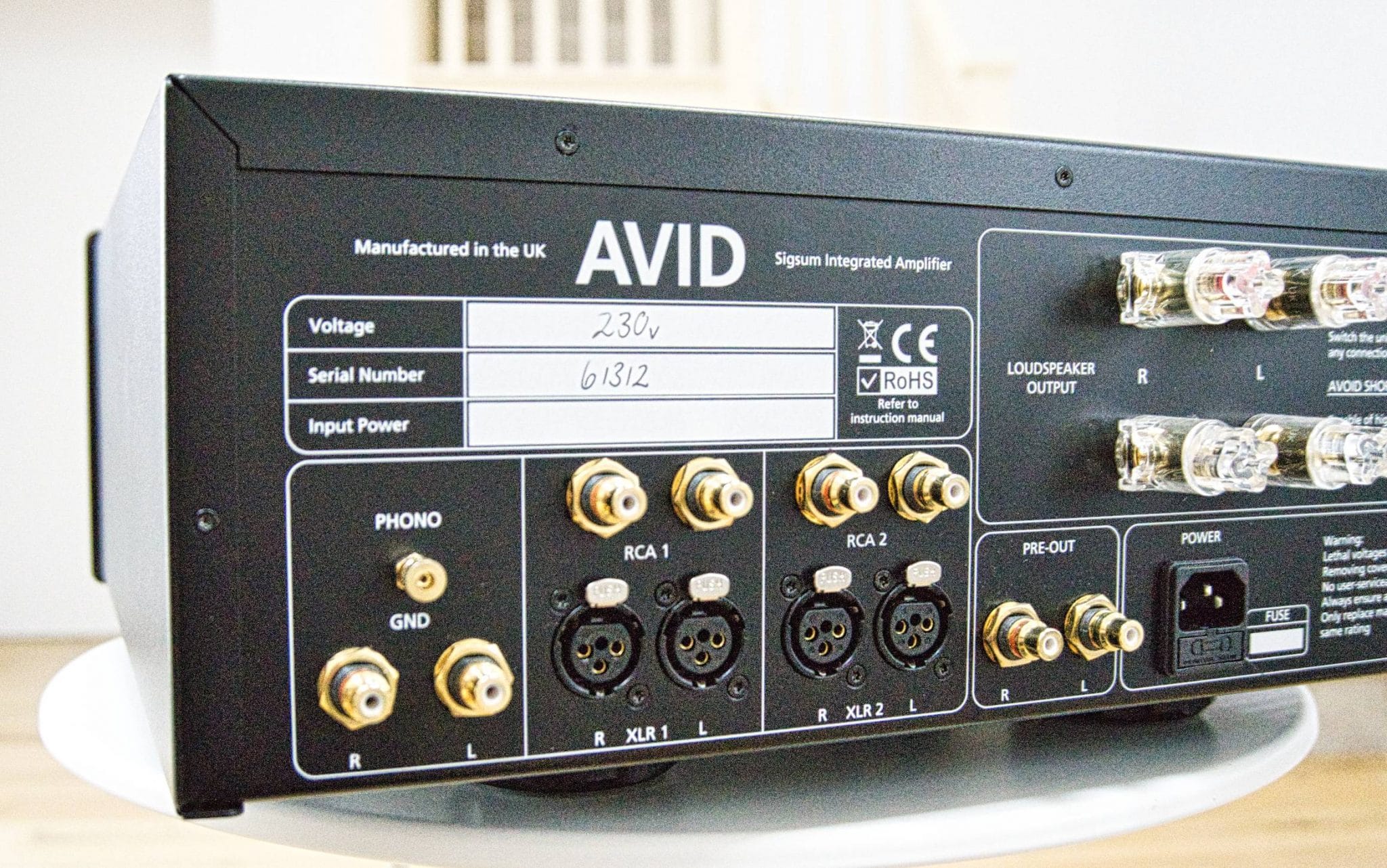 I turned to my McIntosh CD player and tried a balanced connection while playing acoustic guitar from Leo Kottke and I Yell at Traffic from Regards From Chuck Pink.
In my experience, if you're a hi-fi manufacturer, just because you install balance connectors in your amplifier or whatever, that doesn't immediately equal great sound. Different sound? Yes. Great sound? Not always. 
It's not what you do but how you do it, as it where. 
Fitting a balanced option in a chassis is easy, implementing it properly is tougher. AVID has got it right here.
In fact, I would see balanced connection as the primary method of connecting your hi-fi to the Sigsum. Single-ended mode is very nice indeed but balanced is the way to go here. See the Sigsum as a balanced amplifier first, single-ended second.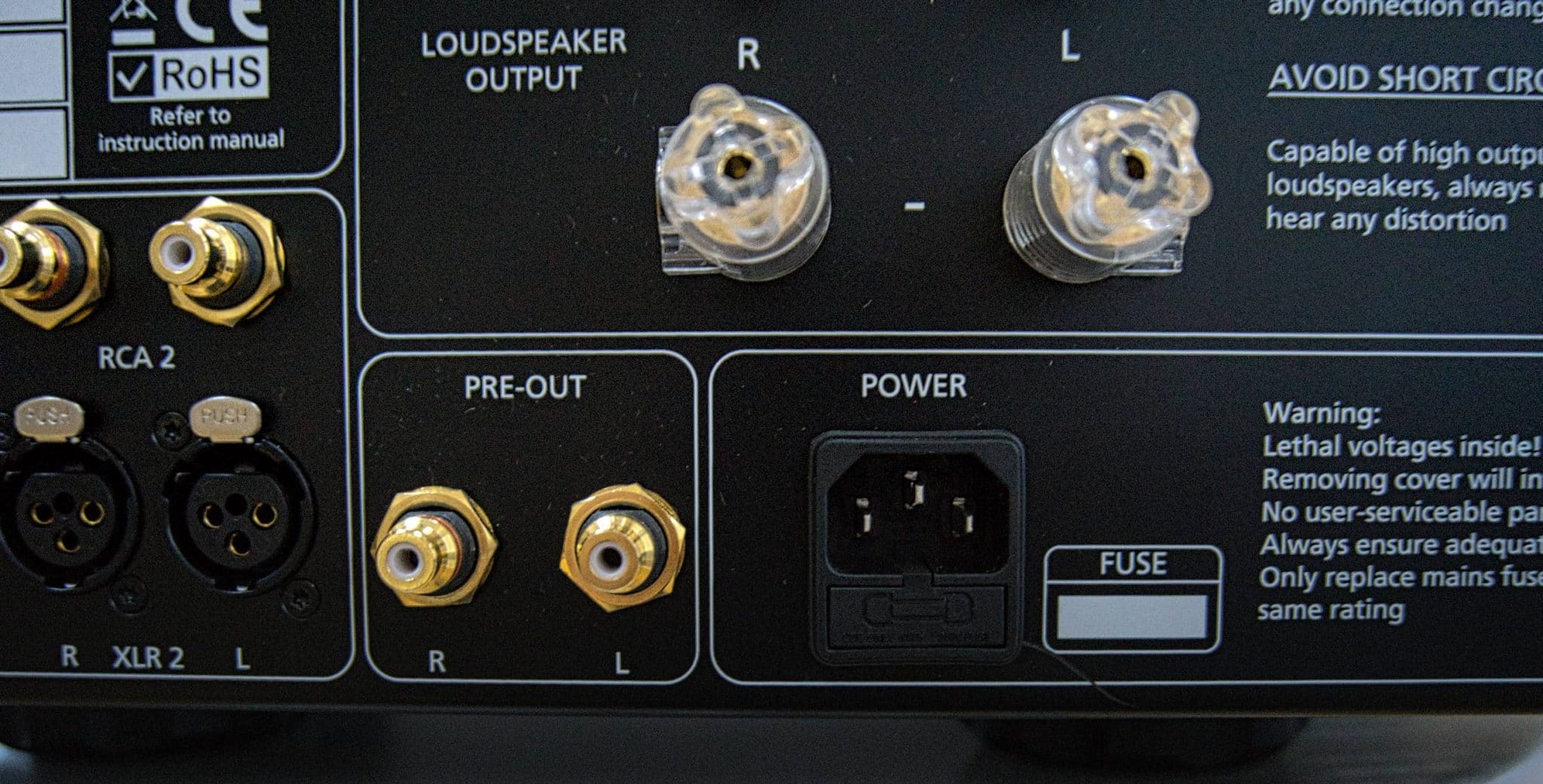 The reduction in noise is obvious but also the emergence of a host of new details. On this track, percussion was only hinted at in single-ended mode but became blatantly obvious during balanced mode. You felt like saying, "Oh, so there you are!" The improvement in clarity was enormous indeed. The accompanying fiddle playing on this track was also far ore precise and focused with a sense of transparency that delighted and excited. You really felt that you could journey to the rear wall of the studio in this mode and pick up every subtle part of the mix on the way. Bass was powerful but never emphasised. Organic without being bloomy. Also, because the foundation of the music flowed with ease, as I noted above, nothing fought against it. In effect, the amplifier assisted rather than hindered balanced mode. That is, balanced mode was actively encouraged to do well. 
Balanced mode, then? A total triumph. Brilliant, even.
I finished with a quick listen to the headphone amplifier and was happy to hear the music auto-mute as I inserted the full size (i.e. 6,35mm) headphone jack. During play, the soundstage was pleasingly broad, separating the low bass percussion on the right channel from the light stuff in the centre, for example. Bass was strong via this headphone module while detail was plentiful. No doubt helped by the balanced connection.
CONCLUSION
It's big, it's bold and it weighs a ton but it also provides an effortless and detailed output via single-ended mode as well as the quite startling performance via balanced mode. Add the headphone and phono options and you have an amazing product here. There is no doubt, the AVID is an exceptional amplifier.
---
AVID SIGSUM INTEGRATED AMPLIFIER
Price: £13,000
Website: www.avidhifi.com
Tel: 01480 869 900
---
GOOD: superlative balanced mode, detail, clarity, low noise
BAD: limited inputs, no remote
RATING: 9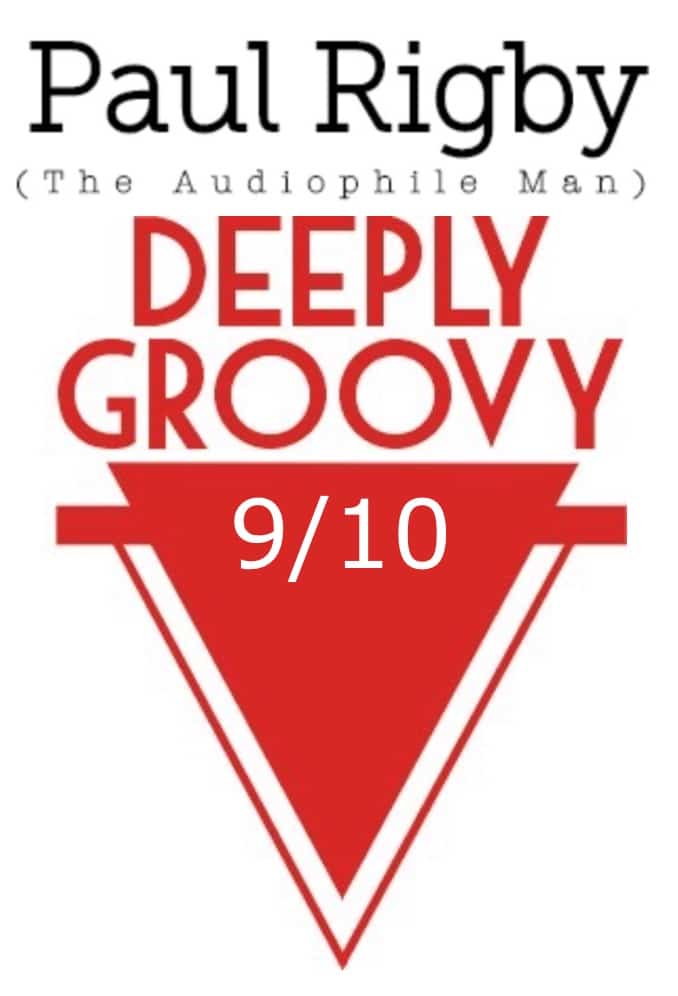 ---
[Don't forget to check out my Facebook Group, The Audiophile Man: Hi-Fi & Music here: www.facebook.com/groups/theaudiophileman for exclusive postings, exclusive editorial and more!]
REFERENCE
Origin Live Sovereign turntable
Origin Live Enterprise 12″ arm
Van Den Hul Crimson XGW Stradivarius Cartridge
Icon PS3 phono amplifier
Aesthetix Calypso pre-amp
Icon Audio MB845 Mk.II monoblock amplifiers
Quad ESL-57 speakers with One Thing upgrade
Tellurium Q Silver Diamond cables
Blue Horizon Professional Rack System
Harmonic Resolution Systems Noise Reduction Components
All vinyl was cleaned using an Audio Desk's Ultrasonic Pro Vinyl Cleaner