The Article
Bonnie Dobson's She's Like A Swallow
11th January 2016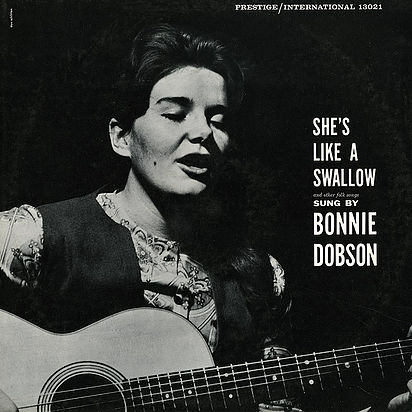 Title: She's Like A Swallow
Not exactly the best known folk singer around but this Canadian 60s folk revivalist is well known in folk circles for penning Morning Dew a moving ballad about the threat of nuclear devastation, covered by a host of artists as wide ranging as Tim Rose, the Grateful Dead, Lulu, the Jeff Beck Group, Episode Six (with future members of Deep Purple), Clannad, Dave Edmunds, Nazareth, the Allman Brothers and others.
This album, her debut, was recorded in 1960 for Prestige. The 14 songs listed here have been well crafted by industry legend Rudy Van Gelder, "It was a beautiful studio," said Dobson. "It was state-of-the-art for that time. It was amazing. Looking back on it…it was rather church-like. Everything was wooden. We used a mic for the guitar and one for the voice and that was it. That's how you did it."
Dobson's voice soars, giving it a fine contrast with her lo-fi acoustic guitar accompaniment. Nothing on this album is quite as effecting as Morning Dew but her section of public domain folk material such as Frankie Slide, The Jam at Gerry's Rock and Monsieur le Cure are handled well. The best known track on the LP is The First Time which became a massive hit for Roberta Flack as The First Time Ever I Saw Your Face.
Dobson was the first artist to sing it after Peggy Seeger (Ewan MacColl wrote the song for Seeger). In fact, Dobson first heard it being sung by Seeger, "Back then it was very much ahead of its time because nobody ever said, 'the first time ever I lay with you' in a song. It was very profound and beautiful and still is. I sang it in the spring when a young friend got married and asked if I would sing it at the wedding."
A lovely voice from a lovely singer who is well worth getting to know.