The Article
The Seeds – The 60s Discography
11th October 2015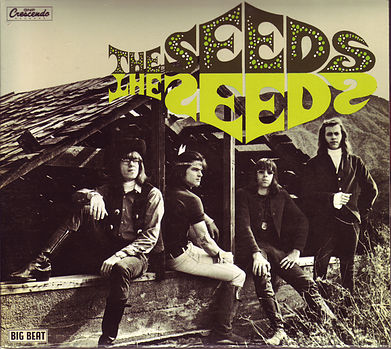 The Seeds – The 60s Discography
Title: The Seeds
Label: Big Beat
Title: A Web Of Sound
Label: Big Beat
Title: Future
Label: Big Beat
Title: Raw & Alive
Label: Big Beat
They had a Rolling Stones-like approach to garage rock but wrapped that up in a freak-out, slightly uncontrolled, psychedelia that would move into maturity and even art rock before their demise in the late-60s.
Big Beat has paid a respectful homage to the group by releasing the band's entire 60s output as expanded gatefold editions with plenty of bonus tracks.
The Seeds' debut, released in 1966, is one of the best garage punk albums of the entire decade. A stoned, slightly angry, almost disreputable album that no young person of the time could fail to fall instantly in love with. Here, The Seeds were, how can I describe them…seedy, I suppose. Never more so than on the release. They may have been limited in their instrumental skills, a lot of their songs sounded worryingly alike and lead singer, Sky Saxon, slurred his way through his vocal delivery but the end product was pure garage magic. The single, Pushin' To Hard, was a case in point.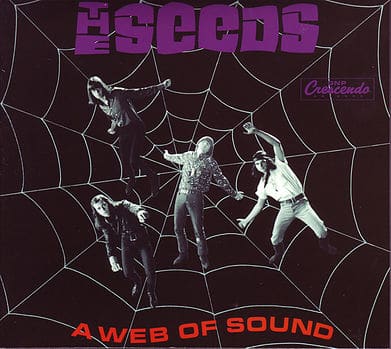 Also released in 1966, A Web Of Sound, was right up there with the Doors and Love in terms of their sonic presentation, although their lyrical naivety and sleazy reputation didn't do much for their professional career. Nevertheless, there was much to savour here from the Kink's-like Mr Farmer to a major workout that touched on the thorny subject of drugs and sex with Up In Her Room, a track that looked down at you with a measure of scorn.
This excellent issue features both the stereo and mono mixes including A Full Spoon of Seedy Blues, a Seeds side project recorded in 1966 and billed to the Sky Saxon Blues Band while offering a mish mash of biodegradable blues rock that might be throwaway but is oddly appealing, nevertheless.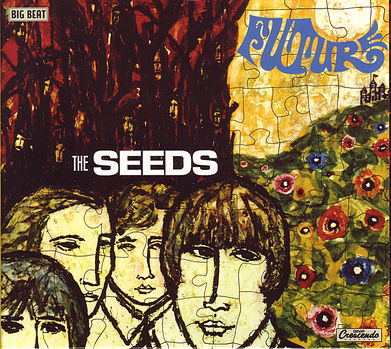 Future, released in 1967, was The Seeds turning baroque, keying into the Sgt Pepper atmosphere of the period. That said, though, this album was actually completed before The Beatles released their seminal album so influence from that LP was precisely zero. It's intriguing how similarly minded the Seeds where, though. On this disc, the band tried to move away from the garage-heavy ditties to something wholly more experimental and musical. The album tends to be just that, though. They kept looking for a style, an answer, some sort of thread but, before they could settle on one thing, the album was over. So you get a mind-expanding psychedelic wash here, the odd extended jam there with smattering of hippie vibes yet always retaining that core garage personality. The expanded edition includes mono mixes and alternative mixes and other session tracks.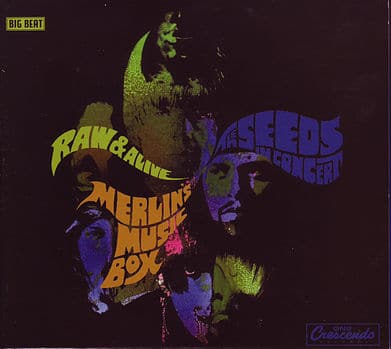 Raw & Alive: The Seeds in Concert at Merlin's Music Box (1968) was a live set in a studio rather than at a venue. It sounds live but it isn't. It's a fake live album but it's one of the best that's ever been made as the songs were cut live to tape, with no edits or overdubs, adding an edge to the performance. Wonderful. The Big Beat release includes the album, undated versions of the tracks and a previously unissued 'Live In the Studio' set from 20 February 1968.
To conclude…ah, do I really have to? Read the above again if you're not sure by now.