The Article
Satisfaction Guaranteed! Motown Guys 1961-69
11th September 2015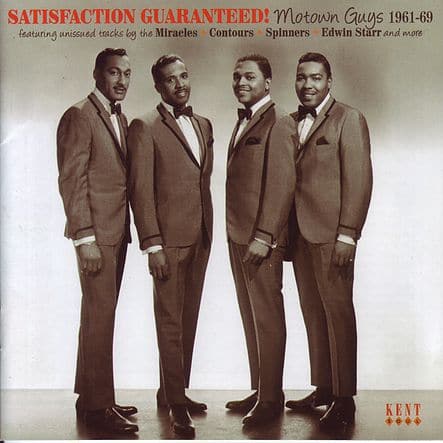 Title: Motown Guys 1961-69
Label: Kent
Its a bit weird, actually, but this CD is not exactly an obvious one is it?
Kent does have a Motown Girls CD out there, which is eminently sensible. I can roll off many ladies who sang for the label. When it gets to the guys, though, the task is not impossible, of course, but the brain cells work a little harder. You've got Smokey Robinson, the Four Tops, Jimmy Ruffin, Marvin Gaye, Edwin Starr and…then… OK, some know-it-alls might rope in The Contours, The Spinners and even Marv Jonson. After that, though, you've got a group of music fans, sitting in a room with half a pint of beer left in front of them rapidly going flat on a table, all scratching their chins because that lot isn't enough to fill a single CD.
That is why this CD is also an education for many of us as well as a joy, musically. More than that, Kent has grouped together a host of tracks that have never appeared on CD or, for that matter, vinyl before. More than that, there are two artists whose work was recorded on the Motown label but where never actually published by that label: Johnny Bristol and the Quails.
The end product is, frankly, a little corker that not only hits the ground running but hits the floor grooving with Bobby Taylor & the Vancouvers' Satisfaction Guaranteed. Jimmy Ruffin's (Loneliness Made Me Realize) It's You That I Need is a stylish and smooth piece of work that maintains the Ruffin genius and is highly recommended for fans of the man.
Also, Frank Wilson's Together 'Til the End Of Time is a cultured piece of work, exhibiting the man's soulful vocal delivery that has a tinge of Stevie Wonder.