The Article
Roy Haynes' Hip Ensemble
11th November 2015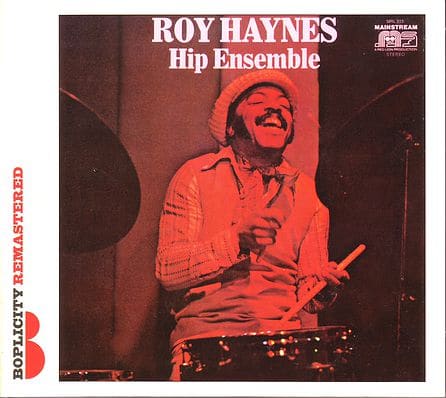 Title: Hip Ensemble
Label: Boplicity
You'll find drummer, Roy Haynes, back in the mid 40s, playing with the likes of Luis Russell. There because of his hero, Count Basie drummer, Jo Jones, Haynes later moved to play with Lester Young before being lured by the attractions of bebop and Bud Powell. After that Miles Davis and Charlie Parker teams up with him. At this point, it could be said, he found his own style, becoming very melodic and moving away from the usual drummer role of a basic time keeper. Haynes, for example, became known for high cymbal work. Adopting a lighter weight drum kit, the tonal response was suitably light and sharp that explained his subsequent nickname of 'Snap Crackle'. Burnishing his style, for a time, backing Sarah Vaughan, Haynes was ready to play with innovators such as Thelonius Monk, John Coltrane and Roland Kirk while also producing his own albums during the 60s.
Come the 70s and come the Hip Ensemble, which forms the basis of this CD. The band members were picked because Haynes saw the future of jazz within their ranks.
This album featured quite a fiery session that helped to further the reputation of Haynes himself but also through the names of his sidemen, George Adams (on tenor and flute) plus Marvin Peterson (on trumpet) into the public eye. The album is full of other notable characters, though, such as Mervin Bronson (Fender bass), Elwood Johnson (bongo and tambourine), Lawrence Killian (conga), Carl Schroeder (piano) and Terud Nakamura (bass).
The music was distinct in its contrasts, however, including the Nat 'King' Cole song Nothing Ever Change For You My Love, which has a controlled air to the all out Equipoise in which Marvin Peterson plays, well, all out.
A jazz album that's worthy of repeated listening. It has edge and a raw zeal.