The Article
R.E.M.: A Box Of Sonic Colours
3rd April 2019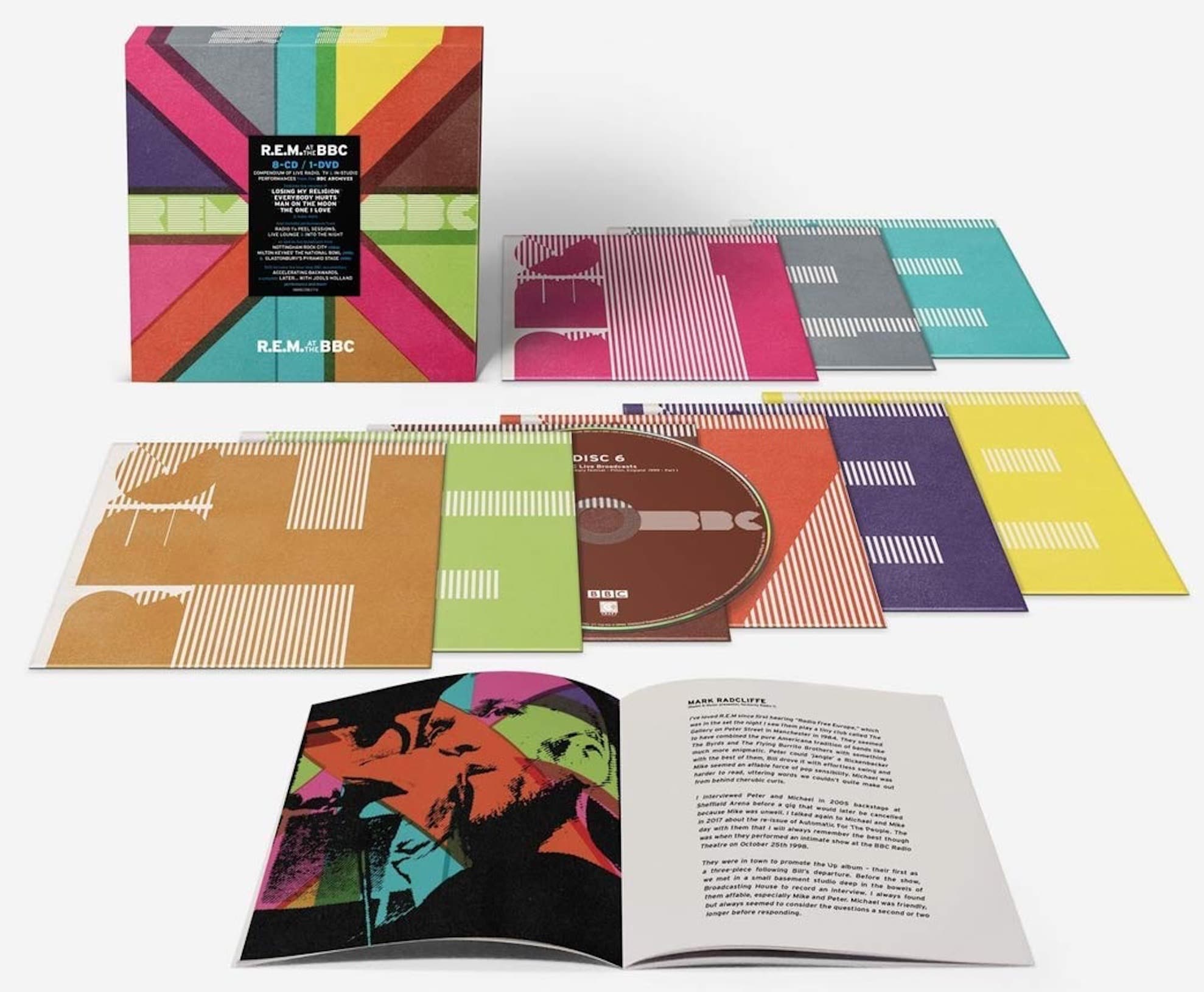 Title: At The BBC
Label: Craft
Presented as a slip-case CD box set, this set squeezes in eight CDs and a single DVD (you can pick the title up as an alternative double CD, 2LP and digital format variants too). And what does it feature? Well, only a host of rare and unreleased live and studio recordings culled from the BBC and band archives. Which, for fans of R.E.M., will cause untold dribbling from the mouth, I can tell you. 
The sort of thing you can expect to hear is a John Peel Session (1998), Drivetime and Mark and Lard appearances (2003) and a Radio 1 Live Lounge performance (2008). Live broadcasts include a show from Nottingham's Rock City (1984), 1995 Milton Keynes' Monster Tour (their first after a six-year break), a 1999 Glastonbury headline set and an invitation-only 2004 show at London's St James's Church.
Quite a collection then.
As for the DVD? You'll find a 60-minute retrospective of the band's performances at the BBC in the Accelerating Backwards film – previously broadcast only in the UK and available commercially for the first time here. Accelerating Backwards also includes interviews with Peter Buck, Mike Mills and Michael Stipe. The DVD also offers a complete 1998 Later….With Jools Holland episode plus TV appearances on Top of the Pops and more.
Despite the BBC name attracting a deserved reputation for excellence in terms of standards, I have often been left disappointed by the sonic qualities of related sessions from a variety of time periods, as presented in numerous boxed sets or via disc extras. The edgy sounding BBC sessions presented in the recently released Emerson Lake & Palmer box is a recent case in point. Many BBC Radio sessions are so bright they could illuminate the Royal Albert Hall. This R.E.M. set is a pleasant exception, though. They're not perfect, the John Peel Sessions (1998) sound a little flat and lifeless with a reasonable sound balance while the Nicky Campbell Sessions (1991) do offer more complexity in sonic terms. There remains a slight midband edge but the final output is pretty good.
[Don't forget to check out my Facebook Group, The Audiophile Man: Hi-Fi & Music here: www.facebook.com/groups/theaudiophileman for exclusive postings, exclusive editorial and more!]