The Article
Quasar, an all-in-one hi-fi system from Leema
19th February 2018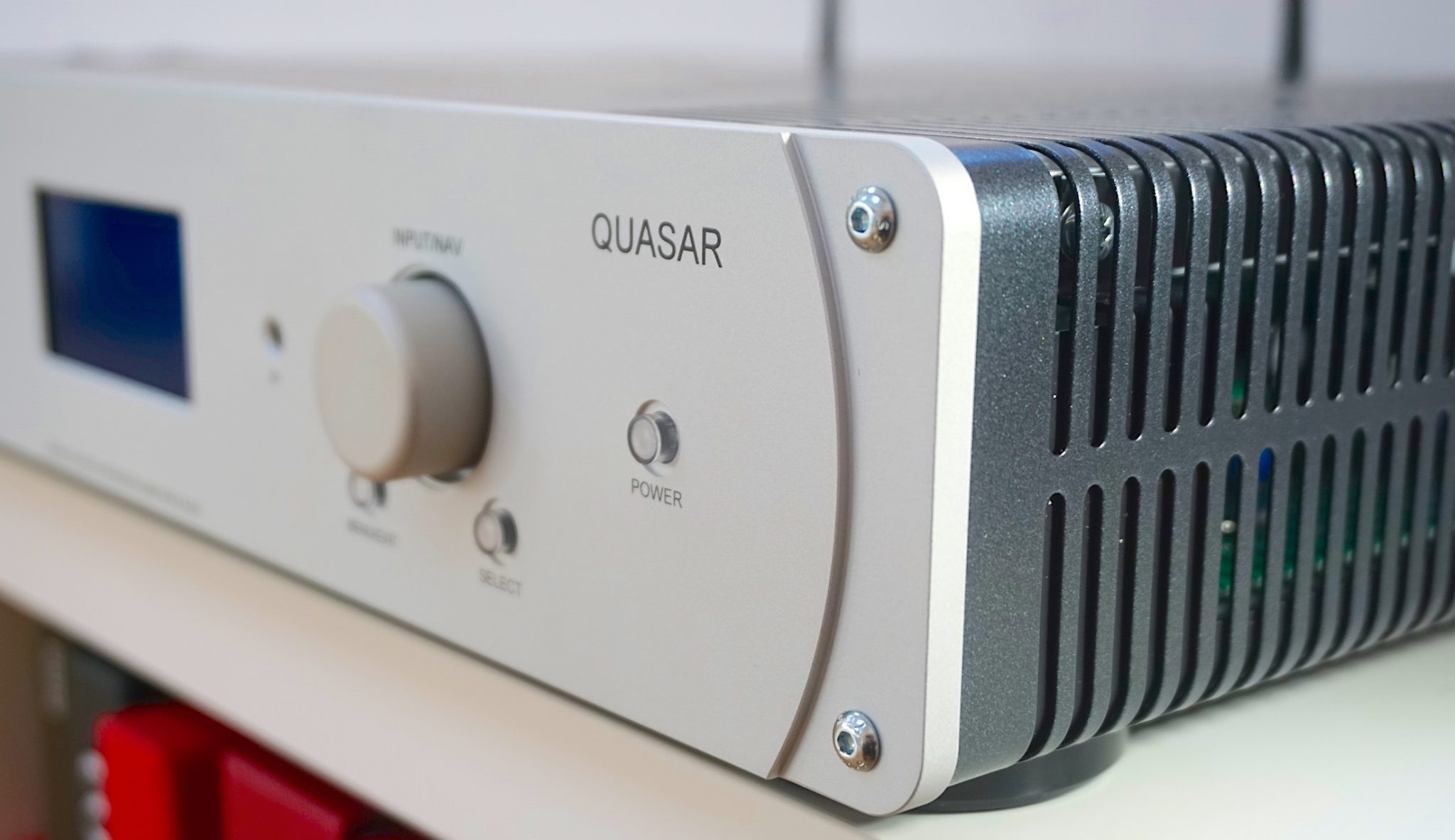 Looking for an integrated music system that does it all but at an affordable price? Paul Rigby examines Leema's Quasar
I feel that I need to put this Leema Quasar box – and most Leema boxes, actually – into some sort of context for those who do not know the brand too well. Leema was set up in 1998, is run by two very experienced, very intelligent ex-BBC engineers named Lee Taylor and Mallory Nicholls.

The Quasar looks it too.
What I mean by that is that the Quasar looks busy. It looks like a tool produced by engineers. It looks like it's been produced (principally) by two very knowledgable guys who've got their heads down, sorting out as much hi-fi kit as possible to squeeze into a chassis, that does a job and does it well. The guys don't overcharge for their products, either. Possibly because of this, there is not a great deal of prettifying going on (check out their basic, almost photocopied manuals). That is, aesthetically, there's not a lot to it.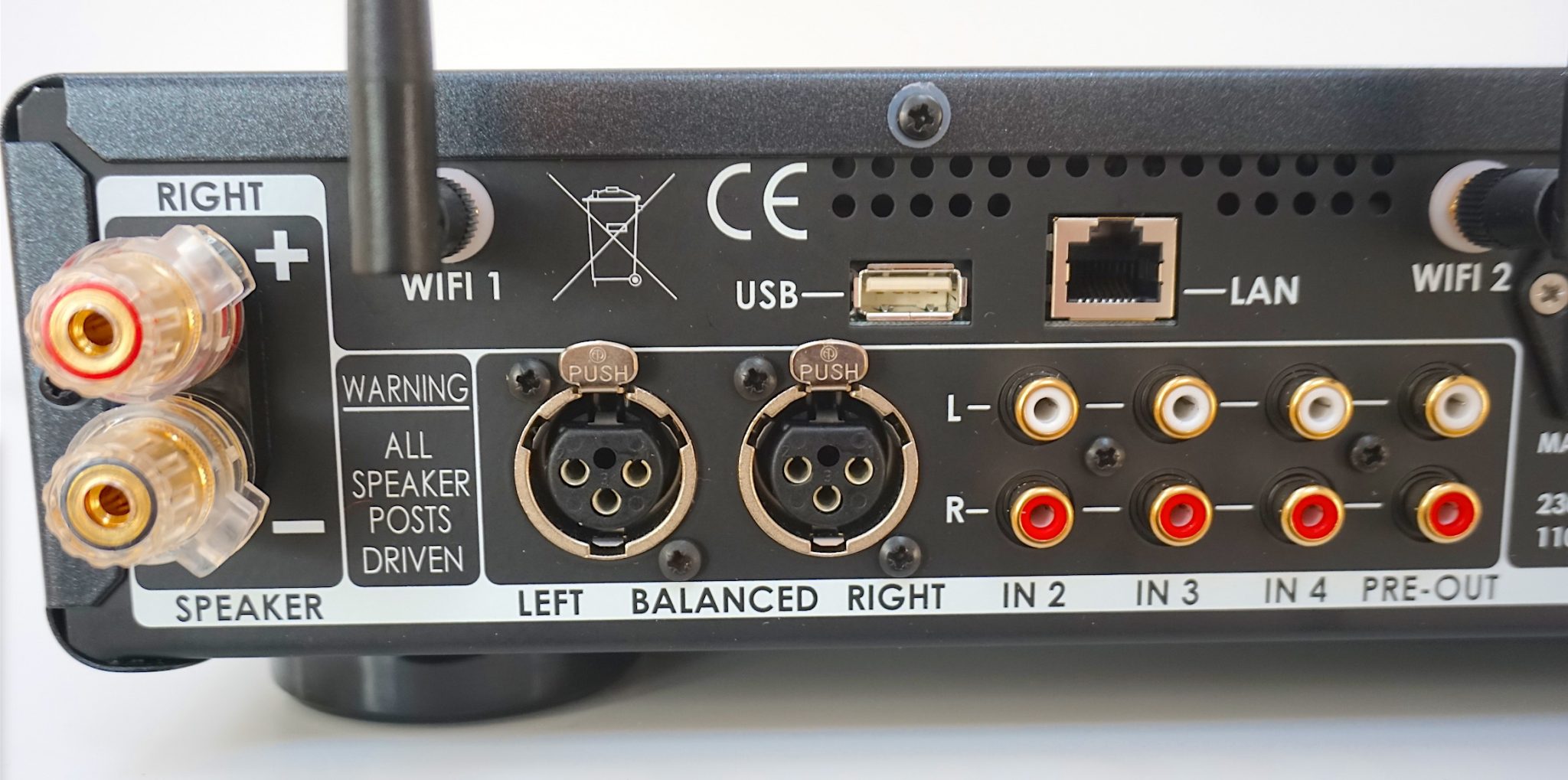 The Quasar looks rugged, tough, bristles with features (there's even three aerials poking out of the back, for goodness sake) and looks like a geek's dream (in fact, it looks like a router that they'd use in the Pentagon). It doesn't look too much like a lifestyle product that will please the family. It looks like it will scare the family but will have its owner rubbing his hands with glee at the prospect of getting to grips with it. It looks like it could win the Battle of El Alamein single handed, in fact. Why? Because I'm sure it says somewhere in the middle of the spec sheet at the rear of the manual, that the Quasar arrives with its own artillery support (or maybe I dreamt that bit). If only I can find the right button to trigger it.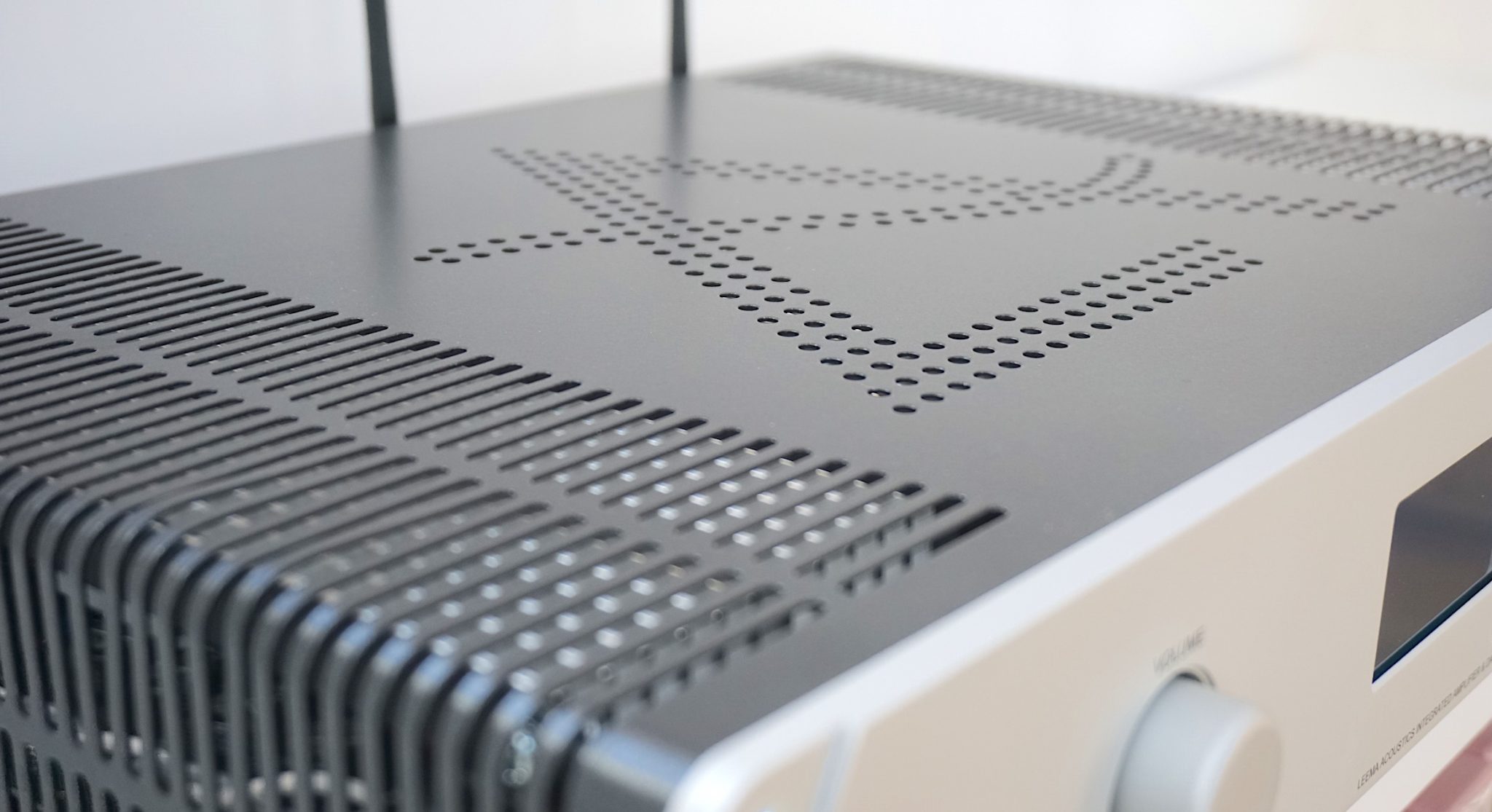 You see? It's not cuddly.
And it's surprisingly heavy too, weighing in at 17kg (while it spans 95 x 435 x 350mm). I initially bent over to pick it up and…nothing happened. Then I braced myself and tried again.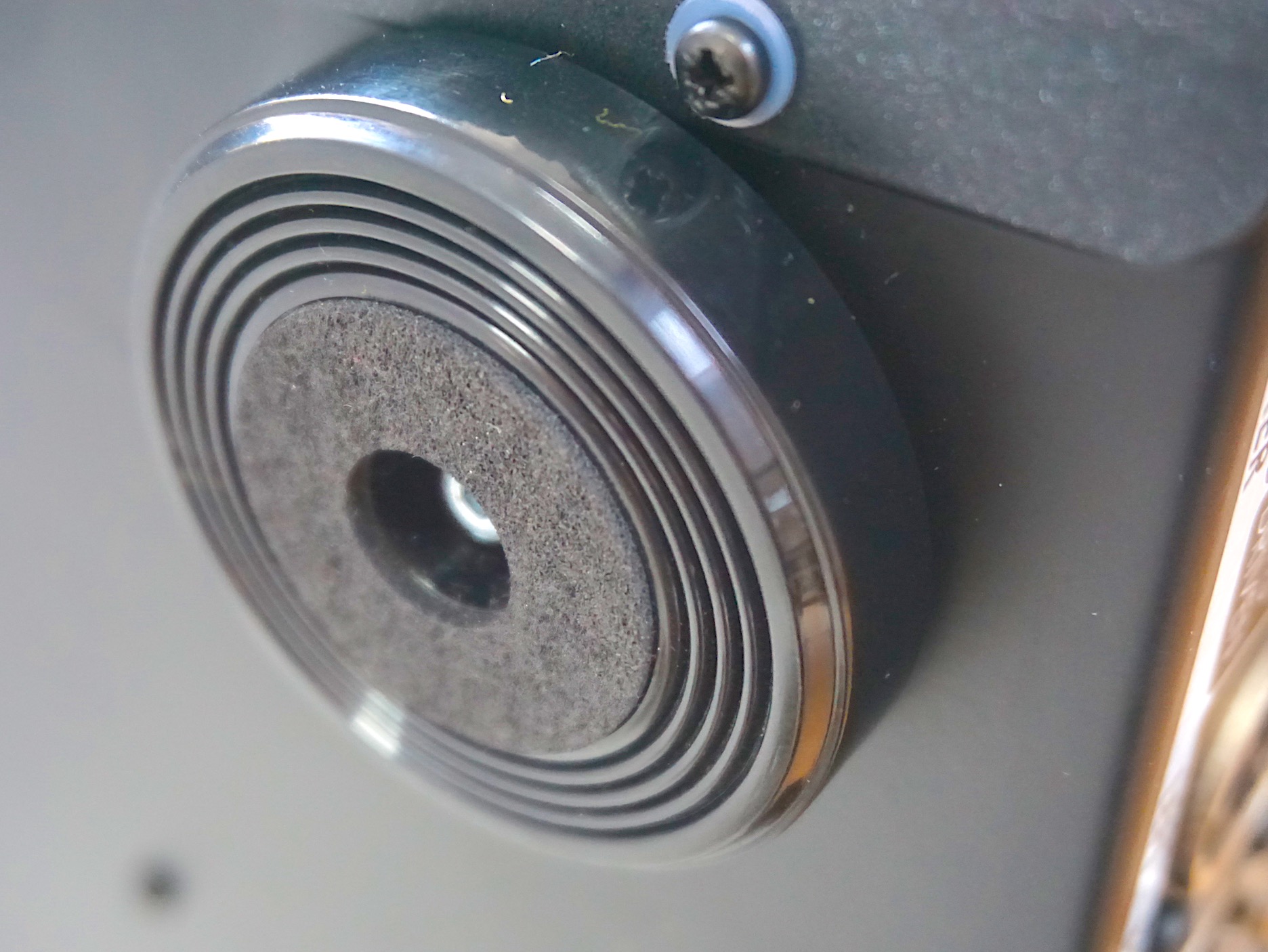 It may seem that, in some round-about way, that I'm having a 'downer' on the Quasar. Not so. There's nothing wrong with the approach taken by Leema on the Quasar. In fact, quite the opposite. I like the Leema approach. The Quasar looks honest and extremely capable. More to the point – and it is a very important point – I can see exactly where I've spent my money (I don't feel that my cash has been spent on miles of chrome, for example) and I also feel that, no matter what I want to do with this box in sonic terms, there will be a feature that will handle it. This is a straight-talking piece of hi-fi.
If this all-in-one system could be a county in England – it would be Yorkshire.
In fact, I wouldn't have called this product the Quasar at all. If I had anything to do with it, I would have called it the Leema Geoff Boycott.
So let me tell you more about Geoff.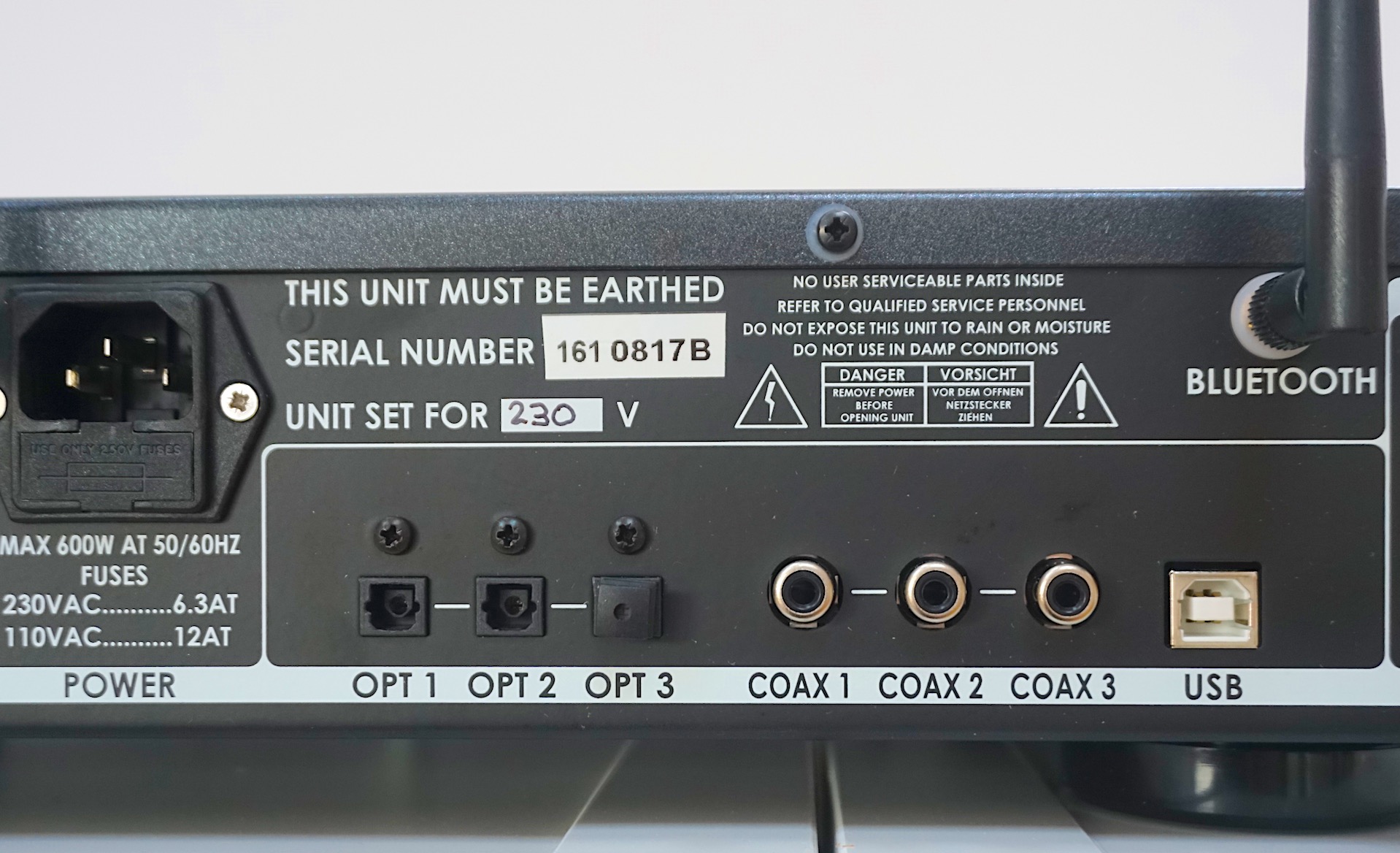 If Leema is reading this text then it might be fuming but not for any reason you might be aware of until now. You see, the Quasar (available in silver and black) is described by the company as an integrated amplifier but, well, come on. Really? It's much more than that. It might not have a CD transport but there is so much to this box I really can't call it an amp. It would be insulting.
Building on the company's Quattro-infinity topology as seen in the flagship Libra DAC, the 200W dual mono output Quasar offers three co-axial inputs and three optical inputs plus Leema's M1 asynchronous USB interface. Bluetooth is also included. The unit, arriving in an aluminium chassis, supports streaming directly from compatible mobile devices.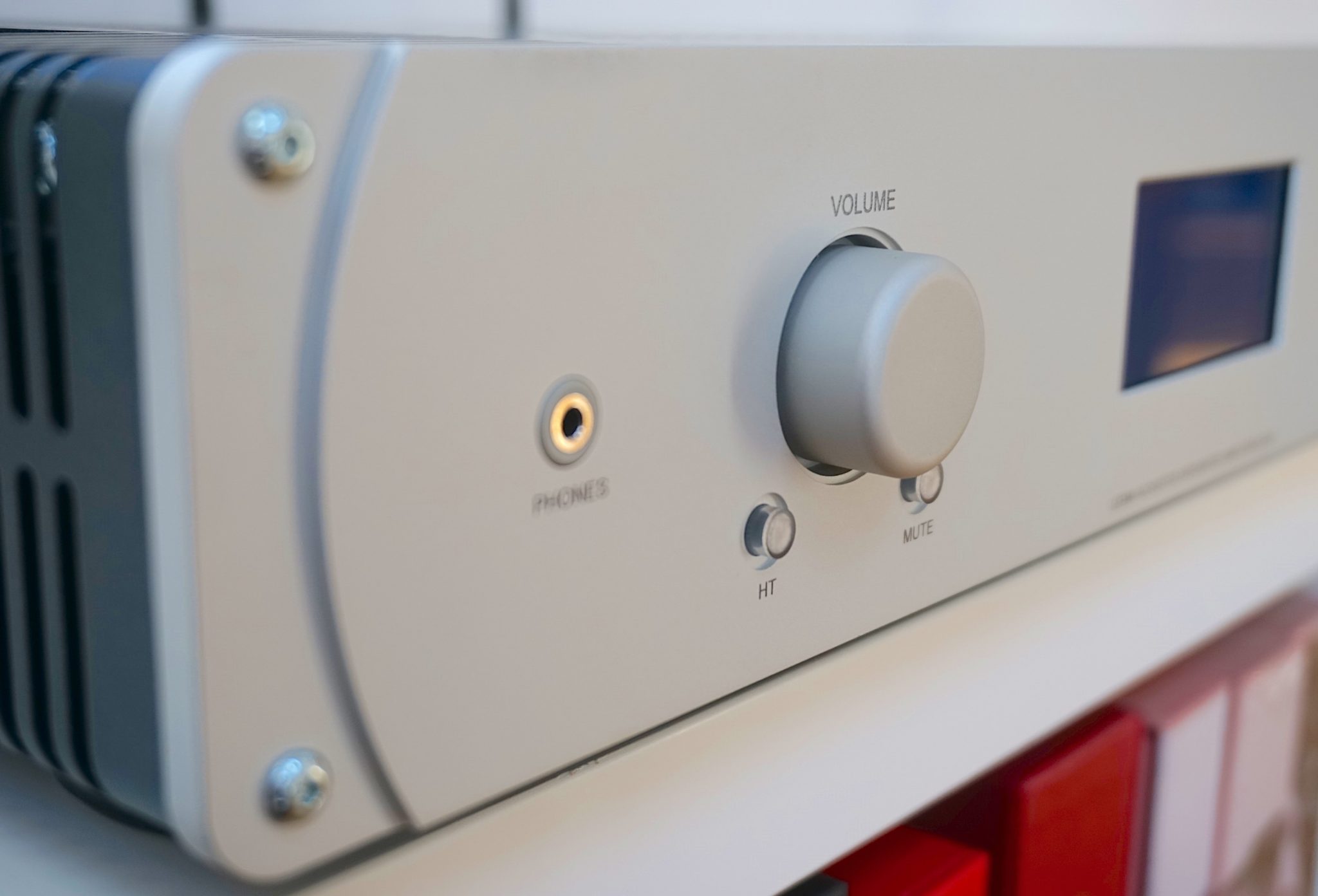 In practice, that means sonic support up to 24bit/192kHz resolution, with full DLNA/UPNP compatibility plus dedicated control apps for both Android and Apple devices (you can use a simple yet effective remote as an alternative or the easy to use chassis controls complete with text response window). vTuner internet radio is supported, together with Deezer, Spotify Connect and Tidal. Playback is also possible from USB drives, Dropbox, Onedrive and other connected network UPNP/DNLA music servers.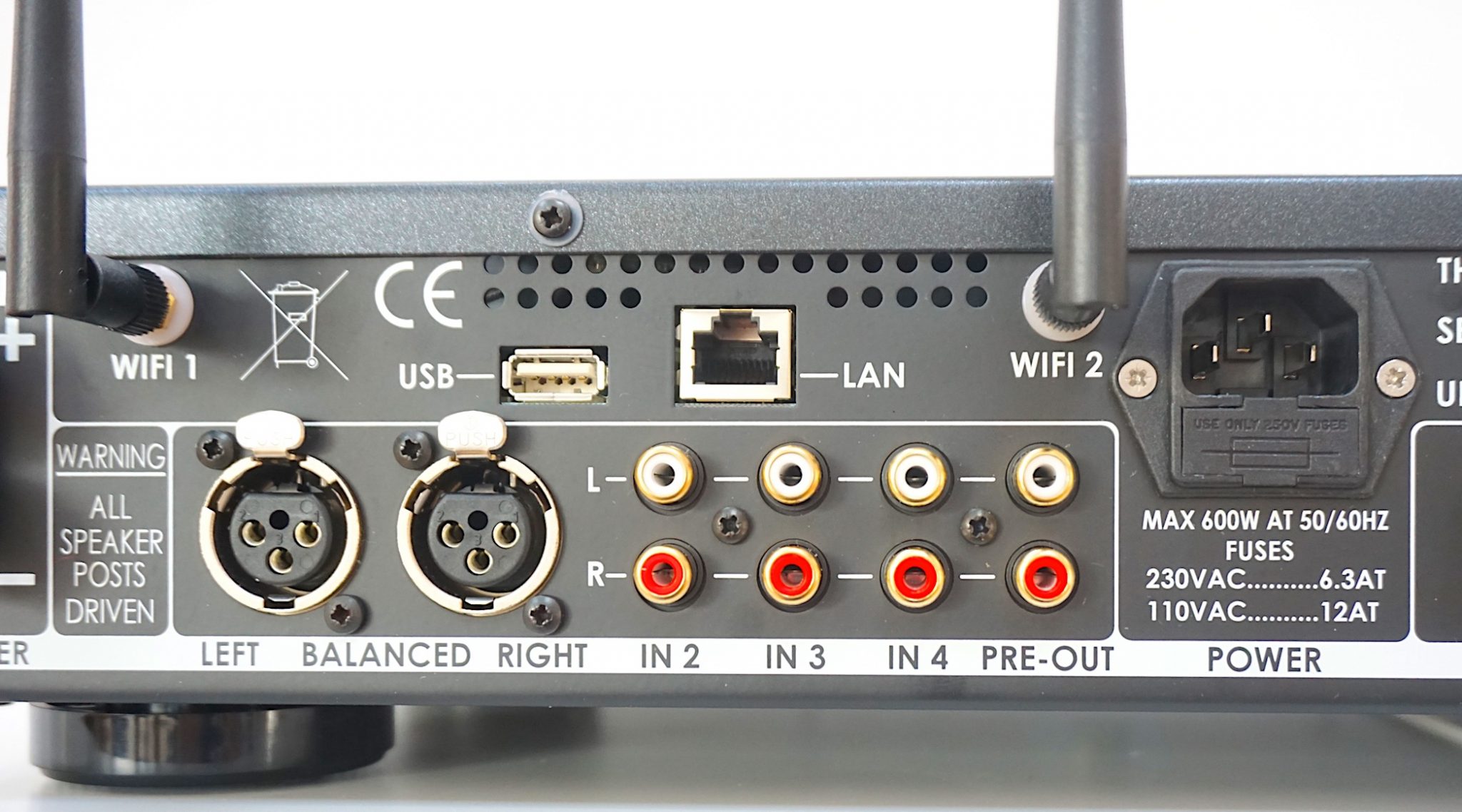 Streamed music can be played through the Quasar or redirected to a separate network player or device. This enables music playback for two users: one streaming and one using an alternative source.
SOUND QUALITY
I began with Bluetooth and pushed a bit of Marvin Gaye, residing in a lossy stream file, at the Leema via my iPhone 8. I paired the Leema to the phone via my phone's Settings and then moved to the easy to use Leema app, MConnect Control, to do the actual playing of the music.
In a word? Incredible! I was stunned. Completely…totally stunned. I am so used – fed up? bored? – with streaming music from my iPhone to a hi-fi unit. Why? Because I'm usually presented with a flat, lifeless, cardboard representation of the music being played. And I'm talking about some pretty high end bits of kit here, not just budget fare. The streamed file I played here was a 16bit AAC and I normally hear it as a bright, uncultured, mess brimming with midrange edge, treble tizz, lacking in detail and maturity with zero soundstage organisation and…zzzzz. You see? Normally, not very exciting.

The Leema? My god, the Leema treated the AAC like…like…hi-fi (gulp). I've heard fully fledged CD players sound worse than the Quasar's Bluetooth streamer. Streamers are not supposed to sound this good. Especially as part of a £3k all-in-one system.
Put it this way, the soundstage was wide, Cinemascope wide. Instruments were spread logically. Rhythm guitar on the left, sax left of centre, orchestra in the rear (yes there was a 3D depth here too), vocal centre, backing vocal right of centre, piano on the far right. Normally, Bluetooth streams say to the listener, "'Ere, grab this. You sort it out, I'm off."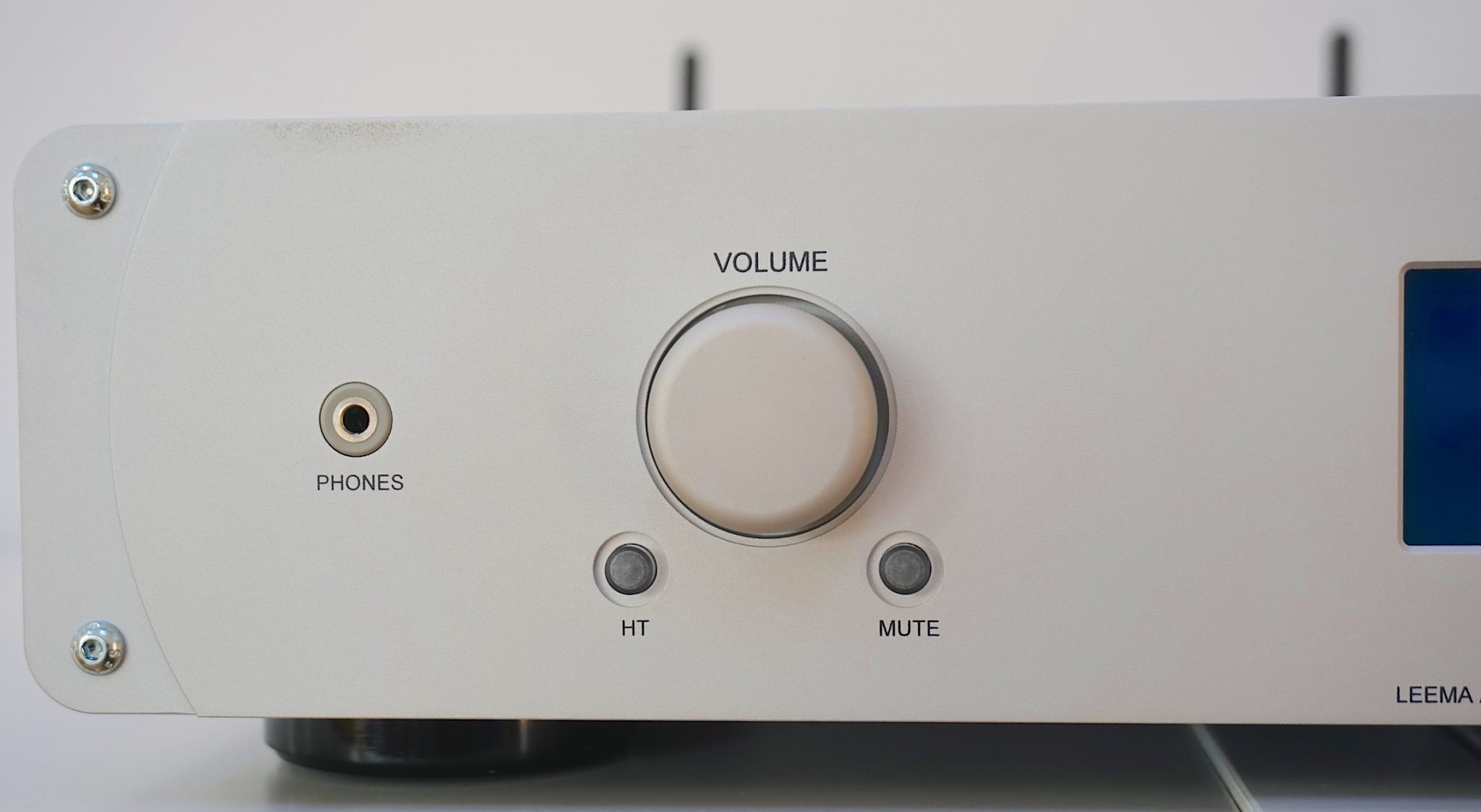 Meanwhile, general play was relatively smooth and admirably coherent. Yes, there was a reduction in weight, in mass, a certain lack of presence but I put that down to a case of limitations in data transfer. But look, I'm talking subtleties here.
A good start then. I then turned to my Astell&Kern AK120, Red Wine modded and connected to the optical port. I played the rather bright master of Dire Straits' Money for Nothing at 24bit/88.2kHz.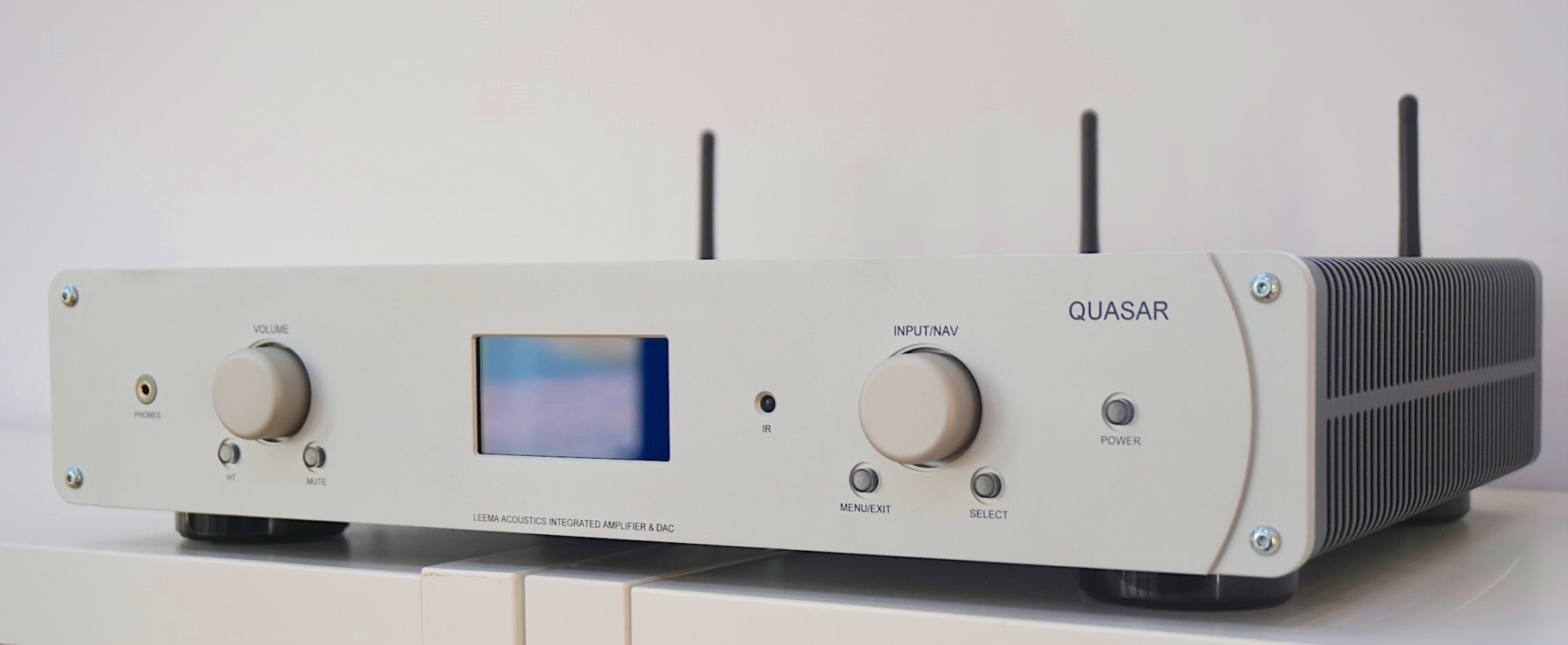 The excellent sound quality continued here. Yes, careful listening revealed that strident nature of the original master. The Leema didn't hide this. To be honest, though, I don't want this information to be hidden either. I want to be able to hear the differences in mastering quality. That said, the Leema provided the best possible interpretation of the music. That is, despite the harsh nature of the midrange, the music was supremely listenable. The soundstage encouraged a broad instrumental separation which meant that each instrument had plenty of room to manoeuvre, lots of elbow space which infused the soundstage with air, softening the pinched nature of the midrange, bringing out as much detail and information as possible without making you wince.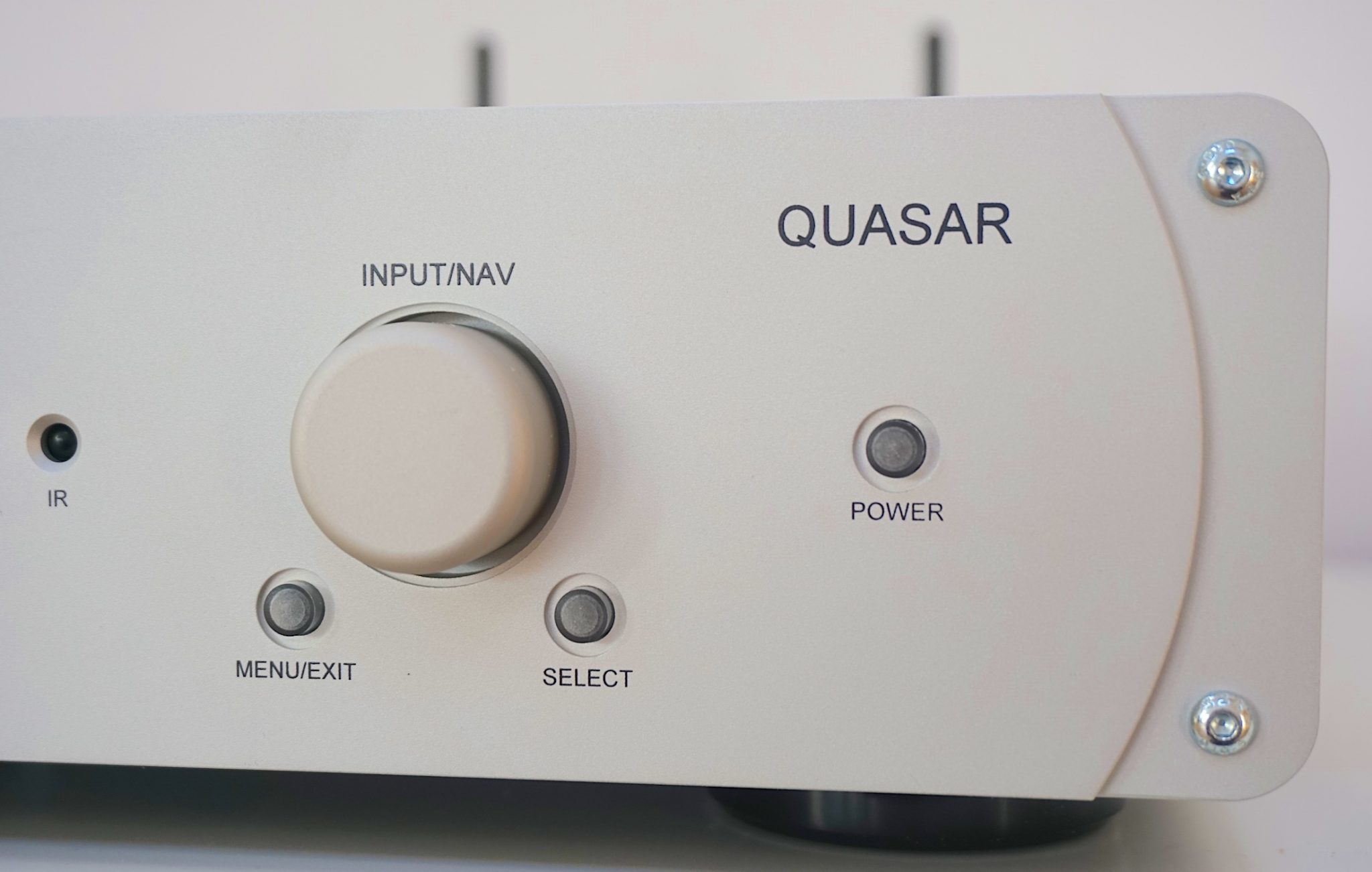 Also, bass – which can be hard and brittle on this track – was powerful and massy but also added enough tonal realism to give the lower frequencies a character it often lacks with other hi-fi components I've tested.
Component quality had to have a part in all of this, yes, but surely the combination of the dual-mono design and that massive toroidal was have a large bearing on the direction of the sound here?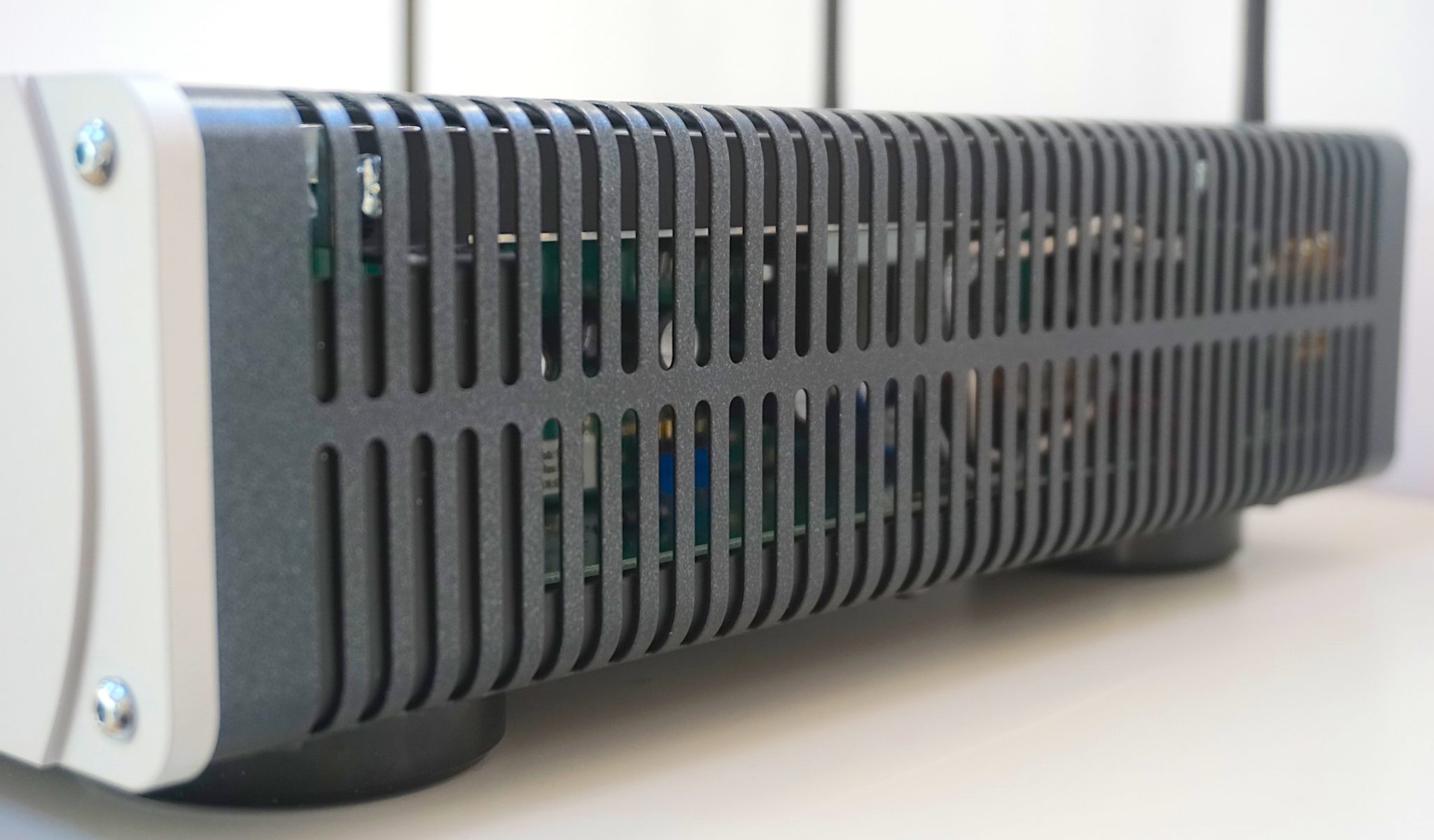 I moved to my MacBook (with SSD) and played a 24bit/176.4kHz version of Looking for a Home, two guys and two guitars, that's it: sung by Keith Greeninger & Dayan Kai via Audirvana Plus.
This is quite a sparse track with plenty of space for nuance and frailties which the Quaser did well to handle. There was a slight lean aspect to this track. Not quite the full and rich nature that I expected from this hi-res track. It didn't quite have the sumptuous array of detail and that's a personality trait of the Quasar. High resolution music via this box sounds like there's a fresh breeze running through it but many users will love this approach. That said, I was most impressed with the transient abilities of the Leema in terms of the acoustic guitars on show. The attack from the strings was handled effectively while the air around the soundstage allowed the music to breath, giving room for reverb to play its part in the presentation. The vocals, meanwhile, were able to offer an effective suite of feelings, adding delicacy to the approach but also an appropriate sense of yearning, frustration and anger within the highly emotive lyrics.

I then moved to a the analogue ports and hooked up a turntable and played Pink Floyd's Dark Side of the Moon plus Miles Davis In Berlin. Again, there was that thinning of the harmonics that I mentioned to give the music a lean yet fast moving and slightly solid state-esque element to the music. Just a tad, though. Nothing bad, its a style thing I suppose. Vinyl play remained extremely clean in nature with a sense of transparency in the mids that added the fresh aspect of the playback. Hence, bass was bouncy with a springy impact, brass was open and swift in nature, vocals were unsullied and freshly laundered which added to the diction of the performance, making lyrics easy to follow. Again, the low noise nature of the Leema helped.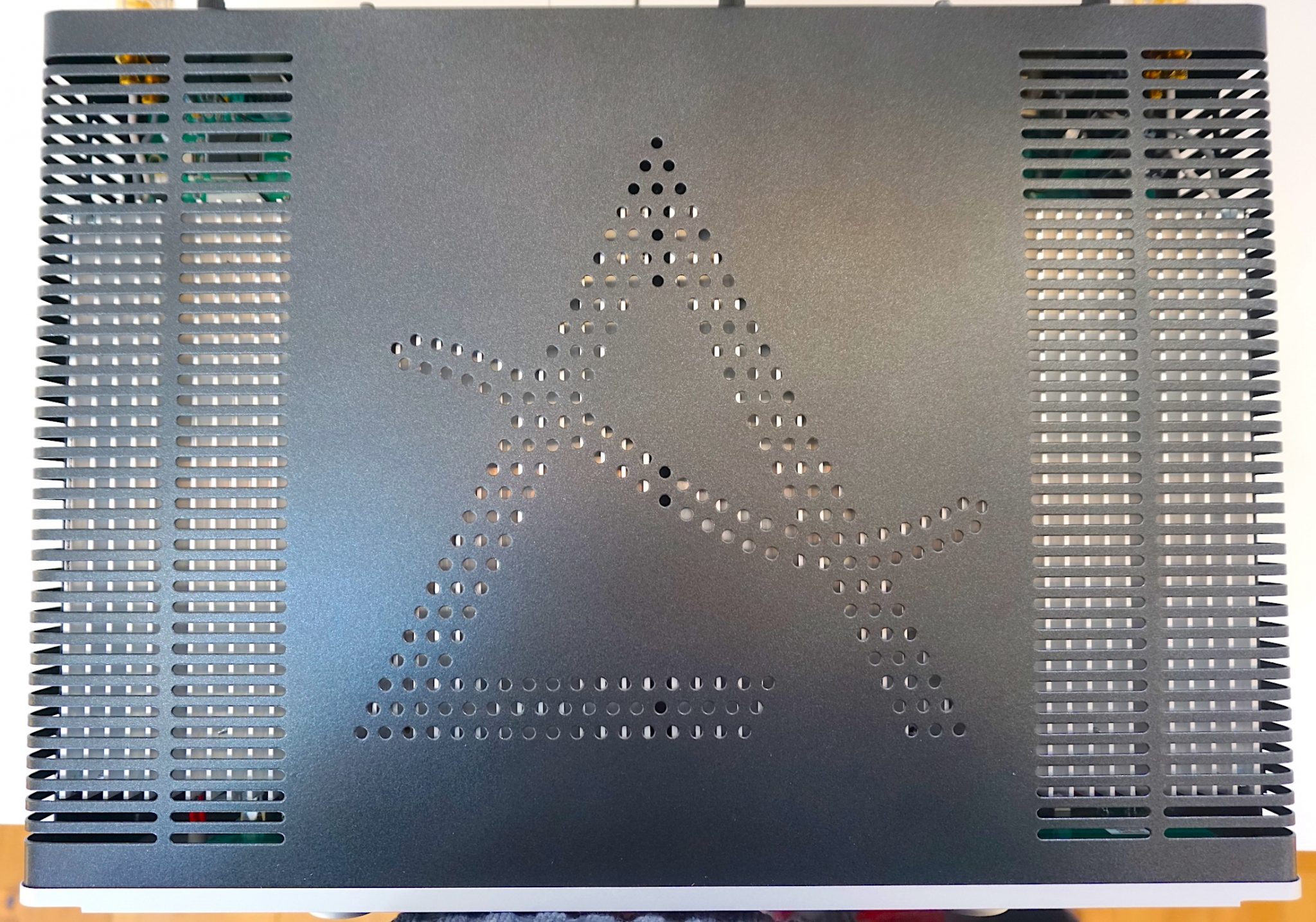 Finally, the headphone amp was tested using a pair of Sennhesier 650s, not the easiest 'phones to drive but the Quasar handled them very easily indeed, offering a clean and open performance via Pink Floyd providing tremendous insight and instrumental separation which was a testament to the Qausar's  design.
CONCLUSION
The Leema Quasar music system (not just an amp, no) offers just about everything that you might need in terms of musical pursuits. It is drenched in sonic ability. More than that, it performs each of these tasks wonderfully, especially when you look at the amount of features available for the price. Hence, the Quasar provides incredible value for your cash. A real Swiss Army knife of the hi-fi product, the Quasar is easy to use and sounds great – an ideal addition to any hi-fi chain.
---
LEEMA QUASAR
Price: £2,995
Website: www.leema-acoustics.com
Tel: 01938 559021
---
GOOD: Bluetooth performance, feature count, easy to use, value for money, general sound quality
BAD: nothing
RATING: 8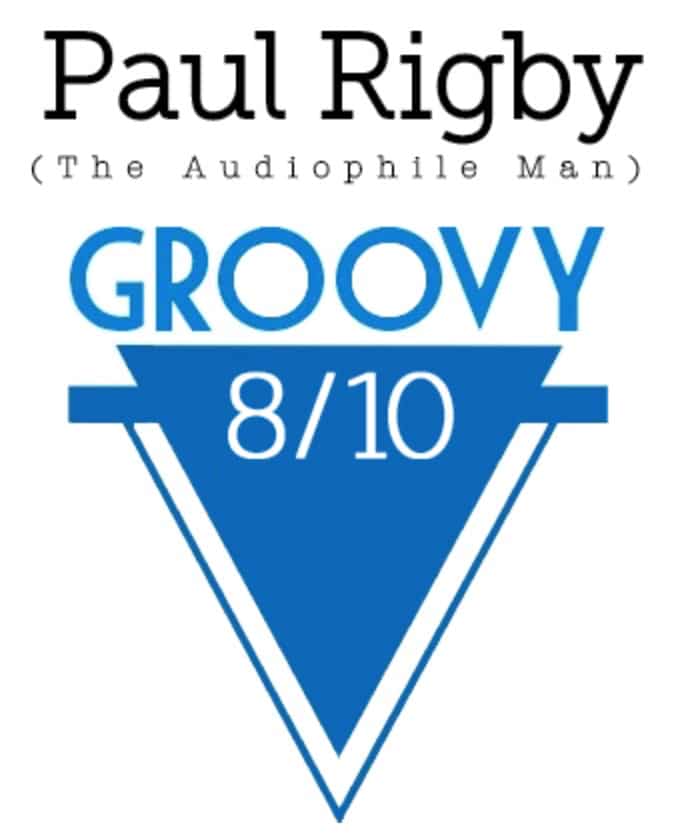 ---
REFERENCE
Origin Live Sovereign turntable
Origin Live Enterprise 12″ arm
Transfiguration Proteus cartridge
Icon PS3 phono amplifier
Aesthetix Calypso pre-amp
Icon Audio MB845 Mk.II monoblock amplifiers
Cyrus Lyric all-in-one
Quad ESL-57 speakers with One Thing upgrade
Vertex AQ & Tellurium Q cable
Blue Horizon Professional Rack System
Harmonic Resolution Systems Noise Reduction Components
All vinyl was cleaned using an Audio Desk's Ultrasonic Pro Vinyl Cleaner