The Article
Peter Paul & Mary, Folk Routes: The First Two Albums
11th November 2015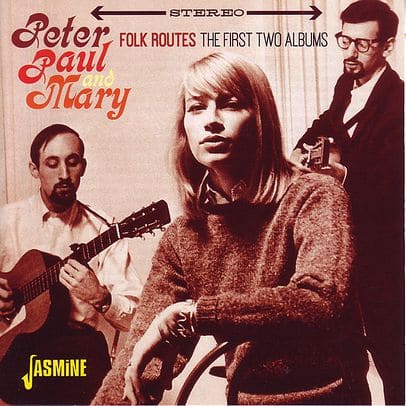 Title: Folk Routes: The First Two Albums
One of, if not the most, popular folk groups of the 60s, the trio were part of the folk revival, although their own roots stem back to the 40s. Paul Stookey, Peter Yarrow and Mary Travers were galvanised by Pete Seeger's Weavers collaboration and the growing, political, Greenwich Village social and art scene. Benefitting from music connections/friends, the trio formed and practised so that, when they eventually debuted in the Village, they were an instant hit and soon signed to Warners.
Soon, in 1962, their debut album was released, which is featured on this CD. The LP spawned a bit hit, Lemon Tree that rose to No 35 in the charts. Not content with this magnificent success in such a short time, the second single, If I Had A Hammer, sparked a fully fledged breakthrough that was infused with a measure of politics that many folkies noticed immediately. It became a big hit, entering the Top 10, later winning two Grammys. The album hit No 1 in the charts and stayed in those charts for many years.
Also available on this CD is Moving, the trio's second album. There was nothing 'difficult' about this release as it reached No 2 in the charts and featured the hit, Puff, the Magic Dragon, which also reached No 2 but in the singles charts and became one of the most beloved children's songs of all time.
Both albums on this single CD represent excellent value for money and present an ideal introduction to the band, which provides pure folk gold, capturing the essence of the folk revival from the point of the mass market. Just before, of course, they connected with Bob Dylan and helped him to gain a more 'acceptable' public face. But that's a whole new and different story.