The Article
Pete Brown's The Not Forgotten Association
11th February 2016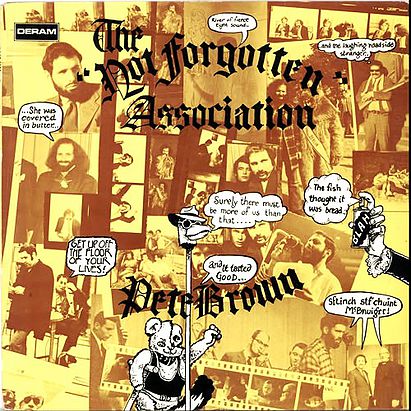 Title: The Not Forgotten Association
A collaborative lyricist for Cream and Graham Bond, Pete Brown was a man of many parts. Apart from songwriting, he dabbled in poetry, percussion, singing, he played trumpet and he had a great interest in folk, jazz and blues. He then formed a group of his own, the Battered Ornaments, which were signed to EMI's prog imprint, Harvest. Brown was sacked from the band soon after forming Piblokto! Brown then teamed up again with Graham Bond for 1972's one-off Two Heads Are Better Than One.
Soon after, Brown was on his own again until Deram (home to Caravan and Moody Blues) picked him up. Brown set about creating an album, setting his own poetry to music. Especially as he had retained the rhythm section from the earlier Bond connection. It featured a guest appearance from Bonzo Dog Band's Viv Stanshall on tuba (he initially wanted to play a tuba squashed by a steam roller so that he could play a two dimensional instrument but was persuaded otherwise).
So what you have is a rather eccentric album of spoken poetry and then a music except every now and again. Dreamin' The Hours Away, for example, is a lazy trad jazz take from a band that sound like they've been playing for six hours non-stop.
Brown's poems are also introduced by him, giving you useful context. Sometimes, Brown will talk and the band will noodle in the background. One example is Ballad for the Queen of Outer Space which features a jazz-tinged prog jam.
The album itself is quite calming, despite some of Brown's more emotional poetic outbursts, while the instrumentation is almost hypnotic in its delivery.
One of the truly eccentric LPs of our time.