The Article
Otis Spann's Live the Life & Chicago Blues features two albums in the one package
27th May 2016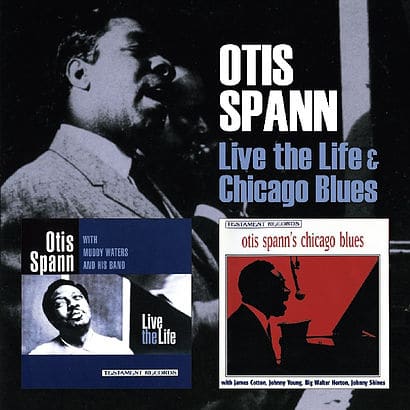 Title: Live the Life & Chicago Blues
Ah, Otis. What a guy and what a blues piano player. Part of, what some might declare, the blues band, Muddy Waters' outfit from the 50s and 60s. Spann played on just about all of Waters' Chess classics from that period. Given his own burgeoning talents, it might appear to some that he took too long to establish a solo career. Nevertheless, when it eventually happened, it never disappointed.
What we have here are two separate albums forged together as a 2CD package. Live… features 16 live tracks that were unreleased previous to the initial launch of this album back in 1997 on the Shout! label. Recorded between 1964 and 1969, Spann is supported by an intriguing mix of blues artists including in a backup role, Muddy Waters of all people, plus: Calvin Jones and Willie Dixon on bass; Sammy Lawhorn and Pee Wee Madison on guitar; Robert Whitehead, Francis Clay (or was it Willie Smith?) on drums; Johnny Young on mandolin and Slim Willis on harmonica. Quite a pool of talent drawn upon over those years.
Sourced from the tape vault of Pete Welding (author and contributor to Downbeat magazine), the concerts utilised to form the album are varied and include five songs from the Martin Luther King tribute concert in 1968 with a beautiful tribute to Martin Luther King as the fulcrum of the show featuring Spann and Waters as a duo on stage. Other notable tracks heard here include a cracking version of Kansas City and a gospel flavoured I Wanna Go Home. Spann performs with style and grace throughout.
Audiophile users might expect the worst but, to be honest, archival performances such as these are to be treasured for their very existence. That said, the sound quality, despite some variances in love and the odd splurge of hiss here and there, isn't too bad at all. Surprisingly good in many areas.
The Chicago Blues LP was recorded in 1965 and 1966 and features 15 tracks that feature Spann on piano as a solo artist but also as part of a full band. On this CD you'll find Johnny Young plus other members of the Muddy Waters band in support. I wouldn't rate this album as high as Live… yet Span remains solid and perfectly listenable with excellent version of Who's Out There?, Sarah Street and You Can't Hide with some surprisingly rare outings of the great man on harmonica.