The Article
One Track Mind: Motown Guys pack out this CD
16th May 2016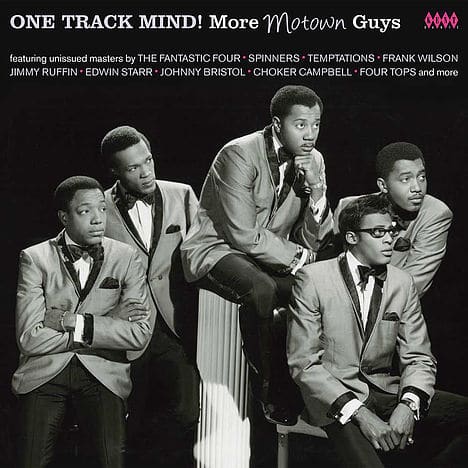 Title: More Motown Guys
Label: Kent
The broad theme of this CD is dance. That is, those Motown outfits who either liked a bit of a boogie, encouraged you to do the same or even promoted a type of dance (stand up Popcorn Wylie who appears on the final track with Goose Wobbling Time. That's right.).
But strike the notion of novelty. Remove from your thoughts that this CD packs in a ream of hopeless hits incorporating gimmick grooves. That would be wrong. There are quality songs from talented outfits, here. Take the dramatic Where Are You from the song's co-writer Ivy Jo (Hunter) which was actually a demo (and a pretty wonderful cut for a 'mere' demo too, it has to be said) who adds a suite of emotively expressed spoken words to add extra turmoil to the delivery. This rare acetate was so popular that, during the 80s, it was avidly swopped around on cassette.
Now, if you're talking dance then you might want to look at the silky movements from The Spinners who are here with Tell Me How To Forget A True Love. This is a rehash of an older version but with the addition of strings and added funky vibes, supplied by the co-writer Johnny Bristol. This is a good time to mention the mastering on this CD which maintains Ace's excellent standards. Witness the secondary percussive tambourine, for example, which is never subdued by the arrangement and maintains a clear, precise, focused presentation throughout. The treble-infused sound is rich and melliferous which is a feature of the CD as a whole.
There's some real grit on this collection via Norman Whitfield and Eddie Holland's song, The Girl From Crosstown, delivered here by an energetic and totally funky Edwin Starr. Why the likes of Diana Ross, Gladys Knight and the Marvelettes rejected this piece is a mystery. But then, hey, who could hand you a slice of funk like Edwin, mmm?