The Article
One The Juggler's Nearly A Sin
11th January 2016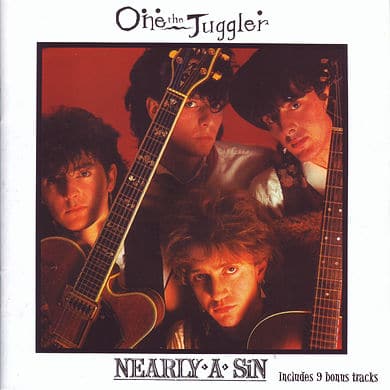 Title: Nearly A Sin
Ever walk through your town centre and consider the buskers that you pass? I do. Would any of them ever make it? Could they move up a grade and become professionals? This lot did. They were discovered doing just that. They featured Rokko (vocals/guitar) and Lushi (bass guitar) who signed a deal with Regard Records and then signed up Lin Minchin as a second guitarist as well as Steve Nicol as the drummer.
This album was released in 1984 but took two years to record and was received well by the critics but the public didn't bite. A second album was released from a vastly changed line-up but then the band split and went their separate ways.
The sound is intriguing. There's a bit of edgy glam in there with basic rock plus a folk-like vibe. The album included all of the band's A-sides up to that point, including Passion Killer, Damage Is Done, Django's Coming and Are You The One?
It's a bit of a mystery why this album don't do better because it has plenty of good songs, notable singles, good musicianship plus plenty of song-writing depth. Maybe it just didn't have that hook-laden shallowness that is demanded of the charts. It's a shame that the band didn't persevere though, it would have been interesting to see how they would have evolved and matured. Something that maybe Lushi wonders about too, "I don't think you ever know what you've got 'til it's gone. We just knew we had our own sound that was difficult to pigeon-hole and we really came alive on stage. I guess, to a certain extent, we were a band out of sync with the times."
This single CD edition features nine bonus tracks including the single, It Hurts.