The Article
No More Doggin': The RPM Records Story Vol.1, 1950-53
11th September 2015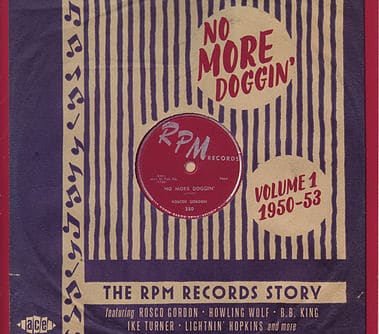 Title: The RPM Records Story Vol.1, 1950-53
Label: Ace
Well, you've got to say that its an unfortunate CD title, in this day and age, but there you are. Moving on from that, what we have here is an intriguing double CD featuring well known names such as B.B. King, Ike Turner, Lightnin' Hopkins and Howlin Wolf along less distinct monickers such as The Nic Nacs, Austin McCoy and Clyde Hurley.
You will hopefully have seen my earlier review of the Hadda Brooks CD that was originally released on the fledgling Modern, then a new company, which quickly drew attention from a host of budding musical talent. There was a problem for the guys who ran Modern, however. Radio stations tended not to play lots of music from one record label.
Part of the reason was that it wasn't fair on the rest. One way around that was for a record label to, basically, bribe the DJ but even this so-called 'payola' didn't always get results. Hence, Modern decided to spread the artists over a second label, Colonial and then this imprint called RPM (another imprint, Crown, would follow later).
RPM began life releasing a jazz number from an ex-Glenn Miller and Tommy Dorsey trumpeter, Clyde Hurley with Adele Francis on vocals but, after that, the label tended to concentrate on R&B and blues as the next two releases from Austin McCoy and Luke Jones, all seen on this CD, testified.
The most significant event of the life of RPM was its connection to talent scout and engineer-producer, Sam Philips, who would, of course, go on to create his own Sun record label. At that time, he was working with Modern and sent an early 16" acetate of a new singer-guitarist 'find' of his who was also a local radio personality at the Memphis radio station, WDIA. Riley King was the "Beale Street Blues Boy" or 'B.B' for short. RPM saw two high-spirited early releases from the man, B.B Boogie and The Other Night Blues. The label was on its way.
A top quality collection of music that is infused with energy, passion, emotion and plenty of oomph. And not a dog in sight.