The Article
Nitty Gritty Dirt Band's Let's Go/Acoustic
11th February 2016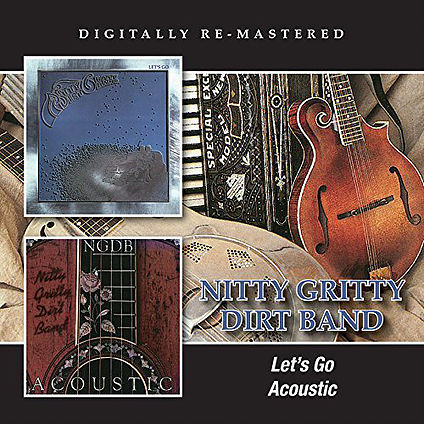 Title: Let's Go/Acoustic
Label: BGO
They were founded in California during 1965. A country-based rock group, they worked alongside bands like the Byrds to move their music from folk-rock to country rock and lead the way for others, such as the Eagles and Alabama, to thrive.
Let's Go was a fairly late entry into the canon, being released in 1982, that featured their own style but also added pop elements. You can see this just by looking at the track listing which includes Heartaches In Heartaches, written by Andrew Gold plus Marshal Crenshaw's Maryann.
The group would change and evolve in many different ways which included their name. Hence, they had been known as the Dirt Band for some time before this release. Let's Go saw the re-establishment of the 'Nitty Gritty' bit at the beginnning of their monicker. Maybe that had something to do with the introduction of the vocalist, Jim Ibbotson. If the band was trying to recapture the past then this album unfortunately slowed down the process because the LP remained more centred within adult pop and soft rock.
The later release, Acoustic, would be more successful in that endeavour. It saw the light of day in 1994 when the band had moved on from a series of country hits. With this LP, the group plugged back into a more roots-like vibe that allied itself to their original material. Gone where the mainstream additions that would make them more 'accessible'. Here was an original suite of songs that mixed country and folk into a beautiful track collection that offers numerous  musical highlights, backed by their attractive vocal harmonies. With Acoustic, the band 'found themselves' as a roots outfit once more. A place that seemed more comfortable for them and one that is far more satisfying to hear as a listener.