The Article
SILVER 300 SPEAKERS FROM MONITOR AUDIO
11th April 2018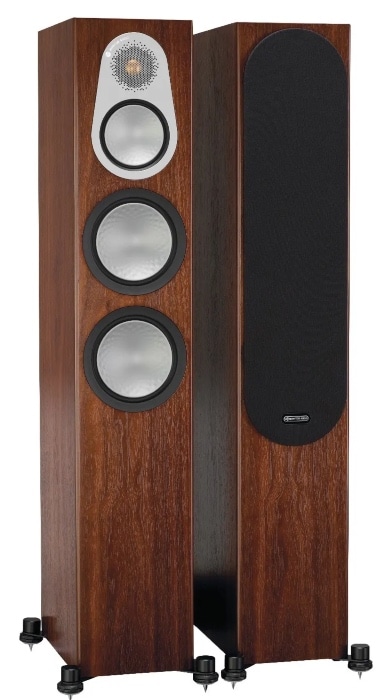 Toting a good looking pair of floorstanders, Paul Rigby reviews the latest iteration of Monitor Audio's Silver 300 series speakers
Monitor Audio's Silver 300 speakers are now up to their sixth generation and risk being described as "venerable". This three-way design spans 1000 x 185 x 300mm and weighs in at a respectable 20kg each with grilles supplied, separately packed, if you need them. I left them off during the review.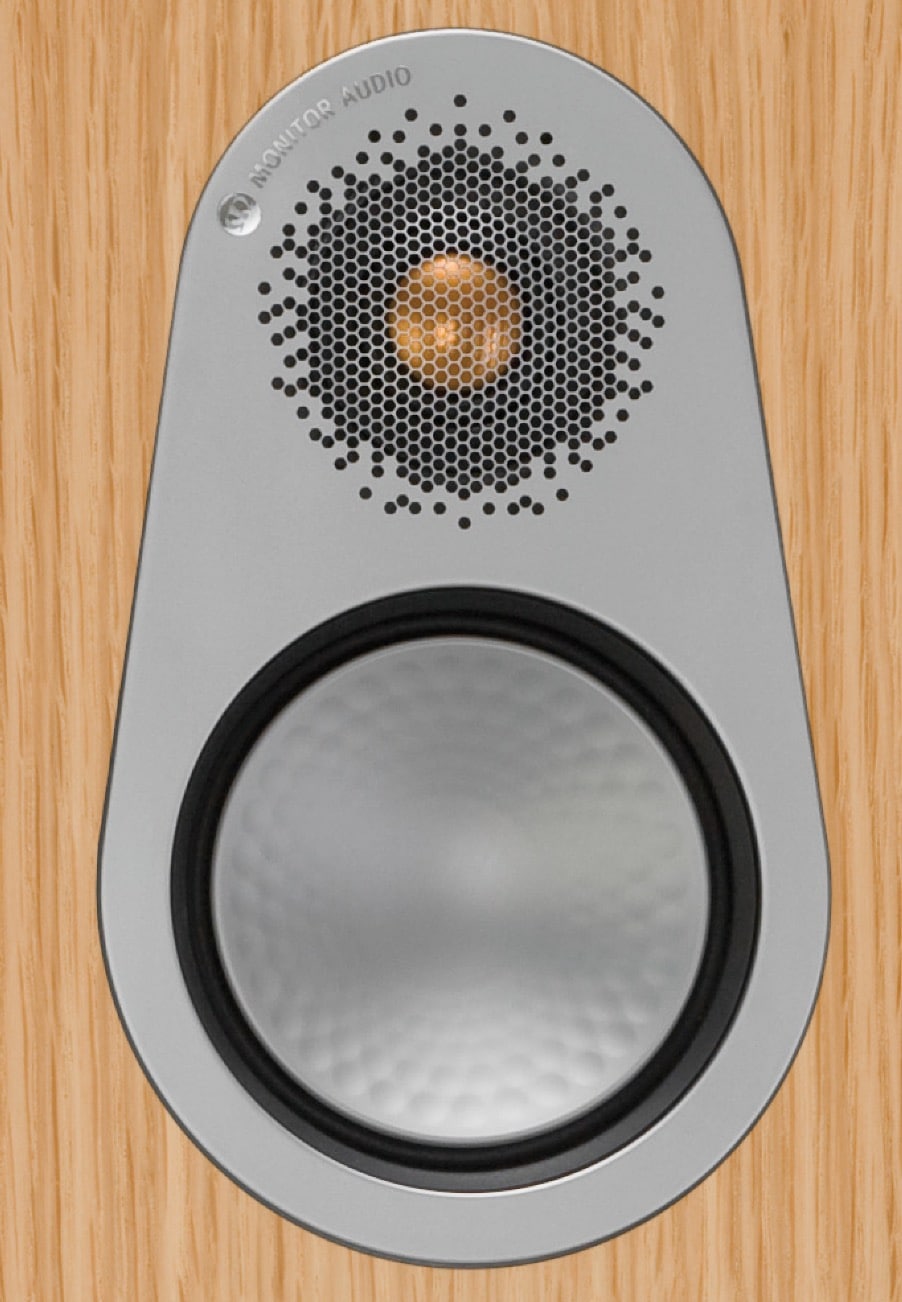 Sporting a 90db sensitivity, these floor standing speakers sit on an "outrigger" frame that can be used with our without spikes depending on whether you intend to position these speakers on a wooden or carpeted floor.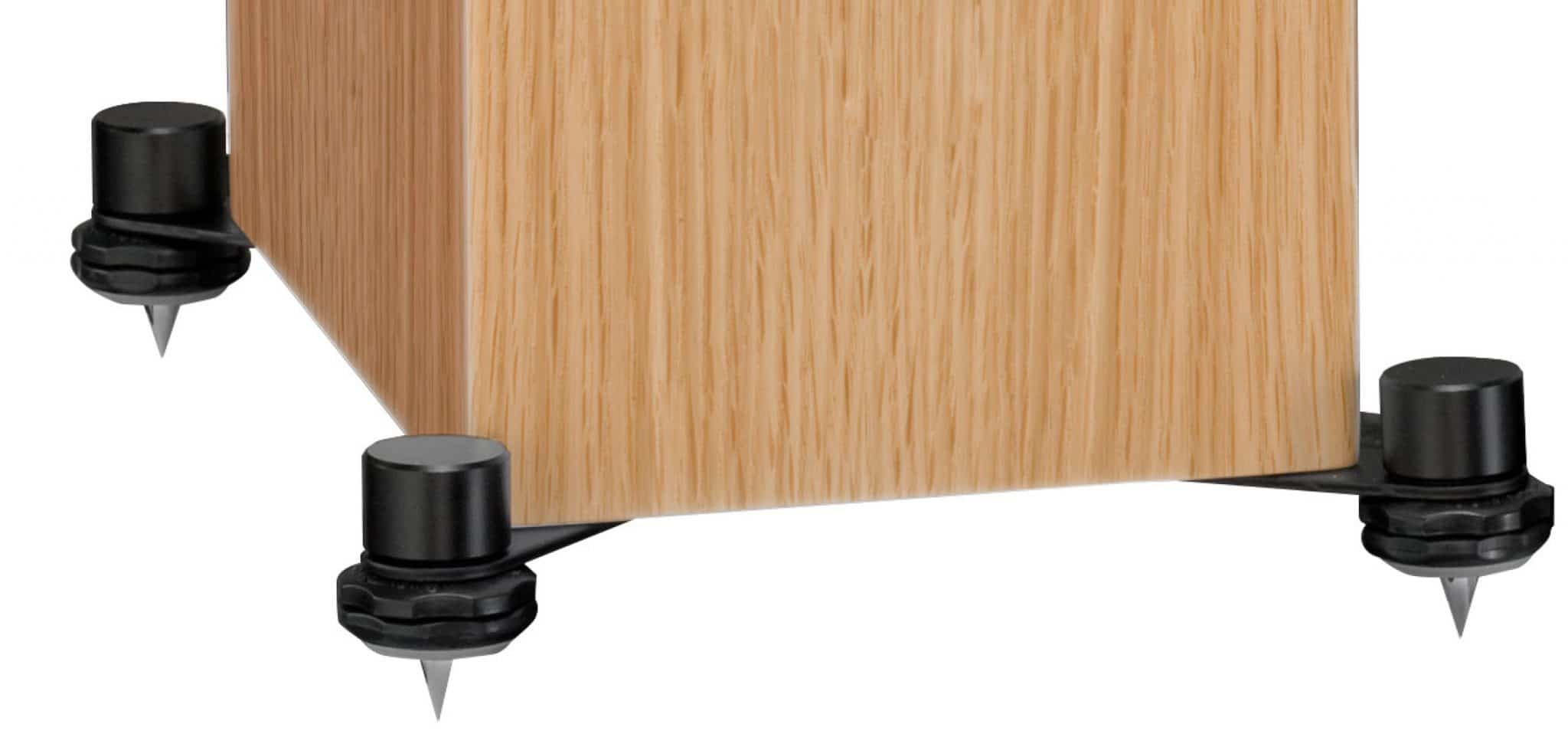 Positioning is not particularly strict but the company does recommend a distance of 12" (30 cm) between the speaker and wall. You do receive a selection of foam bungs if you need to position the cabinets closer still or if a smaller room demands it.
The speakers provide two rear ports, HiVe II flow-tuned. These are positioned behind the mid/bass areas of the cabinet. The upper midrange and tweeter cones are physically separated within their own enclosed area.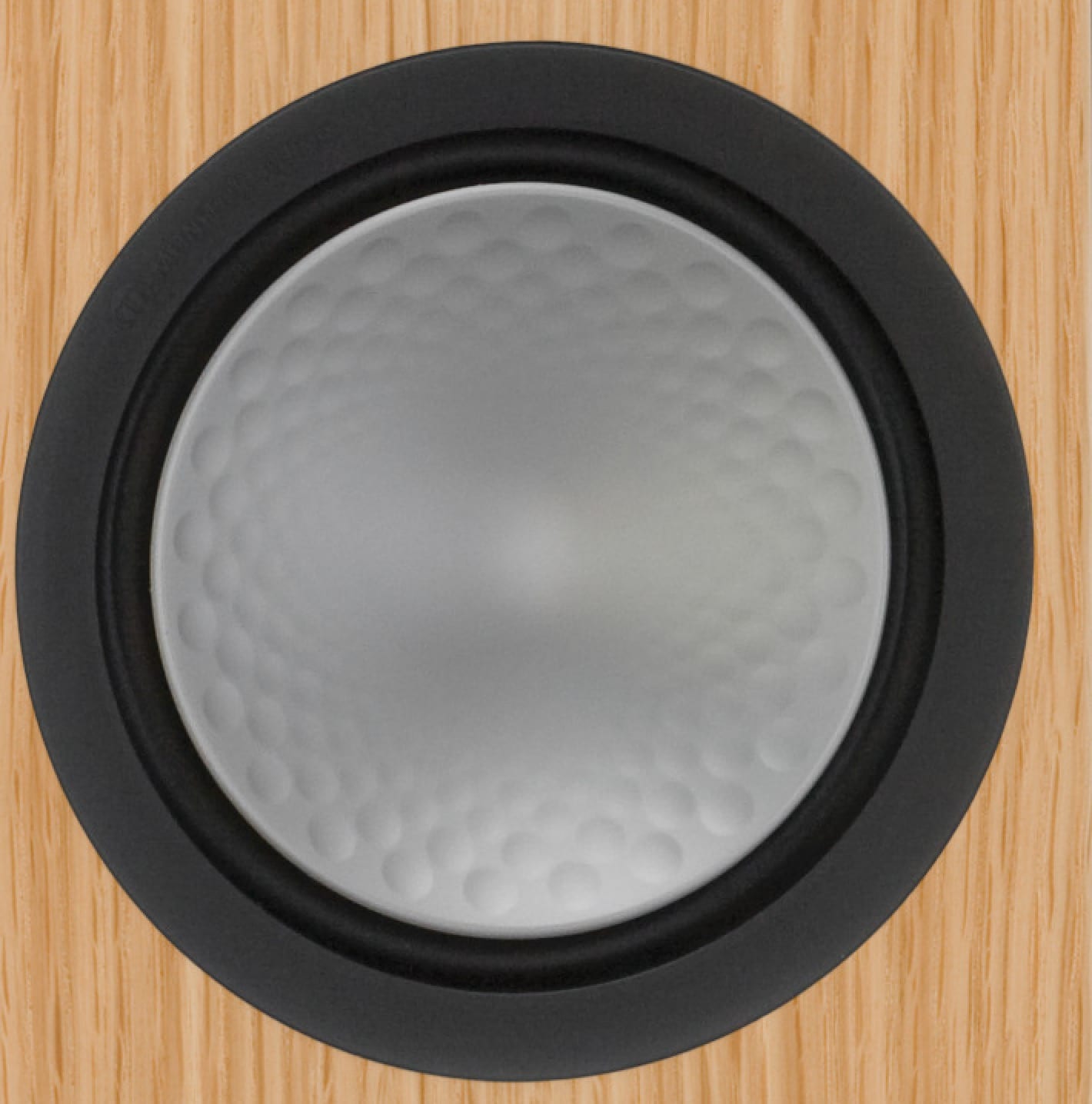 The signature feature of this line of speakers – and many other Monitor Audio speaker designs – is its C-CAM (Ceramic-Coated Aluminium/Magnesium) development. It's all very aerospace-derived, doncha know, but the essence of the drivers, which each sport concave dimple patterns, is one of rigidity while retaining a low weight specification. 
The drivers themselves consist of two 152mm RST bass driers. Above those is a single 102mm midrange RST driver (with an underhung voice coil), topped by a 25mm Gold Dome tweeter. Bi-Wiring is an option with plates supplied for single-wired connection.

The speakers are available in white, gloss black, black oak, natural oak, rosenut, walnut and, while I'm on the subject of colour, a word about the aesthetics which are neat, tidy, efficient but with a sense of executive styling. I can imagine a greying-templed pin striped-suited chap resting one elbow on the top of these speakers, Financial Times under one arm and pointing in the distance at his profit margin. They have that sort of speaker feel about them.
SOUND QUALITY
I began with a vinyl reissue of Gary Numan's Dance, over 2LPs and a single from that album, She's Got Claws – the one with the funky fretless bass and the soulful sax.
My first reaction upon listening to this track was to check the price of these speakers because, in general terms, they sound mature, rich in tone and rather more expensive than the sale price. 
Properly positioned, the 300s offer a beautifully balanced soundstage, a vanishing stereo image with a 3D tiled effect that positioned vocals over and under and behind the various instruments, providing a sound that was both complex as it was clear. That sense of transparency allowed the ear to easily explore every corner of the soundstage, which was large, impressively structured, big and bold. 

There is a light that shines a touch on the mids and bass during high volumes. There's no brightness here but the upper frequencies can be a touch sprightly, shall we say. That said, this effect also aids the transient performance of the speakers which turn on a nail head, stopping and starting with (the cartoon) Roadrunner-like manoeuvrability. 
In bass terms, I was impressed by its mass. That is, bass offered a firm and weighted foundation throughout the track. That's not to say that it lacked insight, though. Not at all. Lower frequencies were highly informative and articulate with a surprising focus that enabled the ear to track a welcome complexity in this area.
Similarly, within the midrange, I was not only impressed with the precision but also the 300's ability to separate the subtlety mixed yet essential effects of the song, those sounds that go to form the unheralded yet essential bricks to the overall arrangement but, all too often, vanish during the play of most typical hi-fi chains. The 300s were able to present each on a platter which added to the sheer fun of listening, just to see what the 300s would discover next.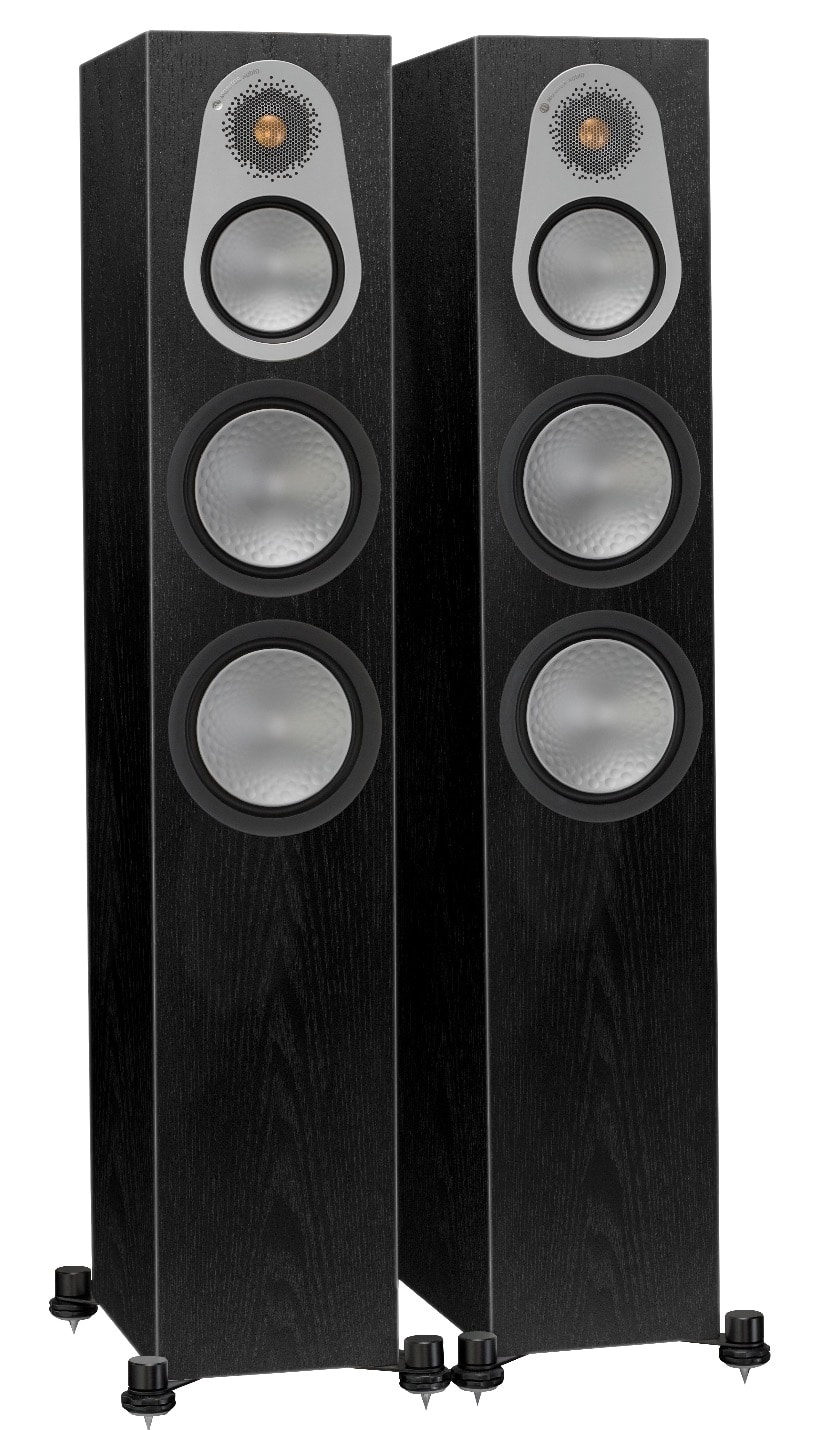 Moving to jazz vocal and A Bucket of Tears from Peggy Lee via the album Extra Special! the slight upper frequency edge to the higher frequencies could be detected again during crescendos but the majority of the performance was one to be enjoyed and savoured with the brass offering a clear and hardened punch with a clear flow to the output from this section. 
I was impressed with the open vocal performance that offered a bounce and energy from Lee along with a series of recognisable reverb tails from her performance.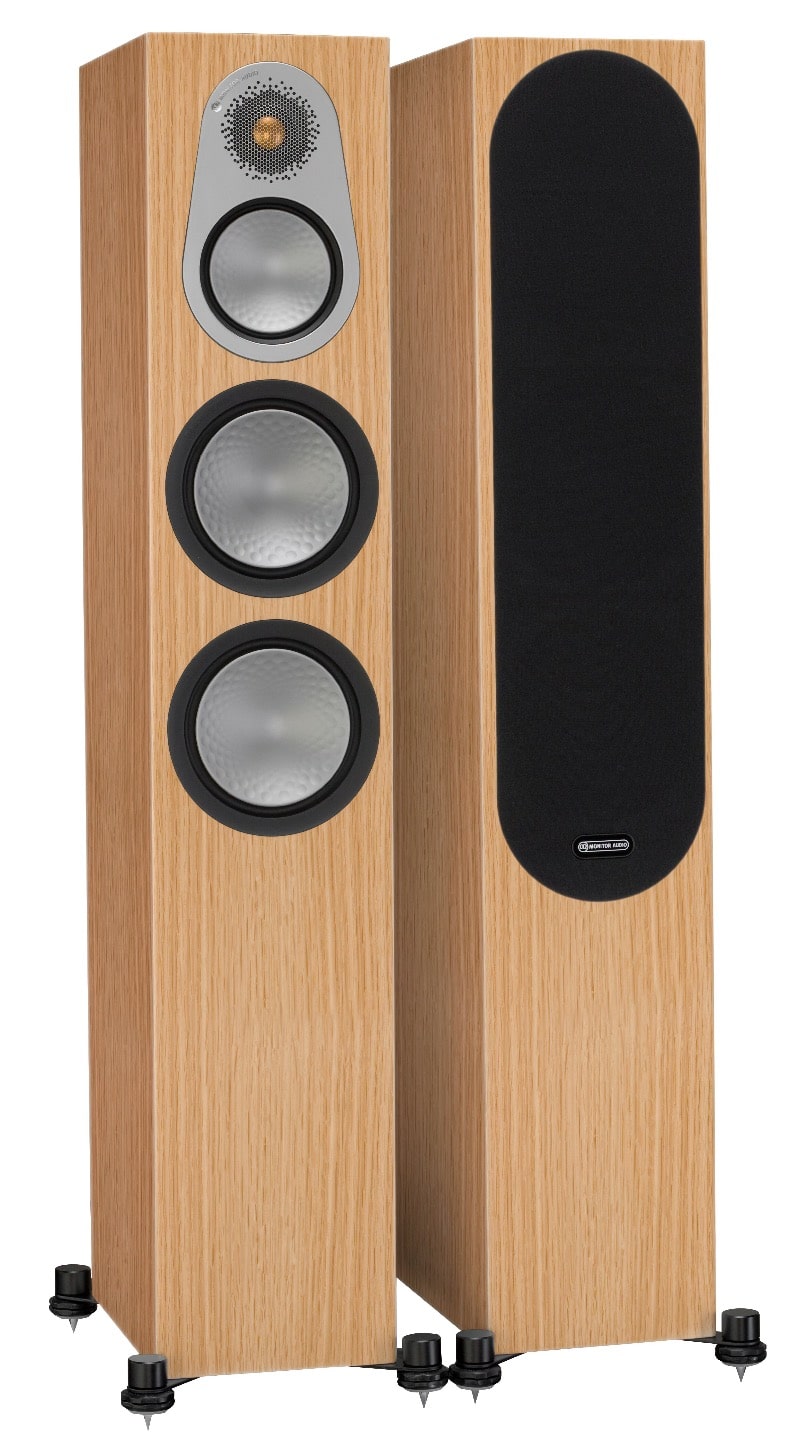 Upright bass can often be hidden in the mix but not here. The ear could easily follow the bass which gave the track a valuable balance and forward momentum while secondary percussion from the bongos, again, often hidden behind more dominant instruments, was given space to perform from the 300s. This generous instrumental separation gave the arrangement a welcome diversity, adding light and shade to the song.
CONCLUSION
I was trying to sum up these speakers into a snippet, a thought or a soundbite. I suppose I could best describe the Monitor Audio Silver 300 speakers as being designs that make any piece of music an occasion. You almost want to get dressed in your best clothes before you sit down to listen to them. They have a rather grand feel to them – yes – but they also work hard to put on a show. A show of quality, that exudes detail and demands a round of applause when its all over. That's entertainment? Oh yes. 
---
MONITOR AUDIO SILVER 300 SPEAKERS
Price: £1,250 
Tel: 01268 740580
Website: www.monitoraudio.co.uk
---
GOOD: aesthetics, value for money, transient performance, epic soundstage, bass complexity, midrange insight 
BAD: slight stridency at high volumes
RATING: 8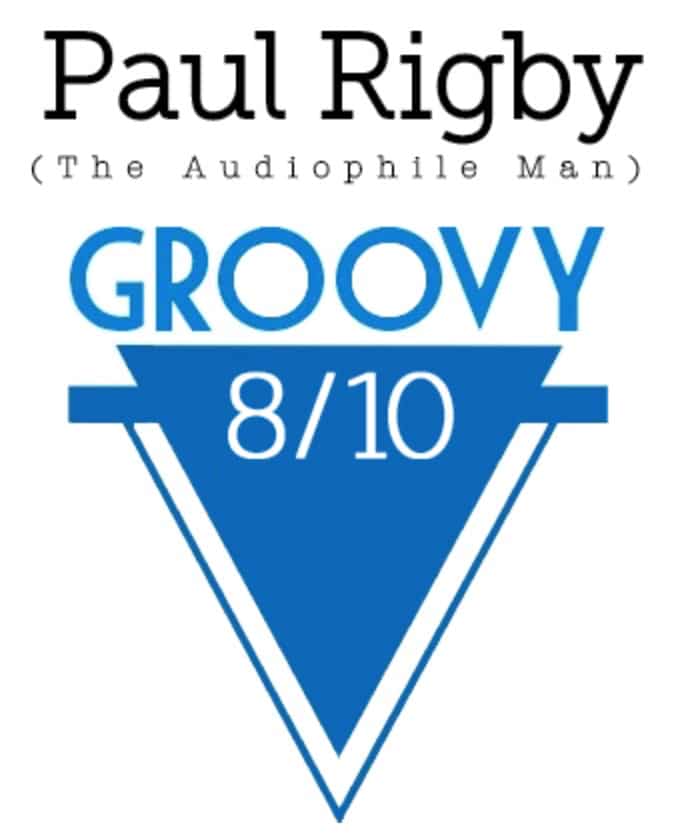 ---
[Don't forget to check out my new Facebook Group, The Audiophile Man: Hi-Fi & Music here: www.facebook.com/groups/theaudiophileman for exclusive postings, exclusive editorial and more!]
REFERENCE
Origin Live Sovereign turntable
Origin Live Enterprise 12″ arm
Transfiguration Proteus cartridge
Icon PS3 phono amplifier
Aesthetix Calypso pre-amp
Icon Audio MB845 Mk.II monoblock amplifiers
Quad ESL-57 speakers with One Thing upgrade
Vertex AQ & Tellurium Q cable
Blue Horizon Professional Rack System
Harmonic Resolution Systems Noise Reduction Components
All vinyl was cleaned using an Audio Desk's Ultrasonic Pro Vinyl Cleaner