The Article
Fall Of The Peacemakers from Molly Hatchet
22nd October 2018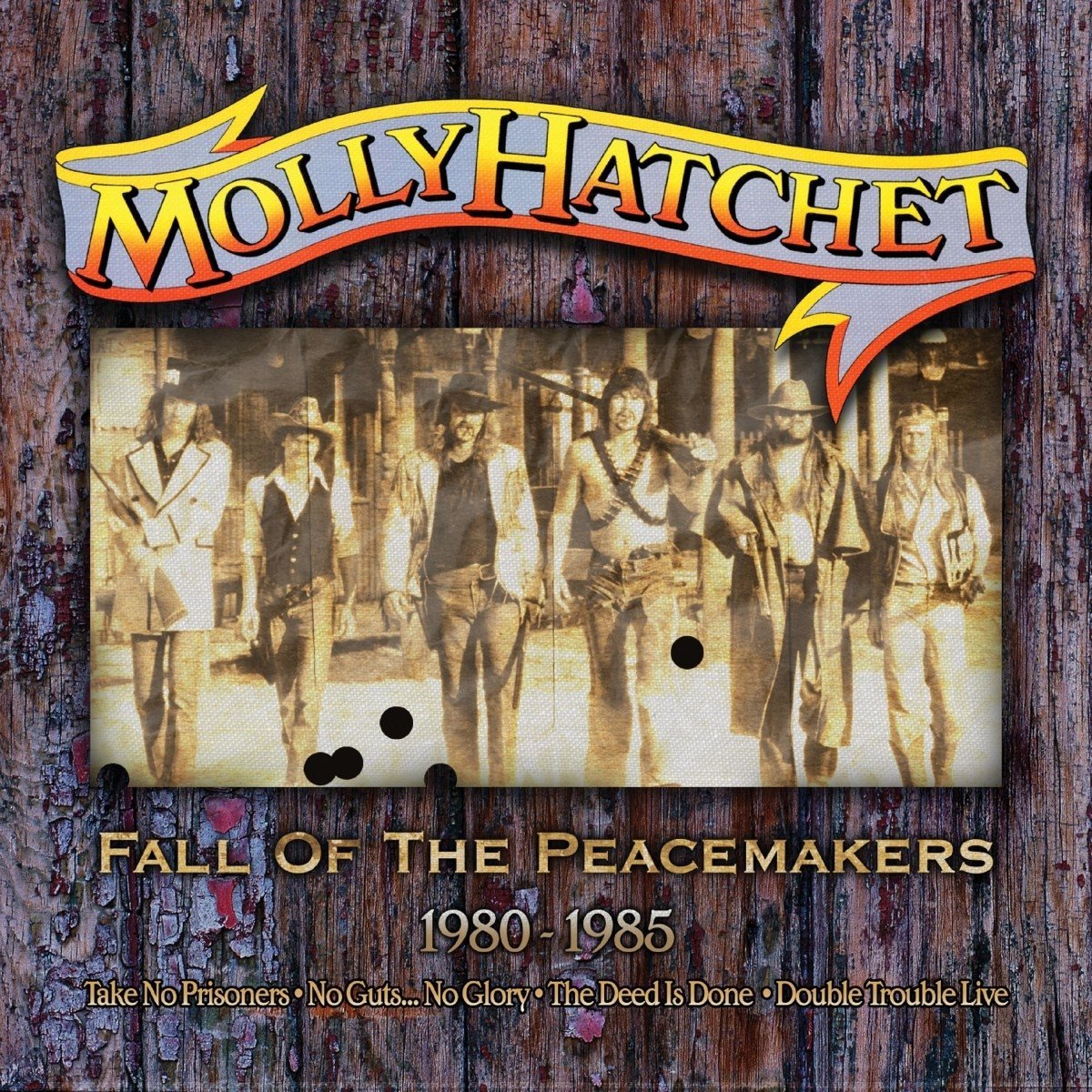 Title: Fall Of The Peacemakers 1980-1985
Label: HNE
When you have a band name that apparently was drawn from a Southern prostitute who apparently beheaded her clients but not before dabbling in a spot of mutilation, you create a level of anticipation. There's a promise of darkness from any subsequent music with a narrative depth, acting as a chaser. The group didn't always reach that level of expectation but there remained a number of highlights to keep the fans coming back for more.
A 4CD clamshell box set from this Southern rock band, Fall Of The Peacemakers includes lead singer, Jimmy Farrar on the first CD of this set, Take No Prisoners (1981; powerful but not as potent as earlier outings). This CD includes radio edits of Lady Luck and Power Play plus Mississippi Queen, with Ted Nugent making an appearance. The rest of the CD is completed by a show recorded at Lakeland Civic Center Arena in 1980.
The second CD includes 1983's No Guts… No Glory (a quality release) with Danny Joe Brown back on lead vocal plus Kinda Like Love (Radio Edit) and Fall Of The Peacemakers (Short Version) bonus tracks. 
By 1984, we have a rather commercial outing, The Deed Is Done (in which the band relaxed too much and took their eye off the ball). It includes radio singles Satisfied Man (Short Version) and Stone In Your Heart (Radio Edit).
The fourth CD features 1985's Double Trouble Live (a fine collection) and includes Bounty Hunter, Gator Country, Flirtin' With Disaster and the epic, Boogie No More. 
In terms of mastering, the set offers an evenly produced collection. During play, the music was comparatively neutral and balanced providing a strong bass, informative suite of midrange frequencies and delicate treble plus a sense of dynamic range that was impressive indeed. The mix present in this set was also well structured, providing highlights when required. This allowed the music to add texture.
It might be heavy rock, folks, but that doesn't mean that Fall Of The Peacemakers can't offer you delicacy, nuance and subtlety when required. 
[Don't forget to check out my Facebook Group, The Audiophile Man: Hi-Fi & Music here: www.facebook.com/groups/theaudiophileman for exclusive postings, exclusive editorial and more!]