The Article
Martin Barre
11th September 2015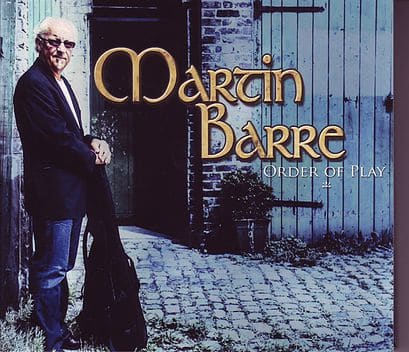 Title: Order Of Play
Martin Barre? Rings a bell? Think prog rock meisters, Jethro Tull. Barre was the resident lead guitar man and had been since he replaced Mick Abrahams way back in 1969. Despite the dominant personality of Ian Anderson in that group, it was Barre who was the real source of energy, giving the music free reign. He left the group around 2010-2011. A bad thing for the group, methinks.
Barre had been creating his own works for many years, in his own home studio but it wasn't until 1990 that he allowed the public to hear it when he played on stage during a series of charity concerts, in the early 1990s. In terms of his recording legacy, he made a solid start in 1994 with Trick Of Memory.
With this new album, Barre sings a range of Ian Anderson songs including Still Loving You Tonight, Locomotive Breath, Song For Jeffrey, New Day Yesterday, Fatman and Minstrel In The Gallery. Despite the fact that none of the featured songs are penned by Barre, he does alter the arrangements and provides a more blues rock edge to each. To that extent, he also adds some traditional blues movements such as Robert Johnson's Crossroads and Rock Me Baby ("I re-wrote the music to this blues standard," he said, "As no one is sure who wrote the original. It seemed fair to put my own angle on it. Hopefully, it retains the simplicity that male is so special.")
Created 'live' in the studio without a re-take in sight, apparently, there is a fresh feel to the CD. Barre doesn't sing on this album. For that, he brings in singer-songwriter, Dan Crisp who does a creditable job.
As it stands, I feel that this album is a sort of warm up to the real thing. I want to hear Barre originals, frankly. I really don't want to hear re-jigged Anderson stuff. I'd rather go to the source and hear Anderson sing them himself. As it stands, this album is…ok. I'll let Barre off on this one occasion. Just don't do it again, fella.