The Article
Man's The Twang Dynasty
11th September 2015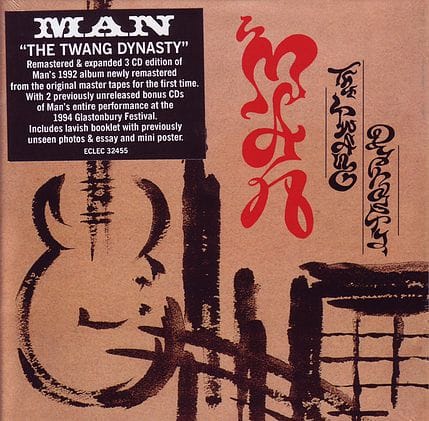 Title: The Twang Dynasty
The original release of this album, in 1992, was the band's first release in around 15 years. Featuring a line-up that many fans would recognise, minus Terry Williams but including Deke Leonard,  which is probably why the album reflected much of the sound of the work the band had done during the 70s, blending a familiar mixture of pub and prog rock. For this album, the prog side of the family won out although A Feather On The Scales Of Justice is arguably designed to fulfil the former with plenty of guitar riffs abounding…and abounding to excess, at times. 
This track was a good example of the down side of Man. Man's inhumanity to man, in fact. Man were never the most focused of groups. In fact, at times, they could be bloody irritating, droning on like some daft old geezer, sitting in…well let's say a pub, shall we? I like to be synchronous about these things. Sitting in a pub, blathering on about how he not only won the war single handed but you lot, you lot are a bunch of lazy gits. But saying it over and over and then rambling some more. And then rambling some more. This was pub rock according to Man. 
This band, on occasion, were of the attitude that, "Why play a five minute song when you could easily do it in an hour? We've got all day." Yes, but the punters have lives and are ageing rapidly. Yet, that was Man's philosophy.
In fact, this album could have been a lot shorter without losing any of the essential artistic structure.
That said, Twang was an interesting comeback and when Man took on prog structures they could be sublime, they could soar and they could send tingles into embarrasing places. This album has elements of that. It also has meat to its songwriting, which was something that many of the band's competition found tough to do with contemporary releases. Hence, this is a worthy package for fan's attention. And a package it most certainly is because this clamshell box set doesn't just provide the album in full (and remastered to boot from the original master tapes) but also the entire performance from the band's 1994 Glastonbury Festival performance. That includes Twang tracks such as Mad On Her and The Wings Of Mercury but also tracks such as The Ride And The View that appeared on 1976's The Welsh Connection plus Romain that can be traced by to the self-titled album, released in 1970.
Three CDs in all, then, plus a mini booklet and mini poster. Great value for money and oodles of music to enjoy.