The Article
Lou Rawls' The Rarest Lou Rawls: In the Beginning 1959-1962
11th October 2015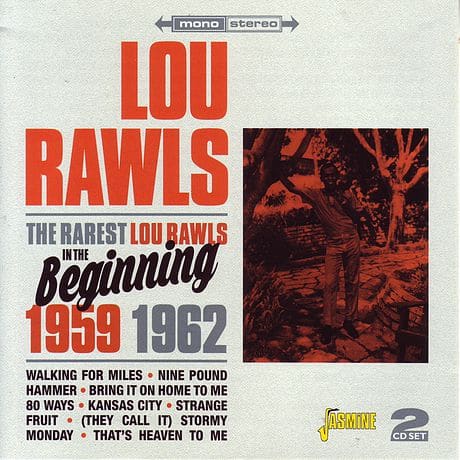 Title: The Rarest Lou Rawls: In the Beginning 1959-1962
Rawls tackled a variety of musical genres in his long career: gospel and early R&B to soul and jazz to blues and straight-up pop. This versatility was useful for Rawls as it allowed him to adapt to musical fashion. His Sam Cooke/Nat 'King' Cole delivery was always infused by a gospel core. You can hear this through his early jazz covers, through to his soul cuts in the 60s and his chart activity in the 70s.
This CD, though, concentrates upon Rawls' early career. Not his early gospel work with The Pilgrim Travellers but his secular pop recordings. The CD does end, though, with a rare reunion LP with the very same Pilgrim Travellers in 1962 called the Soul Stirring Gospel Sounds of the Pilgrim Travellers, a rare treat for all Rawls fans.
Signed to Rex Productions, an imprint of Keen Records (who employed Lou Adler and Herb Alpert). It was the small imprint run by this pair, Shar-Dee, were Rawls began his pop career via the old Clovers song, Love Love Love. A slightly incongruous song for Rawls but he tackled it with no little determination. Kiddio was the quick follow-up and a Brook Benton staple of the time, in 1960. Rawls sounded much more relaxed with this more mature arrnagement.
Candix, another small label outfit who are best known for 'discovering' The Beach Boys, then approached Rawls. Songs like Just Thought You'd Like To Know was a smooth, emotional ballad that Rawls tackled with gusto while even the more poppy 80 Ways sees Rawls diving head first into the pop-centric bubblegum track.
The songs improve as we hear Rawls enter his Capitol period with the inclusion of his 6-track EP (for jukeboxes only) taken from the excellent Black & Blue LP plus the even better Stormy Monday LP with Les McCann, his definitive recording during his jazz period. An enjoyable Rawls collection.