The Article
Lord Funk's Global Warming looks back to older disco and funk
22nd April 2016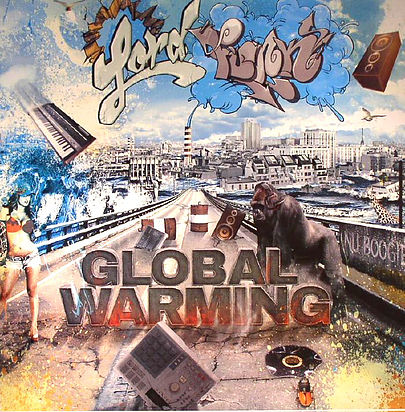 Title: Global Warming
There is something decidedly retro about this album from Lord Funk aka Dalmasso Romain from Paris (France, that is). From the name of the band to the 'hot chick' who stands, hip cocked, on the left of the sleeve to the first strains of the 70s disco synth and 80s funk that permeates the title track, layered by weather report 'samples' from US-based radio that talks a lot about things being 'hot'.
Then we are onto All Nite with its retro spelling and its George Benson-like  bass rhythms that talk about slow grinding on the dance floor, powered by a DJ with a rich moustache, flairs, puffy shirt and lots of rings on his fingers.
When Bad Day hits and the strains of the vocal emerges from Real Fake MC, you wonder just what we have here because this is a parody of Grandmaster Flash's The Message…and so it goes, as DJ Suspect and Toustou flip through the card index of disco and funk vibes of the past and produce a grooving karaoke.
Look, I have nothing against the vibes of the past and I love the disco rhythms of the late 70s and the funk and rap releases of the 80s and I have no issues with anyone referencing them for a new project or tipping a cap in their general direction as a mark of respect but when you almost rewrite songs, crib bass lines and lazily cut and paste ideas from one record to another then you lose me. This production sounds like it was produced with a big smile and fun times a-plenty but it should have stayed in the drawer.
This is a great idea for a YouTube mash up but I wouldn't actually pay money for it