The Article
Living Doll: American Covers of UK Hits
12th August 2015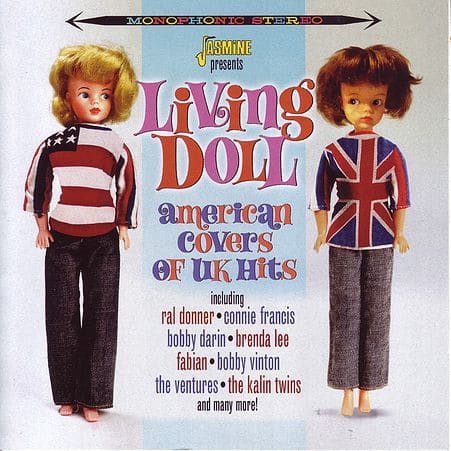 Title: American Covers of UK Hits
Back in the early 50s, the charts in the UK were full of American songs covered by UK artists. Their proliferation sparked comment, people reflected that maybe the UK had no song writers to speak of. The popular UK artists of the day spanned such retro-artists as Vera Lynn and Mantovani so chart pressure was not the strongest. Becalmed, you might say.
Then Lonnie Donegan happened. His song, Rock Island Line, hit No 6 in the UK charts and, to the shock of one and all, reached No 8 in the USA. Bang! On came the covers of the song. People such as Bobby Darin took note. Next, Anne Shelton's Joe Meek-produced Lay Down Your Arms was being covered by The Chordettes. Thus, the tide began to turn and American covers of UK songs grew in number.
Oddly, though, not all of the songs covered had been original UK hits of any stature. For example, when John Fraser recorded Why Don't They Understand from the Joe Henderson original, that original was a 'mere' B-side of, would you believe, a US cover of The Everly's Bye Bye Love. A twist indeed. Then George Hamilton V heard it and released it in the USA, making the Top 10. Then Hamilton had the audacity to bring the song back to the UK and hit the Top 30 with the blighter. Even Elvis Presley was at it with Because Of Love, an original UK hit for UK songster and Presley fan, Billy Fury.
This double CD not only covers these songs and a lot more it goes one further by filling one disc with the US covers but then filling another disc with the UK originals. A great opportunity to do an A-B comparison to see which version your prefer. A fun and innovative compilation.