The Article
Little Milton's Sings Big Soul
11th October 2015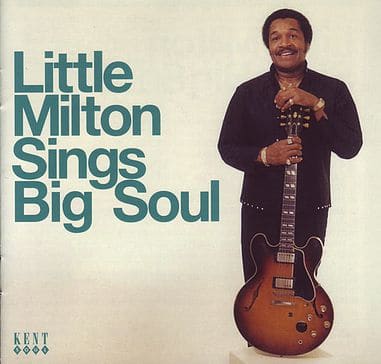 Record Title: Sings Big Soul
Label: Kent
He was a superb electric blues guitarist that originated from Sam Philips' Sun label in 1953 but Milton was also a singer of soul and a fine songwriter to boot. Some compared his work with B.B. King or Bobby "Blue" Bland while his output evolved to become more complex with the addition of orchestrations.
It's Milton's soul side that is the subject of this CD collection, songs that he made relatively recently too, that draws from sources at Malaco, a record label based in Jackson on the Mississippi from 1984 to 2002. A time that emphasised the man's extraordinary longevity as a creative artist. Malaco was, at that time, the last haven of true, traditional, soul, featuring artists such as Denise LaSalle, Latimore, Bobby Bland, Shirley Brown and Johnnie Taylor. Soul was recorded as the listener always expected as opposed to what fashion demanded which meant that the label recordings have a greater resonance today. Milton's soul output for Malaco focuses on bluessoul (named because of the relatively high blues content in each song).
The first track on the CD, Misty Blue, is a 1984 vintage but is sung with power, care and a sense of emotional involvement. The second track, A Nickel And A Nail, is a necessary enlightenment for the label itself which is proof of the style pudding mentioned earlier because, even though it was produced in 1992, eight years later, it still retains the style and production qualities of Misty Blue.
I was fascinated by Milton's rendition of Bobby Womack's That's The Way I Feel About Cha because I had been listening to O.V. Wright's rendition the day before. Milton, apart from the spoken introduction, takes a smoother, almost resigned view on the question. He's saying, "Look, I can't do anything about how I feel. Its up to you." Milton gets to the core of the issue.