The Article
Leona Williams' Yes, Ma'am, He Found Me In A Honky Tonk
12th March 2016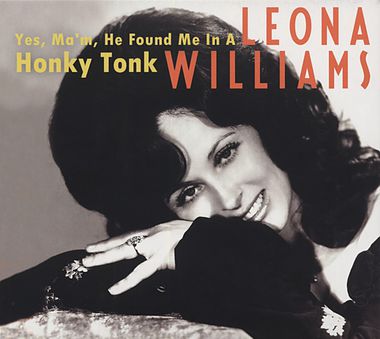 Title: Yes, Ma'am, He Found Me In A Honky Tonk
Famous to many as Mrs Merle Haggard, Williams, by 1958, at the age of just 16, had already secured her own radio show on Jefferson City's KWOS called Leona Sings. She was soon spotted by Loretta Lynn. Next minute, Williams was touring with Lynn as a bassist and backup vocalist. It wasn't until 1968 that Williams found her solo carreer with the Hickory label, then MCA. In 1975, she joined Mere Haggard's band and became the featured vocalist, replace Haggard's estranged wife, Bonnie Owens. Williams married Haggard but the match wasn't a success. What was a success was the pairing as a songwriting team, creating hits such as Bull and the Beaver and We're Strangers Again.
She worked with the likes of Vince Gill and Johnny Bush.
On this four CD set, 82 tracks provide all of her studio recordings including several previously unreleased tracks and a complete unreleased LP produced in 1986 by Tompall Glaser. A great emotional singer, you know that she has lived through the lyrics of her songs.
Other recent Bear Family releases include Speedy West & Jimmy Bryant's Bustin' Thru – Flippin The Lid featuring excellent guitar work, plenty of hillbilly music and some top notch steel guitar duets; Bob King's Rockin' the Jukebox featuring all of King's rockabilly masters for RCA Canada, his first collection since 1963; country singer, Marie Singleton's Pledging My Love, a story of a highly versatile singer who worked with the likes of George Jones and Clyde McPhatter. Finally, Over There!: Sounds And Images Of Black Europe is a three-disc collection featuring the work of Pete Hampton, Laura Bowman The Savoy Quartet, Reverend J.J. Ransome-Kuti and Josephine Baker. This collection serves as a taster to the just released, forty-four CD box set, Black Europe.