The Article
Kinks' Songs & Sessions 1964-1971 offers a host of rarities
17th May 2016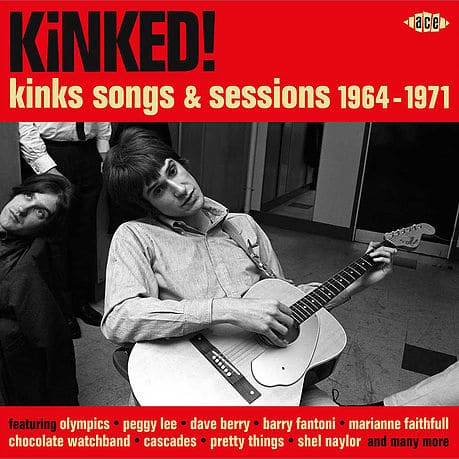 Title: Kinks Songs & Sessions 1964-1971
Label: Ace
Well, when I saw this one in my 'in tray', I have to say that I started to shake (and may have even partaken in a touch of rattling and, who knows, a spot of rolling?) Kinks fans are forever wailing and moaning that the band don't release their rarities to their beloved fans. That there is more to the archives than the odd BBC session. Well, what we have here plugs an important, nee critical gap, in that source for more Kinks material. Basically, this 26 track CD offers the band's songwriting talents outside of the group, for other singers and groups. These are either songs that were either recorded well in advance of The Kinks themselves or were never actually recorded by the group. In addition to Ray's output, there's a ditty from brother Dave plus a few cuts where the band took part in the song but were not credited as writers. So there are excellent cuts such as Look For Me Baby that appeared on Kinda Kinks but was also recorded by Goldie & the Gingerbreads (and was Shel Talmy's preferred version, incidentally). It is true that they did a great job on this track.
King of the Whole Wide World was a 1966 'Ray' track which was not only produced by him for Leapy Lee but also featured Dave Davies, Peter Quaife and possibly Mike Avory as Lee's backing along with two of the Gingerbreads: Carol McDonald and Margo Lewis. Lee's quirky ways reportedly appealed to Ray.
All Night Stand is intriguing because it is based on a piece of beat music exposing pulp fiction of the same name bought by producer, Shel Talmy for his then new label project, Planet. A song to celebrate it was requested from Ray Davies and that was sung by Liverpool outfit, The Thoughts with a view to turning the book into a film. An earlier, faster version, featured Nicky Hopkins. This rather slower version is thought to have featured "Big Jim" Sullivan. This song includes rather defensive lyrics which are thought to ally itself with the same psychological repost that John Lennon suffered and lead to his own ripost, Help! Rock stars, eh? This song remains excellent but never appeared on a Kinks record which is, it has to be said, a shame.
This collection is packed with such treasures and is absolutely, positively, essential for any Kinks fan.