The Article
Kenny Loggins – His Debut And His Best As Jim Messina is Sittin In'
24th June 2016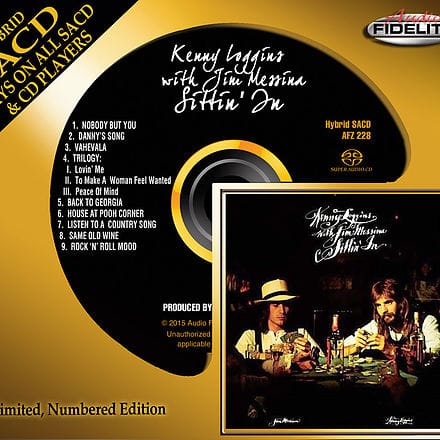 Kenny Loggins
Title: Sittin' In
From 1971, originally released on the Colombia label and Loggins' 11 track debut (effectively) with a firm additional credit heading towards Jim Messina (who many will remember as the one-time contributor to Buffalo Springfield and co-founder of Poco) because the album was notably produced by Messina but also many of the songs were co-written by Messina. He also added significant guitar contributions to the album and, if that lot wasn't enough, shared the lead vocal on many of those songs. Messina was in danger of taking over!
Although it was Loggins who penned the very familiar Danny's Song. Many will remember the cover version sung by Anne Murray who took the song to the Top 10 in the charts the year after it appeared on this album while this release featured its own chart entries such as Nobody But You and Vahevala.
Arguably, though, it is the song that handed Loggins his record contract, House at Pooh Corner, which is the standout track on the whole album featuring an easy flow and appealing vocal harmony sequences.
Sometimes, albums like this – which successfully blended folk, rock and country – are so good that they are almost too good. Why? Because, from this first album, it was all down-hill. The pairing of Messina and Loggins, despite doing good work later on, never quite hit the same heights ever again.
Sonically, this hybrid, limited-edition, SACD/CD (I reviewed the CD layer) is perfect in terms of any noticeable compression comprimises (there isn't any, in fact, at least none that is discernible to the ear) and the approach to the mastering which is big on air and space and allowing the music to naturally flow. This album, mastered by the respected engineer, Kevin Gray at Cohearent Audio, deserves to be heard on a top quality CD chain.