The Article
Keith Emerson
11th August 2015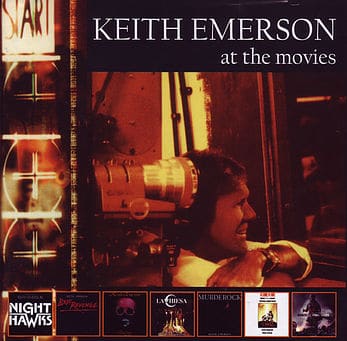 Title: At The Movies
Of course, Emerson has had a flourishing career as a member of the prog-oriented bands, the Nice and then Emerson, Lake & Palmer. In 1976, Emerson made his solo debut with Honky Tonk Train Blues but the solo career never truly too flight until 1980 after ELP had broken up. From this point, Emerson took an interest in creating soundtracks to several films beginning with The Inferno (1980) and Nighthawks (1981). After that general solo work and a revamped Emerson, Lake & Powell took up much of his time but film called again with Harmagedon (1985), Murderock and Best Revenge (both 1986), La Chiesa (The Church) (2002) and Godzilla Final Wars (2004).
All of these works are to be found within this 3CD box set, presented within a sturdy clamshell box plus a booklet. Each CD is packed within a pictorial card sleeve.
There are many highlights within Emerson's soundtrack although consistency is somewhat lacking, much of the content is patchy and lacking in focus. Sometimes his movie output can sound rather pretentious or even outdated. I think the problem is the medium itself. Film tends to restrict Emerson. He his much better when his imagination is allowed to roam. That said, ELP fans will lap it up and will find much of interest from this undoubtedly talented musician. The best of the bunch is Nighthawks, an action film starring Sylvester Stallone and Rutger Hauer.
From the same film production, Emerson recounted a lively anecdote, "I was asked if I was interested in doing the music [for the film]. I sent through some ideas I'd come up with on my Yamaha GX1, which I had just got. Sylvester Stallone wanted to meet me, so I was flown out to LA and taken to Universal studios where I had to audition for him and a load of others including the director (Bruce Malmuth) and the producers (Herb Nanas and Martin Poll). I played them some stuff and then they all went into the corridor and left me on my own. Eventually, they came back in but not Sly, I got the thumbs up.
"I did the score entirely myself. That's not always the case these days. Someone like Hans Zimmer will do the main theme and then farm out the rest. But I didn't want anyone else touching the music. What you find is that once you have the theme music done, then this can be adapted to suit different moods of the film, which is something I learnt back then."
The studio then wanted a single to be linked to the film and decided on I'm a Man that had previously been covered by Chicago and the Spencer Davis Group. After thinking about and dropping Teddy Pendergrass and Tom Waits, Emerson volunteered (although he rather regretted it at the time). Fed increasing amounts of Chardonnay during the recording sessions, he said that he ended up sounding like Tom Waits, anyway. Things descended into alcohol fuelled disorder but grew worse when Emerson foolishly offered to drive his assistant manager back home…at very high speeds, "…a police car came after us," he said. "I got back to the hotel and, instead of valet parking, running to my room and locking the door, I decided to do a U-turn into the parking space with the handbrake on. Then I sat there laughing. And guess what? The police arrived and took me into custody.
Amazingly, when I was breathalysed, I was under the legal limit. But I was kept in jail overnight."