The Article
Ka-Pow!: An Explosive Collection: 1967-1968
11th August 2015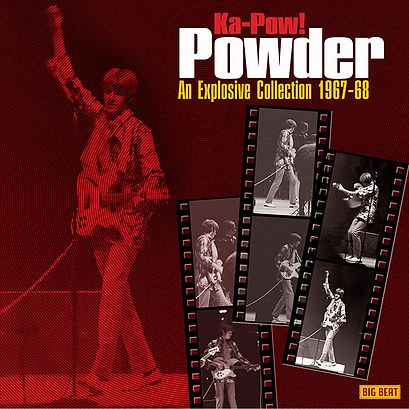 CD Title: An Explosive Collection: 1967-1968
When The Beatles broke into America they also, musically, broke America up…into little pieces. The entire musical landscape had to be reformed all over again and it was done so by a new generation of singers and song-writers. Many found fame and fortune. Many others, of couse, did no such thing while some were happy enough to have made a minor splash in cultural terms. One of those was Powder who favourited a mod-ish wing of UK music from the likes of The Who, the Small Faces, Creation and the like.
It was the Frost Brothers who formed a band called the Newcastle Five, whose jangly style was informed by the new British sounds. The band was spotted by the Kiwi rock'n'roll singer, Ray Columbus whereupon the Newcastle Five became Columbus' backing band and the new combo took on a new name, the Art Collection, releasing the fuzz tone proto-punk single, Kick Me, in 1966. The Frosts and Columbus soon split after that. Meeting drummer, Bill Schoppe, the trio fellon their feet, as it whre, when they were fortunately hired to become Sony & Cher's backing group.
It didn't take long for the trio to become involved in Sonny Bono's own Progress Production Company, with producer Denis Pregnolato. A new band was formed: Powder and an album was recorded with Bono and Pregnolato as producers, that they planned to lease to Atco Records. The album was shelved when Atco wanted the publishing rights so Powder promptly ended as a going concern. Thomas and Richard Frost then began performing as a duo, producing another album but of a rather more introspective nature.
So what we have from that convoluted mess is this excellent CD packing in 26 tracks of largely unreleased recorded material. The majority of the disc focuses on a shelved album from Powder which is very Who-like in style plus pleasingly gentle songs to break up the energy from the Art Collection. This release will will be of great interest to many mod fans.