The Article
Juice Newton
12th August 2015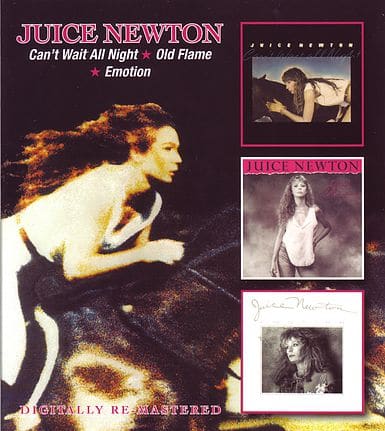 Title: Can't Wait All Night/Old Flame/Emotion
Label: BGO
In 1984, Newton changed her label from Capitol to RCA, sparking the three mid-80s LP offered here in this single, value for money, 2CD package.
First up was the 1984 release, Can't Wait All Night. It's an odd album. One in which Newton sees rather ill at ease. Almost like a new born foal testing the ground in case it falls away beneath its feet. In a way, that's what was happening to Newton because she was in the process of changing her pop targets for more country-esque vibes. Seen in isolation, though, Can't Wait…is lacking in both impact and focus.
By the time we get to Old Flame, though, Newton shows that she's back on track with a strongly set country album that still has enough sense of pop and rock to make life interesting. You can tell that the transition from Can't Wait… to Old Flame was a determined and dedicated one because her performance on Old Flame is one of confidence and certainty. Despite the rather over produced nature of some of the tracks, Newton provides an excellent performance  while the successful singles, You Make Me Want to Make You Mine,  Hurt and the duet with Eddie Rabbit, Both to Each Other (Friends & Lovers) are accomplished.
It's a bit of a mystery, then, why Newton decided to back out of the country genre with Emotion (1987). The majority of the LP is low key and quiet with only Walkin' Into Trouble and Tell Me True adding a bit of zip to the production. Newton's vocal performance rescues an album that seems to be looking for a home. Another example of Newton's unsettled nature as an artist and her need for change or to push herself artistically?
Whatever the reason, this collection  is packed with variety, if nothing else.