The Article
John Fahey & His Orchestra: Of Rivers and Religion/After The Ball
12th July 2016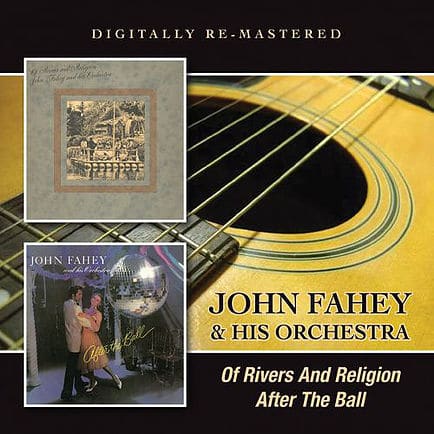 Title: Of Rivers and Religion/After The Ball
Label: BGO
John Fahey & His Orchestra? His Orchestra? Anyone who has a passing interest in the finger picking work of John Fahey will be broadly familiar with this guitar maestro, a genius who sat on a stool, picked up his acoustic guitar and wove magic with his fingers.
Maybe it was something to do with the major label he had just joined – Reprise – and the fact that Of Rivers And Religion (1972) was his first outing for them. The fact that he was able to access a large bank of musicians for the first time too must have been interesting for Fahey.
Imagine what could be done with a brass section…and strings. The intriguing thing about this album is what does not happen. I fully expected Fahey to drown beneath the waves of the orchestra but that doesn't happen. Fahey is right up there, front and centre. In fact, you can still hear much of this album as a solo effort which will come as a relief to fans who have yet to hear this piece. Hence, a track like Steamboat Gwine 'Round de Bend is Fahey at his slide guitar best. What the orchestra does bring to the party is merely flavours. This is a truly great album. Every Fahey fans needs it.
After The Ball was Fahey's second and final Reprise release and it retains the quality of the previous issue with the man performing solo and in duet with mandolin, banjo, and uke player Allen Rouse. Maybe mood is a bit overused here but Fahey retains his own quirky humour and his odd sense of timing that will delight any Fahey follower.