The Article
Joe Houston's Kicking Back: sax man
11th June 2016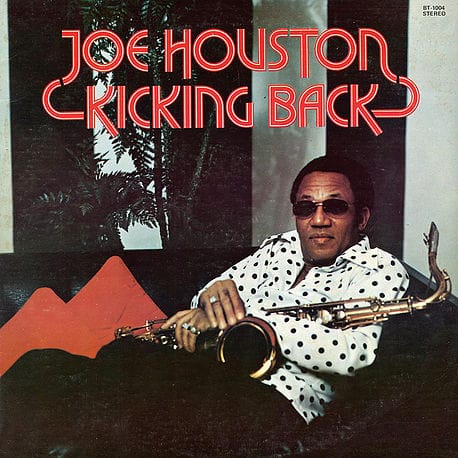 Title: Kicking Back
Label: BGP
The R&B sax work of Houston was heard in many places and on many labels. In fact, if you had a CCTV camera within every independent label in the Los Angeles area during the 1950s then you'd see Houston make an appearance. He began his work during the  jump blues period but he quickly found his way in rock & roll.
Houston was nothing if not versatile. He even had his fair share of twist and surf albums for record label, Crown. When Houston emerged upon the Mercury label, he even found time to create a hit all of his own, a R&B flavoured piece called Worry, Worry, Worry, in 1952.
The Houston sax was known for honking and wailing with both force and energy and from any conceivable position: on his knees, lying on his back, walking the bar, you name it.
This album, Kicking Back, released on Big Town in 1978, has been largely overlooked by blues fans. Maybe that's because of the unfortunate song titles. Imagine it, you saunter into a record shop, pick up this album, flip it over and the first track you see is called Hawaiian Disco. Doesn't breed a lot of confidence does it? But that's to belie that quality of his music which is not that far off his earlier style. Instead of his usual R&B, though, what this album gives you is the most intriguing suite of blaxploitation. In fact, it's almost like a soundtrack from an associated film. This is funk that has been lying dormant and criminally ignored for far too many years. Blame Big Town as a label which released LPs without an apparent effort being applied to them in terms of promotion.