The Article
Jimmy Rogers Complete Solo Chess Records As & Bs 1950-1959
15th April 2016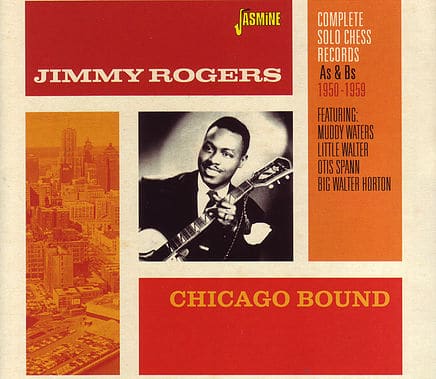 Title: Chicago Bound
Known as a member of Muddy Water's first Chicago band, Rogers recorded for a slew of tiny labels – and was not always treated well by them – until Chess got a grip and released his first Chess outing in 1950, the seminal That's All Right. His 50s output is supreme while his post Waters period, leading his own band, recording other excellent tracks such as You're The One and Walking By Myself. Even when Chess was looking away from the blues and towards rock'n'roll, Rogers would cut the superb blues outing, Rock This House.
This is superb CD features all of the above tracks plus the talents of Little Walter, Muddy Waters, Otis Spann and Big Walter Horton.
In audiophile terms, on the first track That's Alright, including both Walter, Waters and Big Crawford, the vocal delivery is suitably constricted in terms of the soundstage with compression but nothing that harms the sound quality, only in terms of the vocal image.
Sometimes the Rodgers' voice is too much for the recording equipment and ventures into slight distortion but, for a blues track, this only adds more atmosphere. Walter's harmonica hangs over the music like a cloud, raining rhythm while the guitar of Muddy Waters is dangerous and lazy but no less accomplished.
A later session features the Rocking Four as Rogers' backing group that includes Ernest Cotton, Eddie Ware, Big Crawford and Elga Edmonds and was recorded one year later in 1951. There's a distinct lowering of the noise floor on this track which is calmer and spacious in terms of dynamics while the Rodgers' vocal sounds more at ease and relaxed. Both harmonica and guitar sound positively playful and rhythmic while both offer greater tonal realism.